Revive manufacturing with Industry 4.0, says Baserow CRO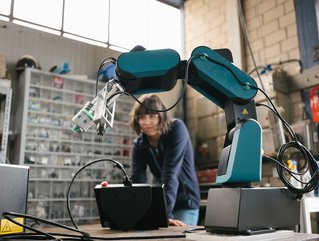 Robotics
Olivier Maes, Co-Founder & CRO of technology company Baserow, shares how the manufacturing sector can transform itself with robotics & Industry 4.0
The UK manufacturing industry is still under pressure. Weak demand, geopolitically fueled inflation, raw material and insufficient staff have all impacted production according to the sector's PMI in January. A sector that is responsible for an annual output of £183bn and 2.5mn jobs has no room for excuses, says Olivier Maes, Co-Founder and CRO, Baserow.
"Leaders in manufacturing must work to improve efficiencies and close the production gap. The only way to do this is to prioritise modernisation by accelerating industry 4.0 initiatives," Maes says. "In this way, no-code tools will be key to creating a more resilient production sector - driving actionable insights and organisational agility."
Here, he tells us more.
Manufacturers need to modernise or risk it all
"Based on the data, manufacturing is a shrinking industry that cannot afford to avoid modernisation. The year ahead will present an interesting opportunity to overcome challenges which will push agile manufacturers to find innovative solutions," says Maes. "Rising energy costs amidst low demand here and internationally have delivered a blow to UK manufacturers. The last quarter of 2022 was illustrative of this as we witnessed manufacturing output fall more rapidly than the previous two years.
"Inflationary pressure on margins has also been coupled with supply chain disruptions and technical skill shortages. Together, these challenges have the potential to create bottlenecks. A Barclays report found that at the end of 2022, £23.6bn worth of goods were awaiting completion in warehouses due to a logjam in supply. Furthermore, the UK economy could see a shortfall of 2.6mn workers by 2030 with manufacturing being amongst the top impacted sectors in part, as a result of an ageing workforce.
"With this in mind, manufacturers are employing emerging technologies that promise greater efficiency and reduced costs. In August of 2022, 45% of manufacturers said they had already introduced digital technologies, with a further 20% planning to follow suit by the end of the same period.
"Those manufacturers lagging behind on industry 4.0 risk losing their competitive edge in the race towards modernisation."
Robotics simplified in smart manufacturing
"At the core of industry 4.0 is the aim to digitise processes and unlock operational data to drive productivity and the agility to meet changing customer demands. Companies like Groupe Atlantic and ARaymond have saved 700 hours of manual work per user each year by replacing monotonous manual data capture for daily operations with smart, connected systems powered by no-code technology.
"No-code tools have become popular as they solve two major challenges most organisations face with digitisation initiatives: skills gap and employee pushback. According to a recent survey of manufacturing IT and business stakeholders, employee reluctance is a significant challenge to achieving industry 4.0. We can put this down to the difficulty of training and reskilling employees to understand and operate new technologies.
"No-code tools address both these challenges. Manufacturing leaders can achieve the benefits of modernisation without the need for skilled software developers. Empowering factory employees to automate processes without reliance on IT teams also speeds up adoption. Additionally, with easy integration and lower costs than other systems, manufacturers of all sizes can use no-code solutions for smart factory transformation and zero paper shop floor operations.
"Manufacturers can start implementing no-code technology on factory floors today through easy to use programming interfaces like digital visual management. Visual management systems allow manufacturing teams to start optimising their factory operations instantly, by communicating key data in real-time to the right people. This is also a great way to drive forward industry 4.0 initiatives by increasing visibility into data. For manufacturers with a global presence such as ARaymond, communicating structured data to international teams accelerated its ability to respond to the needs of industrial sites. No-code technology is used to power these systems and digitise manual data capture, relinquishing factory workers and managers to focus on meeting business objectives."
Helping manufacturers lead the charge towards Industry 4.0
"Manufacturers can begin using digital no-code to activate digital visual management systems for greater efficiency and visibility in a number of ways.
"Teams can build digital, automated checklists and forms to expedite inspection processes in minutes. Custom digital smart forms allow frontline workers to spend significantly less time capturing data. For example, Groupe Atlantic found data visual management particularly useful in Gemba walks as it allowed on-site teams to create forms and facilitate consistent data entry with QR codes.
Visual management systems can also help increase visibility into the activity on a factory floor by helping manufacturing leaders track all active tasks in real-time. By gaining real-time visibility into everything that is going on, managers can assess the impacts of certain tasks on performance in order to save time, and improve both production quality and safety.
"No-code databases can be easily integrated with digital visual management systems that feed real-time data into dashboards. Having key information represented visually in one place can significantly speed up and enhance decision-making while also boosting workers motivation.
Ultimately, through the use of no-code, manufacturers can expedite new solutions that work to improve efficiencies, reduce costs, facilitate better decision-making and drive higher customer and employee satisfaction. These solutions will be the key to implementing digitisation in a matter of weeks versus months or years. The path to modernisation is clear but manufacturing leaders need to take a leap of faith in order to truly realise the benefits of Industry 4.0."