Royal Mint Director Receives Top Industry Honour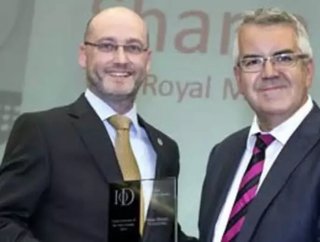 Turning around the fortunes of the Royal Mints Commemorative Coin and Bullion business has scooped its Director Shane Bissett a top industry award.As a...
Turning around the fortunes of the Royal Mint's Commemorative Coin and Bullion business has scooped its Director Shane Bissett a top industry award.
As a division head at the UK's oldest manufacturing organisation, Bissett was honoured to receive the distinguished Director's Award accolade at the IoD Wales Director of the Year Awards in Cardiff.
Bissett received the award, which is given at the discretion of the Director of IoD Wales, after he successfully transformed The Royal Mint's commemorative coin division from a loss-making venture into a profitable business within three years.
In addition to leading a highly successful commemorative coin programme and medals manufacturing division, he has also driven The Royal Mint's key business objective to break into the precious metal bullion coins market as a premium player.
He said: "When I started working at The Royal Mint I made a conscious decision to modernise the way in that we communicated with customers and shift the focus of the business online, whilst also increasing customer engagement and buy in.
To strengthen the business I launched The Royal Mint into the Bullion market, commercialising some of the existing business assets and utilising limited investment to secure cumulative sales now in excess of £400 million. 
"This included negotiating a joint venture with MMTC-PAMP to licence the striking of the Sovereign in India."
For the past two years,  Bissett has been working closely with the Welsh Government on a proposed visitor centre and recently secured its support with a £2.3million grant which will go some way towards the total investment of £7.7million cost.
In April 2014, The Royal Mint unveiled plans to develop a purpose-built visitor centre at its headquarters in Llantrisant, South Wales and construction is expected to be completed during 2015.
He said: "The new centre will enable us to take people behind the scenes of more than 1,000 years of coin making history."
IoD Wales director Robert Lloyd Griffiths said: "Shane has led two very significant business development initiatives: the most successful Olympic Coin Programme ever with sales worldwide of £102m and re-launching The Royal Mint back into the Bullion business with cumulative three year sales of £412m.
"It is great to have the opportunity to honour top business people from across Wales, where so many innovative and thriving businesses are based and I am delighted that we were once again able to promote excellence in business leadership in Wales."