Webinar: The Road to Smart Manufacturing Starts with MES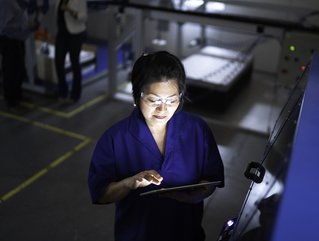 Smart manufacturing
Join Infor's Martyn Gill, Sales Director & Andrew Kinder, Industry & Solution Strategy, for a webinar: The Road to Smart Manufacturing Starts with MES
About This Webinar
Wednesday, 19th April 2023 · 3:00 PM | London (GMT +1:00)

MES systems' role in extending manufacturers' ability to innovate is well known; it has successively ranked as a top priority for organisations embarking on a digital transformation journey. MES systems harness the factory floor data to help create actionable KPIs, relating real-time plant operations to critical business objectives to guide operational decisions and eliminating the need for paper-based logs and striving for more sustainable actionable goals. MES systems today drive significant improvements in various parameters, from product quality to OEE.

As manufacturers double down on creativity and innovation as a strategy to combat pandemic-led disruptions and changes, MES systems are also evolving to empower them. Join us to learn how the Infor MES solution is evolving, in a sustainable way, to accelerate the industry's ability to connect, optimise, and evolve manufacturing operations .

Key Topics Covered
• MES a vital bridge connecting Level 0 to Level 4 of the organisation.
• Unlocking increased uptime, optimising inventory, creating a paperless shop floor, and improving product tracking and genealogy
• MES on the road to the connected factory
• MES & ERP: Better together
• Enterprise-ready systems and benefits of multi-site integration of MES
Register here
Speakers include:
International Sales Director, MES at Infor
Martyn Gill is the Director of International Sales at Infor.
A Manufacturing Quality & Metrologist Specialist by trade, Martyn has worked closely with global companies, specialising first in the promotion and implementation of Quality Systems and then of Manufacturing Execution Systems, across all manufacturing verticals. From decades of experience, Martyn fully appreciates 'what it takes' to make a success and deliver value for money to customers.
Martyn calls himself 'a disciple of manufacturing' and is a great believer in the value behind developing new ideas for improving processes to achieve world-class manufacturing, digitisation and the connected factory, without having to sacrifice people and company's principles.
Following an extensive career in manufacturing and quality software sales, Martyn joined Lighthouse Systems in 2016, which was subsequently acquired by Infor in 2021. His directive was to lead the commercial development of MES across EMEA and APAC, focusing on customer success and long term partnership building.
Martyn is a regular speaker and presenter at events.
SVP, Industry & Solution Strategy, Infor
Andrew leads the Industry Strategy team for Infor globally. Based in the UK his responsibilities include defining go-to-market strategy, determining focus industries and driving execution through marketing and sales enablement.

Andrew came to the organization through supply chain leaders Mercia Software, where he was Vice President of Operations for the UK business. Andrew has worked in enterprise software since the 1980's, seeing it from a number of different angles including implementation, business consulting, marketing and sales.

He has a background in manufacturing and supply chain and is a frequent speaker at supply chain and logistics events. Andrew holds a first class degree in BSC Industrial Studies from Sheffield.
Managing Editor at BizClik
Neil Perry is Managing Editor at BizClik and has two decades of multimedia experience. He has worked across regional and national brands for Global Radio, as a bulletin presenter, broadcast voice coach,mentor and news editor.

Neil moved into visual broadcasting in 2014 helping to establish one of the first local television channels as an assistant news editor, and executive producer of a topical discussion programme.

In 2017 he became the Visual News Manager at Archant where he developed a modern visual strategy balancing photography and video between digital, social and print media. He is also an experienced live host and facilitator both in person and in online environments. Alongside his media work he regularly works to help train the next generation of broadcast journalists.