Desktop Metal: embracing innovation with 3D printing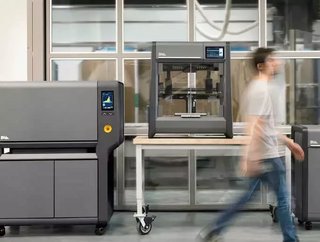 3D printing and additive manufacturing are becoming some of the most disruptive technologies in the fourth industrial revolution. Revolutionising trad...
3D printing and additive manufacturing are becoming some of the most disruptive technologies in the fourth industrial revolution.
Revolutionising traditional sectors, such as healthcare, food manufacturing and most notably, the automotive sector, the global market for 3D printing and services is expected to grow to almost US$50bn by 2025. Metal 3D printing, in particular, houses widespread applications in advanced manufacturing and engineering, where this innovation can address unmet challenges of speed, cost and quality for many automotive customers.
Demand for additive manufacturing solutions continues to grow apace across the United States, both in terms of production and consumption. A recent study by Sculpteo found that 93% of companies using 3D printing in 2018 were able to gain competitive advantage, reducing time-to-market and the ability to deliver shorter production runs for customers. As industries continue to increase their investments to accelerate the production of customised products, businesses are continually seeking to increase sales and drive revenue growth across all avenues.
Situated in Massachusetts, Desktop Metal has tapped into this demand. Producing 3D printed parts at low cost, which are cheaper, lighter and increasingly efficient, with a rapid turnaround besides has led the business completely disrupt the traditional manufacturing process. Attracting more than US$277mn in funding from some of the most renowned automotive giants and leading metal powder producers in the world, the it has built strategic partnerships with Ford, BMW and more to accelerate its momentum in delivering scalable metal 3D printing technologies on a global scale.
"The revolution we see happening in the manufacturing industry is very similar to what happened with digital photography and industrial printing, where offset presses have been disrupted in the past decade by digital presses. Once a digitally fabricated part reaches cost parity with conventional processes there are other economic forces that promote adoption. There is no need for physical inventory, tooling or shipping," explains Jonah Myerberg, Chief Technology Officer and co-founder of Desktop Metal.
A mechanical engineer by background, Myerberg gained experience as a race engineer for Porsche on its 919 team and for Mahindra Racing on its Formula E team, fully igniting his passion for the automotive space. Holding senior positions at Renovo Auto and Boston Impact, he established a new business unit at A123 Systems, which focused on the development of high-performance batteries. Successfully leading his team to design a new high-performance cell for Formula One, which has since been adopted by McLaren, Mercedes Benz and other high-profile motorsport giants, he now leads the technology roadmap behind Desktop Metal's metal 3D printing systems, creating reliable products for customers and identifying opportunities to expand its manufacturing capabilities through additive manufacturing.
"At Desktop Metal, we are committed to making metal 3D printing both accessible and successful for designers, engineers and manufacturing teams. In addition to hardware, we believe design for additive manufacturing software tools and techniques are critical to the successful fabrication of strong, lightweight parts that perform," he says.
"In order to facilitate the ability to design for additive, earlier this year we partnered with Dassault Systèmes on the preview of our software innovation, Live Parts, a generative design tool that offers a means for educational exploration to the largest community of engineers leading advancements in additive manufacturing."
Although 3D printing is not a new phenomenon, gaining access to the wide range of materials customers need for metal parts has proved a significant barrier. However, with such advances in manufacturing technology, the sales of industrial 3D printers have been predicted to surpass US$18bn by 2021.
Fully designing its systems around metal injection moulding (MIM) and its powder supply chain, Desktop Metal has sought to utilise metal powders from the MIM industry, where it has gained access to a wide range of materials, from steels and copper to superalloys and titanium. Taking raw materials and shipping them around the world, these parts then assembled into product components and taken to factories which develop increasingly complex products. With trillions of dollars in capital travelling at any given time, Desktop Metal is leading the way in enabling a new era of productivity.
SEE ALSO:
"A new class of high-speed industrial 3D printers from companies like Carbon, HP and my own at Desktop Metal are enabling this change and are quickly becoming an integral part of the fourth Industrial Revolution. These new machines are capable of printing complex parts at a lower cost than traditional techniques like casting. As this technology matures, it will usher in an era of borderless production. In this new model, only raw materials are shipped and factories around the world digitally print parts as they need them for the final assembly of the products they make," observes Myerberg.
Producing parts which are increasingly efficient, lightweight and durable will enable manufacturers to develop bespoke products which would have previously been high-cost and out of reach. Launching two groundbreaking new systems, the Studio System and the Studio Fleet, set for release in 2019, the company is set to opening up further opportunities within 3D printing. The Studio System is now on the market, and has been designed to make metal 3D printing accessible and increasingly cost-effective for engineering teams. Responsible for the development of metal prototypes, the technology has also eliminated the use of lasers and powders traditionally associated with additive manufacturing machines.
"The three-part system fully automates metal 3D printing and is tightly integrated with Fabricate software to deliver a seamless workflow for printing complex metal parts in-house — from digital file to sintered part," explains Myerberg. "Since the introduction of our original Studio System, we've worked closely with hundreds of customers across major industries—aerospace, automotive, consumer electronics, cosmetics and more to identify key applications and their requirements to incorporate metal additive manufacturing into the design process. This research continues to inform our product development so that we can make adjustments in real-time." The recent introduction of its Studio System+ is an enhanced version that addresses the unmet needs of its customers, incorporating new print capabilities as well as hardware updates designed for increased throughput, for example. The technology combines all innovative and office-friendly features within Desktop Metal's original Studio System, but offers even more functionality in the printing of small metal parts with higher resolution.
On top of this, arriving in 2019, Desktop Metal's Production System will become the first metal 3D printing system for mass production, delivering speed, quality and cost-per-part needed to compete with traditional manufacturing processes.
"In 2019, we are also set to release Studio Fleet, a custom-configurable solution designed to address today's challenges in low to mid volume production," says Myerberg. "It leverages Studio System+ technology -- including a software-controlled workflow and stackable shelving for batch processing-- for the rapid production of high-quality, complex metal parts."
As companies continue to embrace Desktop Metal's additive manufacturing technologies, 2019 is set to be an exciting time for not only the company, but the industry itself. With the ability to the deliver dramatic product improvements, create complex geometries that cannot be obtained via traditional methods and supporting assembly consolidation, the company is at the forefront of delivering superior products with a major deflationary effect on a company's supply chain.
"The continued support of our investors underscores the power of our metal 3D printing solutions to help engineers and manufacturers, for the first time, apply metal 3D printing for the entire product development lifecycle - from prototyping to mass producing complex, high performance metal parts in a cost-effective way. Ultimately what we are most excited about is continuing to get our products into the hands of customers across the globe," notes Myerberg.
"I believe that in the years to come you will see major car manufacturers turning to metal 3D printing to create parts in their shop within minutes and test out new products that would have been too expensive to test out beforehand. The possibilities with 3D printing in the automotive industry are endless."