e-bike manufacturer Zoomo accelerates growth with US$20mn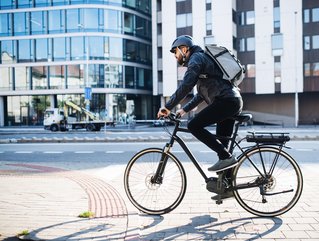 e-bike manufacturer Zoomo has added another US$20mn to its Series B funding round as demand for sustainable transport in urban areas grows
Utility e-bike manufacturer Zoomo has added another US$20M to its Series B funding round, in an equity raise which was spearheaded by Collaborative Fund.
The total funding now stands at US$100mn, which Zoomo will use to "further disrupt the logistics space and transition every urban delivery mile to light electric vehicles (LEVs)."
Moving towards net zero with sustainable manufacturing
Founded in 2017 and headquartered in Sydney, Australia, Zoomo is dedicated to turning the world's delivery fleets to electric. Zoomo's vehicles are frequently used by the on-demand food and grocery delivery sector, by companies such as UberEats, JustEat Takeaway, Deliveroo and more. Collaborative fund is headquartered in New York and has previously invested in Lyft and Beyond Meat.
Zoomo is now preparing to bring its sustainably manufactured transport to international markets. Currently, Zoomo works across 16 cities in six countries.
Sustainable manufacturing and the rapid delivery market are continuing to grow in public popularity - and Zoomo can satisfy both.
With its highly efficient, economical and environmentally friendly vehicles, Zoomo's goal is to "Accelerate the transition to net zero through the conversion of every urban delivery mile to light-electric vehicles."
e-bike manufacturer Zoomo creates safe and clean transport solutions
Those working at Zoomo are excited to expand into new cities and begin a wider recruitment process for the highly desired green transport solution.
"2021 was a transformative year for Zoomo, as we saw enterprises and fleet managers, in addition to gig-workers, benefit from our innovative platform," said Mina Nada, Co-Founder and CEO at Zoomo. "2022 is the year we take the business up a gear. The series B+ surplus funding will enable us to grow more aggressively across the globe, and ultimately put more efficient, safe and clean transport solutions on our roads.
"At Zoomo, we see a world within the next decade where every last-mile delivery will be completed on a light electric vehicle supported by the Zoomo ecosystem. Our investors will help bring us one step closer to making this a reality."
The Collaborative Fund is thrilled to be partnering with the Zoomo team.
"Delivering small packages and meals in a four thousand pound vehicle is inefficient and costly - both for customers and the environment," said Craig Shapiro, Founder and Managing Director at Collaborative Fund. "Zoomo is simply better for all stakeholders. E-bikes are just the beginning in Zoomo's vision towards powering the future of logistics. We can't wait to see more Zoomo vehicles in the cities all around us."