Hanwha to spend US$2.5bn on US solar manufacturing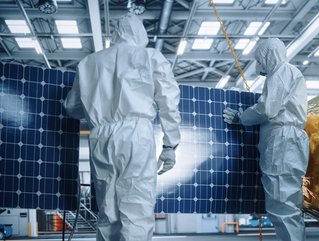 South Korean chemical manufacturer Hanwha will spend US$2.5bn on US solar manufacturing at Georgia plant, in a new renewable energy push
South Korean manufacturer Hanwha Q Cells will spend US$2.5bn on producing solar energy equipment at a new site in Georgia, USA.
Solar power manufacturing
Hanwha Group was founded in 1952 and has risen to become a "FORTUNE Global 500" company working across manufacturing and construction, finance and leisure. In 2012, the Hanwha Group acquired Q Cells - a renewable energy resource for the future of mankind.
Its Manufacturing Execution System (MES) offers 100% traceability of cells and modules and its on-site communication system provides real-time communication with manufacturing sites.
"Until now, human beings have relied heavily on fossil fuels to come this far, but I believe that green energy is our future," said Seung-Youn Kim of Hanwha Group, after the acquisition. "Our vision of becoming a globally leading company in solar energy remains unchanged and we will continue to pursue that."
In this latest development for Hanwha Q Cells, the company will expand its solar component manufacturing capacity at its Georgia plant and build a second one in Cartersville. This will bring production capacity in the USA to 8.4GW by 2024.
This will be the largest overseas direct investment in solar manufacturing in the USA, according to fDi Markets.
Next-generation solar power manufacturing
Hanwha Q Cells is working with leading institutions across the world to increase the commercialisation of perovskite-silicon tandem cells.
"We will continue to lead technological innovation in the next-generation solar power market with a dual-track R&D strategy based in Europe and Korea," said Justin Lee, CEO of Hanwha Qcells.
China currently manufactures 80% of the world's solar panels, but this manufacturing is tied to accusations of forced labour. In 2021, the USA banned the import of solar panels from the country.
This partnership with Hanwha will support the renewable energy transition in the USA.
"The goal is to end America's dependence on Chinese products in strategic solar technology," said Senator Jon Ossoff, a Georgia Democrat. "This geostrategic economic competition will continue. I'm not declaring victory on that front, but I am declaring victory in bringing massive investment to my state and expanding American manufacturing capacity."