Industrial Revolution 5.0: The Quiet Revolution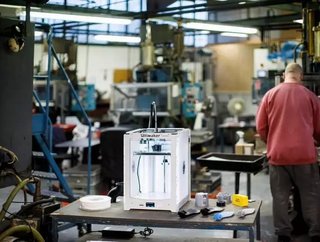 High-quality 3D printing has now become an industrial production reality. And its impact goes far beyond manufacturing. 3D Printing is coming of age. F...
High-quality 3D printing has now become an industrial production reality. And its impact goes far beyond manufacturing.
3D Printing is coming of age. For whilst to date, the technology has typically proven itself foremost in prototyping and small batch manufacturing, it is now moving in earnest into far wider applications -  from medical applications to military, manufacturing & utilities, and fashion.
As the practical application of additive manufacturing gains ground with the increase in range of filaments and textiles, Paul Heiden, Ultimaker, asks whether we're about to see the dawn of Industry 5.0 and the demise of conventional manufacturing.
3D Printing: more than just a new manufacturing technique
Cost advantages, productivity gains and time savings are the classic criteria framing an investment decision - especially when it comes to means of production. And 3D printing has been a classic example of where innovation has been nipping at the heels of traditional manufacturing processes, though predominantly in prototyping and in small batch manufacturing while the industry has been experimenting with both the technology and the textiles.
Today, though, there is little doubt that the additive manufacturing processes eliminate the time-consuming mold production and the set-up time needed for machines, and involves fewer processing steps. More and more examples show that 3D printers - for a variety of reasons - are now taking on a central and even strategic role in manufacturing. Particularly in the processing of plastics, 3D printers today can print accurately, with high quality and reliability. And at comparatively low production cost. But above all, additive manufacturing shows its strengths where conventional manufacturing reaches its limits.
Disruptive technology for true innovation
Take the field of medicine as an example: 3D printers can be used to create geometries and constructions that cannot be produced by using traditional manufacturing processes, such as structures inside hollow bodies. Bionic constructions, as they are known, have stemmed from the study of bones in conjunction with complicated stiffening structures. They can save enormous weight, at the same stiffness and load values. In addition, the developer (ie surgeon) does not have to worry about if the design can be turned into reality at all, because it serves an entirely different purpose – that of reducing theatre time and saving cost, and improving the patient experience.
At the same time, across many industries, 3D printing techniques enable the iterative loop of initial production, component testing and creation of a redesigned object to be much faster. Processes that used to take weeks, can now be optimised in a matter of hours. With a few mouse clicks, a 3D model can be changed and a first digital simulation produced. The object can be printed in a matter of hours, say overnight, and so be available for re-testing the following morning.
Change in value chains and new business models
The possibilities for this shortened design process also apply to product personalisation, for example. Design options, such as for shoes, eyewear and other goods, are already available to end consumers. Stored as print programmes, the consumer selects their preferred design and a printer creates the desired object, ideally on-site.
Of course, this principle also applies to the manufacturing industry. Components, prefabricated plastic parts, but also assembly devices or tools for production sites can be made by 3D printers. The main value of this capability lies in replacing centralised product manufacturing and shipping through slow, and costly, logistics supply chains with local, on-demand production.
There is also enormous 3D printer potential for spare parts. Certain spare parts no longer have to be produced, then stocked, then delivered only when they are needed. If they can be 3D printed locally, the time and cost benefits gained from reduced transport, handling, stocking, and fulfillment processes are self-evident.
Whether it comes to prototypes, small series or real mass production, the opportunities presented by 3D printing for design and innovation can allow new business models to emerge - and potentially make existing ones non-competitive.
Industry 5.0 – Success Criteria?
So what exactly is set to herald Industry 5.0?
The answer lies in the breadth of application and the accessibility and reliability of the technology, which combine to unlock new found levels of innovation.
Firstly, the print quality of plastic filaments has today reached a level that meets industrial quality requirements.  An Ultimaker printer, the Dutch market leader in desktop 3D printing, can for example apply fine layers of up to 0.02 millimeters; layers which become virtually imperceptible in the final product.
Moreover, there are various scenarios in which plastics can replace metals. New polymeric materials will be able to eliminate metals in some instances, while 3D geometry can also be used to create new geometries and structures that were previously impossible. Thus, for certain applications, a sophisticated plastic part may be the lighter, more stable or simply the cheaper alternative.
For example, Sylatech is a design and manufacturing business that deliver precision custom engineering solutions for its customers, who uses the Ultimaker to prototype sample parts for its customers. This allows them to test their designs without having to invest in tooling ahead of investment casting. This yields significant time- and cost savings, as fewer tooling modifications are necessary.
In addition to hardware, software is another crucial factor. With integration of 3D CAD applications such as SolidWorks and Siemens NX into leading 3D Print software applications, desktop printers are becoming ever more accessible and reliable. In addition to providing an easy-to-use interface, the print preparation software can today precisely control intricate hardware configurations, while the entire ecosystem must also be able to cope with lengthy production sessions without loss of quality and without stopping the print process. The most advanced systems can control different filaments behaving differently during the printing process, and parameters such as layer thickness and mass of the applied material influencing the printing process. They can recognise which materials are being used in the respective printers and configure the jobs accordingly, while for industrial use, a single interface can control multiple printers, simultaneously selecting, grouping, queuing, monitoring, printing and scheduling work orders. In addition, they can automatically notify users should a printer need support, smoothly integrating 3D printing in the workflow and to making maximum use of the technology.
The final piece of the jigsaw is the human element. While 28 percent of companies cite the lack of 3D printing expertise within their teams as the main barrier for adoption (source: EY-Report), the training and support provided by external providers combined with the digital capabilities of the incoming workforce means that the bounds of the technology are being pushed more widely than we have been able to imagine to date.
Conclusion
Collectively, the industry has been talking about 3D printing for a while as a concept – with headline grabbing topics such as 3D printed food. But in the background, the silent revolution has been gaining mass. The combination of mature hardware, reliable and agile software and accessible skills is about to transform traditional manufacturing as we know it.