Ricoh Europe: technological titan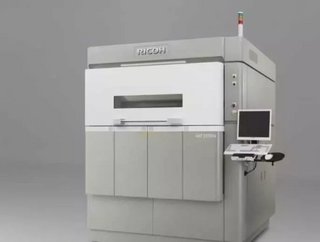 Print technology giant Ricoh is a force to be reckoned with, making great strides in its industry to stay on top in an ever-changing business. Peter Wil...
Print technology giant Ricoh is a force to be reckoned with, making great strides in its industry to stay on top in an ever-changing business. Peter Williams, Executive Vice President of Ricoh Europe, understands that change is inevitable in technological manufacturing: "Historically, we're a manufacturing company, with our core products being office-based printing items. However, we've branched out into software development, and therefore moved away from manufacturing as the sole source of our value proposition; we're also a software applications and solutions-based company now. We're very proud of our roots, but they're no longer the sole part."
Founded in Tokyo in 1936, Ricoh has slowly but surely expanded into a $20 billion company, with the European branch worth around 4 billion Euros. It was the first provider of digital machines that moved printers into scanners and made them more integral in the workplace, with the majority of the high technology work done in Japan, a country known for its electronics quality. Ricoh is also an early innovator in inkjet printers, and supplies large quantities of heads to partners and competitors.
The biggest market for inkjet heads is in Europe, and the largest applications for these is now 3D printing. Williams runs the 3D – otherwise known as 'additive manufacturing' or 'AM' – group in Europe, and is aware of how important this technology is: "It's only recently we've become directly involved with 3D printing. There's a lot of hype around being able to produce body parts, machinery parts, having 3D printers on space ships so they can self-repair; to a certain extent, all of those are possibilities. 3D is very interesting but there's still a long way to go before it moves into being on the forefront of peoples' minds. There's a huge amount to be done on the material side."
Ricoh's own 3D printer, the RICOH AM S5500P, is capable of creating high-definition and durable fabricated objects. Regardless of how much work there is to do before 3D-printing becomes mainstream, the launch of this product has given Ricoh a reputation as a major player in AM development. "We were at Formex in Frankfurt last year, and the presence of Ricoh authenticated the business sector. It was a real honour. People were saying 'now Ricoh is involved, additive manufacturing is moving up a gear in terms of corporate involvement', which tells you about the brand name within the general market. The level of industry moved faster than originally intended with the positive feedback we got. We've taken orders for the 5500 in Europe, where it isn't even available yet. There's a strong reaction to the device itself, and secondarily due to Ricoh's involvement."
3D technology will play a big part in Ricoh's plans for expansion. "In terms of additive manufacturing devices, we've got two extremes: entry-level and top-of-the-range products. What we expect to do is maximise the value of those two areas, and in-fill with additional devices. I see a more comprehensive portfolio, followed by expanding the services organisation in Telford, UK, and then the rest of Europe."
Williams says that the growth of AM is constrained by suppliers not having the support infrastructure boasted by Ricoh, holding up the manufacturing process. He sees a broader use of Ricoh's system, saying "this will allow the market to develop. The commercial growth in this business proves that huge development is possible. It will be very interesting to see that."
The company believes that what sets Ricoh apart is its ability to support its devices. In Europe, it has 6,000 staff members committed to the service of its products, from call tracking, service calls, and despatch, to remote sensing of devices: "These are the things that differentiate us from competitors. Over a million of our printers are under service contract in Europe, and they need support. Then there is another tier which supports commercial print devices because that environment is very intensive on the use of colour technology and speed; even the terminology is different. Other businesses in this industry tend not to have the same infrastructure as us. Part of our value is in better utilisation of that infrastructure."
Ricoh's European branch has two large distribution centres in the Netherlands; one for parts and consumables, and one for finished goods. There are also six satellite warehouses, allowing for the quickest possible product distribution. "Both the primary and satellite distribution centres work as one so they look from our system viewpoint as a single instance of inventory, and we supply those. Part of our skill is to cost-effectively manage both finished goods and parts effectively. We have very sophisticated logistics to support our base. Over a million of our printers are under service contract in Europe, and they require support."
Ricoh's success within its sector has led to an inevitable flood of job applicants, forcing the company to be extremely careful during the selection process. "What I didn't want was for Ricoh to be a university for the rest of our industry," Williams says. "We take training and recruitment very seriously. Retention is critical. The first couple of years is about offering opportunities to the employee, presenting the company in the best light, giving the person the right opportunities; those things are critical to ensure retention while that person slowly becomes an expert in their field."
With Williams such a believer in bringing the company closer to its client base, Ricoh has made another step towards the customer by introducing an experience centre, which allows consumers to visit the European base in Telford and see Ricoh's manufacturing processes close-up. "We opened it just over a year ago, and we've had 150 customer visits since then. Manufacturing skills are displayed generically and specifically. We've had some very notable names in aerospace, automotive, and petrochemical sectors that we've offered consultancy to in areas of smart manufacturing. We bring clients in for a specific enquiry, but we're then able to include additional opportunities to those visits."
The Telford base now has additive manufacturing machinery, and can offer demonstrations and consultancy regarding design technology and material selection. For Williams, this multi-faceted customer experience service fills a gap not touched on by small-medium manufacturers, and adds value to Ricoh as a successful – yet approachable – business.