Successful manufacturing sales enablement cornerstones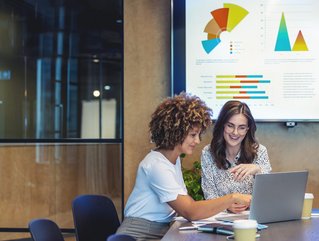 Sales enablement
Andre Black of Allego shares the four cornerstones of sales enablement in manufacturing: Insight, communication, continual learning & effective management
The pandemic shook up the manufacturing world — now it's time to shake up the way sellers do business, says Andre Black, Chief Product Officer, Allego.
"You can support your sales team with sales enablement. This approach is one of the best strategies for competing and growing in the new economic environment," he says.
What is sales enablement? It is the ongoing process of supporting salespeople to help close deals and maximise the revenue per representative. Sales enablement provides a holistic method to give your teams the tools, expertise and content to effectively sell a product or service.
"By 2025, 80% of supplier-customer interactions will happen digitally," says Black. "Traditional approaches of relying on order taking, in-person meetings and established relationships to drive sales no longer achieve optimal results. Manufacturing sales teams must proactively identify prospects and attract digital buyers while replicating in-person experiences virtually. Sales enablement is vital to achieving these objectives."
Sales enablement has a proven impact on results. Three-quarters of organisations leveraging the approach generated a sales increase between 6% and 20%, and 85% of sales reps reached their quotas. Black believes a successful programme for manufacturers should feature four cornerstones and he shares them here.
Continual learning and reinforcement
Manufacturers need their salespeople up to speed as soon as possible, but accelerating training while ensuring reps are fully prepared with all necessary customer, product and market information creates a significant challenge.
The intensive onboarding process can lead to information overload — research finds that B2B sales reps forget 70% of what they learned within a week and 87% within a month. When it's time to make a sale, many reps have not yet mastered messaging, resources or techniques.
A modern sales enablement programme can resolve this issue. To combat that information loss, look past basic courses and exercises. Using a sales enablement platform, you can incorporate interactive training elements such as quizzes and practice sessions
In the past, businesses spent too much time on theoretical classroom learning when, in reality, experience and practice make perfect. Sales enablement programs incorporate experiential and peer learning into sales workflows, producing better results than theory and product knowledge alone.
Learning is not a one-time event. In addition to the natural human tendency to forget, selling is constantly evolving. New competitors, products and customer needs can disrupt business strategy overnight. The most effective sales enablement programmes make sales training continuous with consistently updated just-in-time learning materials and collaboration tools, allowing salespeople to learn from one another. Additionally, a training repository provides continuous knowledge access for employees who need a refresher or have questions.
Effective sales content management and messaging in manufacturing
Manufacturing companies struggle to create, distribute and update collateral. Sellers report spending 440 hours a year searching for materials, and 42% say they don't have enough information before a call. Sales enablement enables sales asset creation and management, covering both customer-facing content and internal reference material and tools. Having resources available is half the battle — sellers must know how and when to use them.
Current sales enablement approaches allow managers to highlight the best use of marketing collateral and recommend context-specific content. Software can organise materials so manufacturing sales teams can easily find and use the appropriate asset.
Actionable communication and collaboration
Like many other industries, manufacturers must find a solution to keep hybrid teams and channel partners in sync. Sales enablement facilitates communication internally and externally. Sales reps can easily share insights and best practices while collaborating with their peers, the marketing team and other business functions to align messaging and gain additional information on market conditions, customer insights and competitive intelligence to enable sales success.
With sales enablement technology, salespeople can communicate asynchronously using video messaging and written notes. Recordings allow managers to review calls and presentations to provide input and feedback, and sellers can tap into subject matter expertise on the go. Digital sales rooms house content, providing buyers and prospects with easy, anytime access.
Better performance driven by manufacturing insight
Data drives the world, and sales is no different. Manufacturers often lack clear visibility into what is and is not working in the sales process. By generating dashboards based on what is working in the field and what internal actions are driving the best behaviors and outcomes, sales enablement technology provides insight into performance drivers. Manufacturing companies can measure buyer engagement to tie actions with outcomes and shed light on which sales content pieces and conversations are making an impact. Gathering analytical data on successful deals provides a roadmap for future negotiations. Meaningful metrics include average sales cycle length, number of reps meeting quota, and average deal size.
Technology also helps identify coaching opportunities. Managers can track reps' competencies and analyse calls and practice videos to identify areas for improvement. Analytics measure which learning content and practices correlate with success.
To maximise the impact of sales enablement, manufacturing and industrial companies should:
Create a centralised, regularly updated repository of current sales materials categorised and browsable by usage scenarios relevant to sellers
Provide mobile access to sales content
Educate sales teams on when and how to use each marketing asset, placing the asset alongside best practice examples for how to use it in the field
Collect and analyse qualitative and quantitative data on collateral success
Build connections among sellers, managers, subject matter experts, prospects and buyers
Gut feelings and anecdotal evidence are insufficient to inform and maintain a successful sales strategy. By combining training, asset management, communication and analytics into sales enablement, manufacturing sales leaders can get a comprehensive view of the content and behavior correlated with sales success. This data enables their sellers to quickly pivot in a rapidly changing and competitive manufacturing sales environment.