Sustainable Mobility: Ford's Electric Vehicle Strategy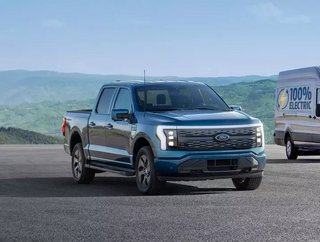 Automotive manufacturer - Ford Motor Company - details its sustainable mobility, electric vehicle strategy
Committed to driving the adoption of electric vehicles, Ford Motor Company, in the midst of implementing its ambitious and comprehensive plan to transition to an electric lifestyle, breaks down its strategy. 
Electrification of the Automotive Industry
Investing US$22bn into the electrification of the automotive industry through 2025, Ford's initial plans are to electrify three of its most iconic models - the Mustang, F-150, and Transit - more vehicles are expected to follow. 
Alongside offering zero emissions versions of its popular vehicles, Ford plans to harness electrification to increase its performance, capabilities and productivity. "And with more than 2,300 EV-certified dealers across all 50 states – plus 644 EV-certified commercial vehicle centers – Ford stands ready to serve customers and help people transition to electric vehicle ownership," states Ford Motor Company. 
Commercial Vans and Pickups
A key part of Ford's ambitions is to drive the adoption of electric vehicles for commercial vans and pickups. To achieve its ambitions, Ford plans to bring the benefits of electric vehicles to this market - accessible price point, improved productivity, and lower cost to own.
Home charging solutions 
Currently ford holds the largest public charging network in North America, totalling 63,000 charging plugs. For a seamless experience, Ford promotes its built-in charging solutions such as its cloud connected navigation system which can navigate users to nearby charging stations, recommend charging points on a journey, and can be easily paid with the FordPass app. 
Ford's Rouge Electric Vehicle Center in Michigan
Currently Ford has an electric vehicle manufacturing footprint around the world, including four plants in North America. One particular manufacturing plant in Michigan - the Rouge Electric Vehicle Center - will be benefiting from a US$700mn investment made by Ford. The funds are expected to add 500 new jobs, and provide the advanced sustainable manufacturing technology required to build the F-150 Lightning and F-150 PowerBoost Hybrid.
Electrification: Central to Achieving Carbon Neutrality
With bold ambitions to achieve carbon neutrality globally by 2050, Ford's electrification strategy will be a core component to its success. Currently, "Ford is the only full line U.S. automaker committed to doing its part to reduce CO2 emissions in line with the Paris Climate Agreement and working with California for stronger vehicle greenhouse gas standards," states Ford Motor Company.
Working with Others 
Alongside working on its own internal operations, Ford works with other automotive manufacturers where it sees opportunities in markets it does not have scale in. So far Ford has invested US$500mn into electric vehicle startup Rivian, with plans to use Volkswagen's Modular Electric Drive architecture to develop an all-electric vehicle for the European market in 2023.
Battery Cell Research and Development (R&D)
Furthering innovation, Ford is investing significantly into accelerating the research and development (R&D) of battery and battery cell technology. The company has recently established Ford Ion Park - a global batter centre in southeast Michigan. Ford plans to use state-of-the-art equipment to pilot new manufacturing techniques that will allow Ford to quickly scale breakthrough battery cell designs.
In addition to battery cell R&D, Ford has increased its investment in Solid Power - an industry leader in all solid state batteries for electric vehicles. Such batteries are designed to power longer range, lower cost and safer electric vehicles.
For more information on Ford's sustainability, electrification and road safety efforts, click here.