Top 10 manufacturing businesses supporting Ukraine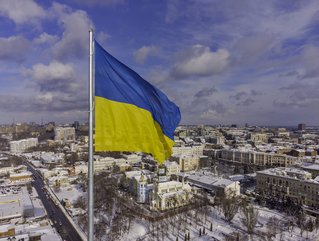 Ukraine
Global manufacturers have joined in on the sanctions against Russia and halted trade with the country, while others support Ukrainian refugees
Founded: 1903
Headquartered: Dearborn, Michigan, United States
Ford has sold 21,000 vehicles in Russia over the past year, but it was quick to suspend its joint-venture (JV) operations upon Russia's invasion of Ukraine.
"While we don't have significant operations in Ukraine, we do have a strong contingent of Ukrainian nationals working for Ford around the world," Ford declared in a statement.
Founded: 1919
Headquartered: Columbus, Indiana
The power systems manufacturer has suspended all trade with Russia, instead teaming up with community organisations in Romania and Poland to provide aid for Ukrainian refugees as they arrive in neighbouring countries.
Cummins' grant-making partner, Global Giving, has opened a Ukraine Crisis Relief Fund for donations, which will be spent on humanitarian projects.
Founded: 1990
Headquartered: Duluth, Georgia, USA
AGCO Corp is an agricultural equipment manufacturer with a global awareness of the food chain.
Knowing that Russia's war against Ukraine would disrupt the supply chain of food to those most affected, The AGCO Agriculture Foundation (AAF) has donated emergency relief and food assistance to Ukrainian families whose lives have been uprooted by the invasion.
Founded: 1937
Headquartered: Aichi, Japan
When Russia invaded Ukraine, Toyota joined in with other global businesses in sanctions against its neighbour.
The Russian ambassador warned the world's biggest carmaker: "Should Japan impose sanctions on Russia, there will be consequences."
Just after the announcement, Toyota was hit by a cyber attack that halted production.
Founded: 1925
Headquartered: Deerfield, Illinois
Caterpillar has halted manufacturing operations across Russia and is donating to humanitarian efforts in Ukraine as it seeks to defend itself and organise safe passage for civilians escaping Russian aggression.
The Caterpillar Foundation will donate over US$1mn to best address the needs of Ukrainains, in regards to both their immediate safety and long-term wellbeing.
Founded: 1926
Headquartered: Stuttgart, Germany
The luxury car maker Mercedes-Benz manufactures small car parts in Ukraine, so it warned that there would be a production reduction as a result. The company is in close contact with its suppliers and working to resolve its supply chain problems.
"As an immediate emergency measure, we're donating €1mn to Deutsches Rotes Kreuz eV (Red Cross) for their help for Ukraine," said CEO Ola Källenius.
Founded: 1975
Headquartered: Turin, Italy
Iveco Group has some employees living in Ukraine so is providing housing support and financial aid for these refugees. "We will allow children undergoing oncological care in Ukraine to be treated in an Italian hospital; and will particularly and actively sustain women's and children's rights, including through educational activities for the refugees," said the company in a statement.
Founded: 2020
Headquartered: Yorkshire, England
The Ukrainian Embassy in London networked with local politicians to contact the Venari Group. Ukraine has been losing up to ten ambulances a day and the emergency vehicle manufacturer Venari Group was keen to help. The company is sending military grade ambulances to the front lines in Ukraine, to save civilians and soldiers alike.
Founded: 1837
Headquartered: Moline, Illinois
The John Deere Foundation, a part of the agricultural equipment manufacturer John Deere, has begun working with organisations to help Ukrainians, with the company halting shipments of its equipment to Russia and its ally Belarus.
In an unexpected PR development, footage of a John Deere tractor dragging a Russian tank down a road has gone viral, in what may become one of the defining images of the underdog nation's fight against Russian aggression.
Founded: 2012
Headquartered: London
Another agricultural machinery company, CNH, has 38 employees in Ukraine whom it is determined to support.
The company has opened an employee donation fund, which the company will match, in addition to a donation of US$500,000 and the assistance of NGOs to allocate the funds.
"CNH Industrial is prioritising the safety of our employees and their families in Ukraine," said Scott W. Wine, CNH Industrial CEO. "I am humbled by our employees' determination to contribute in assisting the population of Ukraine, which is in urgent humanitarian need."