Autocar and Ford celebrate women in the automotive industry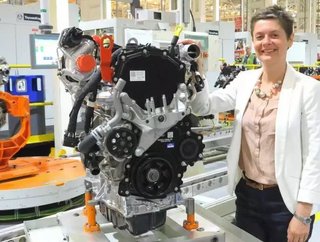 Each year, Autocar recognises 100 rising stars from within the automotive industry; earlier this month, 13 female employees from Ford – all of whom gr...
Each year, Autocar recognises 100 rising stars from within the automotive industry; earlier this month, 13 female employees from Ford – all of whom graced the top 100 – were celebrated at the Autocar Great British Women in the Car Industry event. The event aims to encourage more women to become part of the automotive industry, and this year included a networking lunch for last year's female Ford winners to share experiences and insights with 2017's winners.
The Manufacturing category was won by Ford's own Diesel Manufacturing Strategy Manager, Leah Bruce. There was also strong representation of female Ford employees in the Marketing and Product Development categories.
Ford of Britain Chairman and Managing Director said: "I'm delighted to see so many of our female employees being recognised at this special event. Women are underrepresented in the automotive sector and it's fantastic that events like this highlight the successful women in our industry, and raise awareness of the rewarding career opportunities that exist."
Autocar's Editorial Director, Jim Holder, said of Bruce's win: "Leah's job puts her at the epicentre of one of the toughest debates in the industry at present, making her the ideal standard bearer for showcasing just how far a career in automotive manufacturing can take you. She has reached this incredible role through a career in which it is clear she has consistently shone individually, both in the UK and abroad, and by showing a dedication to highlighting the opportunities on offer in the industry through her work promoting STEM subjects."
Ford recognises the challenges of attracting young people, especially girls, to consider a future career in the automotive industry and runs a wide range of activities and initiatives to address: Here is a list of Ford's initiatives that aim to involve more women and young people in the industry:
FoB Women in IT – IT Girls Day
Women in IT (WIT) host  a fun, exciting and educational event at the Dunton Technical Centre for 60 female students, from five local schools, aged 13-16. The purpose of the event is to actively engage with the local school communities to attract more girls into STEM related careers such as IT and, specifically, at Ford. Activities include a 'hands-on' coding session and an insight into the role IT plays in future smart mobility opportunities.
International Women in Engineering Day
Ford's Dunton Technical Centre opens its door to welcome 80 Year nine students from local schools. Pupils spend the day taking part in engineering activities, such as an egg crash challenge, and tours of the engineering facilities, with the aim to promote interest in pursuing STEM subjects. 
Greenpower Trust (Formula Goblins, Formula 24)
Ford Engineers support local schools and the Dunton Technical Centre hosts the regional finals of the Greenpower Trust competition round including both Formula Goblin (between nine and 11 years old) and Formula 24 teams (between 11 and 16)
Formula Student UK
Ford sponsors three 'Formula Student' teams. Formula Student is the the world's largest student motorsport event, seeing over 3,000 students in 135 teams from 28 different countries compete at Silverstone racing track in Northamptonshire. Its aim is to help develop the UK's next generation of engineers, scientists and innovators.
STEM Prize
Recognising that women are traditionally under-represented in STEM studies and the related professions, The Ford PWN (Professional Women's Network) awards an annual prize to recognise the achievements of women in STEM. The prize is awarded to a female student undertaking a STEM degree who can demonstrate that they are helping to inspire the next generation of scientists, engineers and technologists.
Ford Blue Oval Scholarships
Launched in 2011, to celebrate 100 years of Ford in Britain, the Ford Blue Oval Scholarship Programme is established to support the UK's next generation student engineers, scientists and innovators. 
Ford provides sponsorship for undergraduates on a selection of engineering, science, manufacturing and technology courses at leading UK universities. These universities are: Bath, Bradford, Brunel, Cardiff, East Anglia, Imperial College London, Loughborough, Nottingham, Southampton, Strathclyde, Surrey and Warwick.
First Lego League event
FIRST LEGO League is a global science and technology challenge for teams of students, to encourage an interest in real world issues and develop key skills that are crucial for their future careers. The students work together to explore a given topic and to design, build and program an autonomous LEGO robot to solve a series of tasks. FLL is for young people aged between nine and 16, working in teams of up to 10 students with a supporting adult coach.