Top 10 ways that robots can be used in manufacturing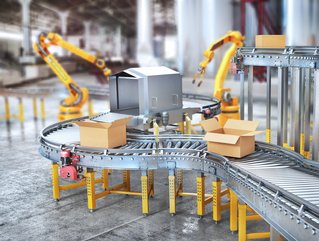 From increasing safety to lowering costs and speeding production here are Manufacturing's Top 10 ways that robots can be used in manufacturing automation
If the average person was asked to draw a robot, they would probably include a humanoid-figure with a vacant smiley face. This is the Hollywood version of robotics that we know, one designed to look friendly. But those in the manufacturing industry know efficiency beats friendly - and robots don't need faces.
In the manufacturing industry, robots can carry weights humans can't, answer customer help requests, help a company improve its safety and lower costs. By 2030, the autonomous mobile robot (AMR) market size is expected to reach USD$22bn by 2030.
Here are ten ways that robots can be used in manufacturing automation.
10. Precision holding
Nike partnered with startup Grabit in 2017 to maximise its shoe production. Nike uses many materials for its famous footwear and Grabit's precise technology can grasp anything between an egg and a 50 lb box.
Now, Nike's Stackit robots can make up to 600 pairs of shoes in an eight-hour shift.
9. An extra pair of eyes
As highlighted by IT company Verizon, for those manufacturers working in warehouses that have shelves stacked high, inspection kits with recording devices can be mounted on to AMR's, in order for human eyes to see what is going on on the top shelves. This prevents human workers from venturing up there - saving time and increasing safety.
8. Industry 4.0
Robotic process automation (RPA) software company, UiPath, has announced that it has become a Builder sponsor of The Smart Factory @ Wichita, a centre owned by Deloitte.
Sebastian Seutter, global manufacturing lead at UiPath, plans to connect automation, artificial intelligence, and the IoT, in order to 'reduce throughput time and increase factory output, while enabling reduced lot sizes, ensuring sustainable operations, and lower operating costs'.
7. Speeding up the food supply chain
Tyson Foods - known for its fresh and frozen chicken - has invested in a Soft Robotics Series B extension, expanding its use of AI, robotics and automation in the Tyson Food supply chain. The company uses soft robotics grippers and 3D machine perception, to get roast chicken on the table faster.
6. Customer satisfaction
Automated chatbot communications are powered by AI and are a regular site on the internet.
Research from Hubspot discovered that:
90% of customers rate an immediate response to a customer service question as 'important'
60% defined 'immediate' as under 10 minutes.
Therefore, helpful AI chatbots must be faster and as accurate as possible.
5. Increasing efficiency and improving quality
In transport, AI can make roads safer, support autonomous vehicles and more.
Symbio Robotics has amplified the levels of safety at Ford Motor Company's transmission plant.
"Through the use of AI applied by people, the robots quickly learn and execute tasks increasing efficiency, improving quality and reducing ergonomic hazards," says Symbio Robotics.
4. Spotting defective items
The American Society for Quality estimates that large manufacturers lose billions of dollars each year from shipping out defective items.
Google's Visual Inspection AI, is a new Google Cloud Platform solution, designed to help manufacturers eliminate the number of defects. The tool helps manufacturers spot imperfections in products before they're shipped out.
3. Increasing human potential - and happiness
Some fear that robotics will eliminate the need for human workers. Max Cheprasov, Chief Automation Officer at Dentsu Aegis Network, believes that automation can make teams - of any industry - as efficient, productive and happy as possible.
"As far as I'm concerned, the future of automation should be placed in the hands of every single employee," he said.
2. Lending a flexible hand
Standing at 8 metres tall, the RoboShuttle RS8-DA, is a flexible arm robot, which can help those working in warehouses optimise the space available to them.
Produced by Geek+ the robot can solve complex logistical issues.
"Businesses need a flexibility and space utilisation that traditional automation does not provide. Our engineering teams are continuously developing innovative solutions to meet this demand," said Lui Kai, Co-founder and VP of smart warehouse products at Geek+.
1. Cobots
For those who enjoy working alone, or despise office banter - the cobot is for you.
'Cobots', known formally as Collaborative Robots, are designed to support direct human interaction in a shared working space, where humans and robots work closely together.
Cobots manufacturer, Applied Automation, has created modules for employees which covers cobot set-up, redeployment and interaction with third-party devices, to provide a seamless experience for cobot colleagues and customers.