5 minutes with Peter Ross, founder and MD of CP Cases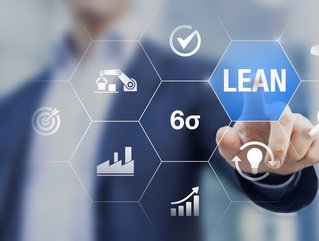 Lean manufacturing
CP Cases is a manufacturer of protective cases and covers. Here, founder Peter Ross discusses lean manufacturing & net zero in the manufacturing sector
Peter Ross is the founder and MD of CP Cases - leading manufacturer of specialised protective cases and covers for broadcast applications.
Here, he tells us about lean manufacturing, solar power and the manufacturing sector's role in reaching net zero.
What is CP Cases?
"Amongst the first to market in the 1970s with flight cases for the live music industry, CP Cases now offers the broadest range of products with protective, operational transit cases for defence and security, broadcast and media, medical and scientific, offshore and many other sectors. CP Cases has over 50 years of expertise in producing cases, 19-inch rack solutions and bags, CP Cases has an unparalleled range of in-house skills and expertise with rotomoulded plastic, aluminium, laminated plywood, HPP, textiles and CNC foam machining. CP Cases' products are available in a wide range of standard sizes, and the UK-based design team can create a custom solution to meet almost any application your product requires."
Tell us about your thoughts on net zero.
"Tackling the climate emergency is probably the biggest challenge for all of us. As recent reports show we are very close to a tipping point from which we may not recover. It could be too late to prevent lasting damage and all we are doing is preventing further harm. Obviously, everyone has a part to play but manufacturing plays a key role. Also linked to this of course is using more sustainable materials and processes within our products to further reduce our environmental impact. Greater electrification of processes will help manufacturing get closer to net zero. It's also essential that processes that cannot be electrified and use natural gas for heating etc, can be moved over at some point to Green Hydrogen and that manufacturing industries are given priority of supply for this. It goes without saying that net zero programmes align with greater sustainability in the business."
How can the manufacturing industry reach this and help other sectors to do so?
"We are seeing that many of our customers are looking seriously at how they can influence their supply chains to reduce emissions. They have big levers to pull themselves but now are encouraging suppliers to make further gains. Our objective is to help them with this. Our Non Executive Director, David Seall, is a member of Chapter Zero, (the organisation for NEDs to promote Net Zero on their Boards) so we use their template to guide us. Our plan involves detailed energy assessments and monitoring within our manufacturing operations, optimisation of energy usage and reducing waste along with producing our own electricity. It's all allied to basic 'Lean Manufacturing' methods.
"Obviously, energy costs are usually substantial in most manufacturing businesses, so it makes sound business sense to target these. However other sectors also have to play their part by reducing energy usage even if it's not an obvious problem or cost for them. Without this net zero will never be achievable. Other sectors can help by following the lead of manufacturers and using suppliers focussed on reducing emissions and introducing energy-saving measures of their own."
How else can the manufacturing industry cut emissions?
"A provision of affordable energy storage such as batteries, that could be allied to solar and possible small wind turbine generation, would help manufacturers reduce reliance on the grid, use more off-peak power and become more self-sustaining. Also, the replacement of old equipment with newer more energy-efficient machinery, which is probably more compatible with Industry 4.0, is a good move along with greater electrification where possible. Optimising and reducing transportation costs is also a quick win, allied with on-shoring of the supply chain. Further off-setting of CO2 emissions can help but it's better to address the root causes if possible."
What are your plans for the next 12 months?
"During the next 12 months, we will be installing over 1000 sqm of solar power generation to help power our facility. We have refreshed and added to our capital equipment capabilities and brought more processes in-house and strengthened our UK supply base. We have moved production of some of our order books to our USA facility to manufacture products closer to the source of demand and reduce transportation emissions. We are also researching the use of 'bio-polymers' which use plant based materials to replace plastics based on petrochemicals. This is not only more sustainable but goes someway to offsetting the carbon impact of our plastic case production. We will also further investigate the carbon footprint of our transportation and use of electric vehicles and search for alternatives to reduce our use of natural gas in plastics processing."