How Smurfit Kappa implements innovation to support customers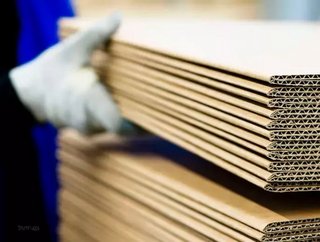 Edwin Goffard, COO of Corrugated Europe for Smurfit Kappa, describes the innovative impact of the business on the packaging industry and how it helps to...
Edwin Goffard, COO of Corrugated Europe for Smurfit Kappa, describes the innovative impact of the business on the packaging industry and how it helps to support customers.
An immediately recognised name in the manufacturing industry, Smurfit Kappa has grown from a Dublin-based box-making business in 1934 to a global FTSE 100 organisation, and Edwin Goffard, COO of Corrugated Europe, has a working history peppered with Smurfit Kappa's influence.
Born and raised in Belgium, Goffard went on to study in Brussels and New York, after which he was headhunted by a variety of businesses across multiple roles. His first experience of Smurfit Kappa was with Smurfit Stone in Chicago, which was created from a merger between assets that the business had in the US and Stone Corporation. Goffard was put in charge of the integration programme.
A year into the role, he moved to Germany to become CEO of Smurfit Stone's German subsidiary, which eventually morphed into Smurfit Kappa in 2005. After 11 years, Goffard "got the itch" (in his own words) and left the business, but rejoined in 2016 to run the Mexican operations before moving once more to Amsterdam for his current role. It's been a fascinating working life for Goffard, who is always keen to enjoy new experiences. "No matter what role or situation you're in, you can always find new things to do and learn for yourself," he says. "Even if you stay in a role for a long time, I think that's possible. I do like to experience new challenges every now and then and, within Smurfit Kappa, I certainly have been able to do that. The role is very exciting."
A large part of what makes Smurfit Kappa such an attractive employer is its dedication to innovation. Back in October, Manufacturing Global reported on the announcement of Smurfit Kappa's e-retail offering – eSmart – along with the news that the business was then working with 70% of all leading European e-retail brands. Smurfit Kappa knows that packaging plays a vital role in customer experience, and advising businesses on that fact is something Goffard is passionate about.
"For the majority of our customers, e-commerce is just another sales channel which drives complexity in operations and supply chains," he explains. "It's changing all the time and, though the growth it represents overall is comparatively small, it's rapid growth in that sales channel. Doing packaging right in the fast-moving goods sector is very important but, due to the speed of change, I think there are many unknowns for companies in terms of approach."
Smurfit Kappa's own approach is a structured one which looks at how it can support e-retailers with the challenges of e-commerce. According to Goffard, at least 80% of companies say that packaging should represent the retail brand, but it's not always that simple. Many companies aren't occupying their own brand space when it comes to e-commerce operations; as an example, when a large company recently visited Smurfit Kappa's Experience Centre in Amsterdam, it was discovered that this can be a serious problem for the brand perception of the consumers.
"We ordered a number of their products and showed them how they arrived with us," says Goffard. "It was very surprising to them because they spent so much money on cultivating their brand over years and years, but their products actually came shipped in a reused box which had previously been used for something else and might even have another company's branding on. That completely loses the brand image. Around two thirds of businesses do believe they can enhance the customer experience with better packaging, but that does also increase complexity."
This is where Smurfit Kappa steps in with a fit-for-purpose solution. Difficulties in packaging branding can come about when businesses use both direct and indirect channels to sell their products. Different sales channels typically require different pack sizes and packaging, but manufacturing filling lines are often not flexible enough to deal with this complexity. Smurfit Kappa's mix of creativity, data, analytics, science and experience is applied to unlock value for customers, focusing on product protection, supply chain efficiency and sustainability to create a streamlined customer experience. The business recently put on an e-commerce event for customers in Amsterdam to showcase concepts, innovations and services, whereupon many of the 150 visitors were keen to ask questions and get involved in discussions about supply chain and branding complexity.
Smurfit Kappa is well-positioned to gather data collected not only from distributors and manufacturers, but from the consumers who, arguably, matter the most when it comes to packaging decisions. "We have a lot of consumer data that we use to work with our customers and show them what the impact is of changing secondary packaging on the shelf, for example," says Goffard. "Sometimes customers will say exactly what they want but we'll show them what consumers actually think of that, and guide them towards a better solution. So we're not limiting ourselves to just listening to the wishes of our customers – the conversation is broader than that.
"10 years ago it would have been hard to imagine having marketing, sales, and business unit managers around the same table as procurement and supply chain teams, but now they fly in from far and wide to discuss market strategies in packaging. We know, with all our experience, what works and doesn't work with regard to the consumer experience, and we give our customers the tools to make the right decisions. It's very satisfying when we see them make a change – it's an exciting part of my job."
In terms of the trends affecting packaging choices, sustainability is the main one – particularly in the UK and Europe, where there is a major drive towards going green. Plastic packaging has a worse reputation than ever, making Smurfit Kappa – a paper specialist – an even more appealing option for its customers. While Goffard is realistic that there will always be some packaging wastage that doesn't get recycled no matter how good the recycling system is, at least with paper the impact is much less severe as it naturally breaks down in a short amount of time. With plastic, "you might consume something in the space of minutes, and it seems completely out of proportion that the packaging of that lies around for 100 years or more, impacting nature," says Goffard. "We need to be much smarter in that regard."
With all its expertise as an innovator Smurfit Kappa is, above all else, a business partner. It has the benefit of seeing the industry from the perspective of multiple cultures, countries and supply chains, and it has been around long enough to share its experience within the business and across the sector. Smurfit Kappa has over 1,000 designers and technical specialists across the world using its tools every day to find new solutions for customers, utilising data drawn from the analysis of over 60,000 supply chains. As Goffard asks: "Who else has a database that size?"
Looking to the future, Goffard expects to see further collaboration between his business and people other than those working in procurement. E-commerce and sustainability will continue to develop and put some pressure on the packaging industry in terms of shorter lead times and greater customisation, and digital print is likely to increase in strength of presence.
For Smurfit Kappa, the future will see the business continue its high levels of innovation which it achieves through stellar inter-team connectivity. "If a good idea comes up within the team, it becomes immediately available to everyone else," explains Goffard. "Smurfit Kappa is not a centralised company, and we have over 20 Experience Centres throughout the world from which we're always collecting feedback and insights. I think that's the power of the innovation that Smurfit Kappa brings – we go from strength to strength."