Top 10 lean manufacturing companies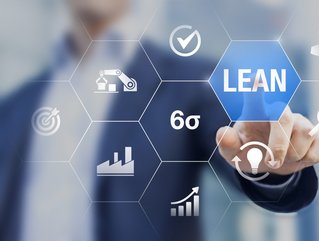 Nike, Toyota, Ford, TMP Solutions, Nissan, Domino Printing, Unipres Ltd, John Deere, Caterpillar Inc. & Parker Hannifin are our Top 10 lean manufacturers
The production process 'Lean Manufacturing' focuses on maximising productivity and minimising waste, with waste classed as anything which does not add value for the customer. Successful lean manufacturing can lead to time being saved across the manufacturing process as well as lower operating costs and higher product quality.
Here are our Top 10 businesses using lean manufacturing, including the creator of the process: Toyota.
10. Nike
Nike's lean manufacturing philosophy 'Make Today Better' is an integral part of Nike on the factory floor, especially when it comes to sustainable manufacturing practices.
For Nike, lean manufacturing is a business system and an area for improvement in its mission to create the best quality product and lower waste.
Caterpillar Inc. is a leading manufacturer of equipment used in construction and mining, as well as diesel and natural gas engines and industrial turbines.
The Caterpillar Production System was based on the Toyota Production System, with the aim of starting and finishing a project quickly, in order for it to be successful.
Parker Hannifin was founded in 1917, Cleveland, USA, and has played a part in several world events, from Charles Lindbergh's flight across the Atlantic to Apollo 11.
As one of the biggest manufacturers of aerospace hydraulic equipment, Parker Hannifin utilises electronic strategies within its lean manufacturing production, in order to achieve top quality products.
At Domino Printing, the technology made available by Industry 4.0 has ushered in new capabilities for manufacturers.
"In our manufacturing facility our customers can see a factory that embraces Lean Manufacturing principles and Industry 4.0 combining the virtues of a culture of continuous improvement and a data-driven factory," said Carl Haycock, Printer Operations Director at Domino.
Founded in 1987, Sunderland, England, Unipres Limited was first named 'Nissan Yamato Engineering Limited' in a joint venture between Nissan Manufacturing UK and Yamato Kogyo. The company uses the ethos of lean manufacturing in its creation of press-formed automotive components, with the aim of 'making cars safer', so there is no room for wasting the customer's time.
Nissan recently advertised for a role at the company for a 'Lean Manufacturing Engineer', which would involve completing activities such as: 'Implementing improvements to logistics, material flow, material utilisation, process and inventory control' as well as 'Supporting purchase cost reduction targets by identifying and implementing opportunities within suppliers', all within the lean philosophy.

TMP Solutions was founded in 1996, Wednesbury, England, the company manufactures traffic management items, designed to 'stand the test of time in even the harshest of environments'.
At TMP Solutions, core values include integrity, delivering outstanding service and grasping opportunities for growth and improvement - all through lean manufacturing.
Manufacturing legend Henry Ford used lean manufacturing as he focused on making the best product possible, as opposed to upholding an outdated organisational structure.
He incorporated methods to minimise waste across production and supported his employees as they aimed to work more efficiently. Ford wanted his company to work smarter, not harder.
As the world's largest manufacturer of agricultural machinery, John Deere has to keep ahead of the competition.
In 2003, the company spent US$100mn upgrading its operations to lean manufacturing. Project Manager Kallin Kurtz said: "We have put effort into identifying non-value-added activities and eliminating them where possible."
More recently, the company was involved in an unplanned spot of PR, when John Deere's green tractors were seen being driven by Ukrainian farmers and pulling along abandoned Russian tanks, proving the upgrades were worthwhile.
Founded by businessman Kiichiro Toyoda in Japan, 1937, the concept of lean manufacturing originates from his desire to balance employees with technology, to create an outstanding product.
The aim of 'Toyota Way' is to remove burdens and eliminate waste - from time to materials, including the customer's time. Toyoda also deeply wanted to maintain flexibility for his employees, as a way to reduce stress.
The Toyota philosophy of lean manufacturing has made Toyota one of the top automobile companies in the world.