Procurement & Supply Chain
Equinix: IT infrastructure is key to resilient supply chains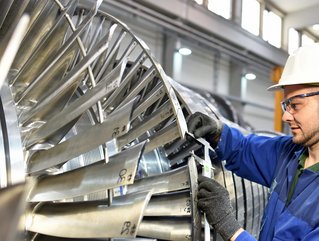 Theo van Andel, EMEA digital strategy lead for Manufacturing and Energy at Equinix, explains how digital technologies drive supply chain efficiency
The manufacturing industry is in a state of flux: customers have greater expectations than ever for more innovative goods, more customisation at scale, and fast or even next-day deliveries. These expectations put unprecedented pressure on global manufacturing supply chains. Today's manufacturers need to be resilient and agile, not only to meet rising customer expectations, but also to cope with supply chain disruptions created by global incidents like natural disasters, geopolitical instability, health crises and raw material shortages. Manufacturers must address these challenges while also meeting sustainability imperatives - not only making their operations greener, but also proving they've done so.
The conflict in Ukraine has exacerbated many of the supply chain challenges that already existed going into 2022. Although Ukraine and Russia only account for a combined 2.2% of global merchandise export value, manufacturers around the world are highly dependent on the two countries for certain key commodities. Examples include iron or non-alloy steel, where Ukraine and Russia together account for 36% of global exports. As a result, many manufacturers have been forced to find alternate suppliers or temporarily scale back production. For example, LMC Automotive decreased its 2022-2024 forecast for European light vehicle sales by two million units per year, largely because of the disruption to the supply of raw materials and components.
Manufacturers are also facing higher energy costs. With global demand for oil and gas on pace to reach its highest level since 2019, producers are struggling to find the crews and equipment needed to meet that demand. For this reason, some industry analysts are predicting a "demand gap" that will continue to widen over the next several years. Add in the semiconductor shortage, and it's plain to see there are several challenges simultaneously threatening the resilience of global supply chains. Manufacturers must act now to address these challenges, or risk limited capacity, disruption to key revenue streams, and a poor customer experience.
New digital technologies like the Industrial Internet of Things (IIoT), cloud computing, and artificial intelligence and machine learning (AI/ML) can play a key role in helping manufacturers drive more efficient, resilient operations. However, these technologies are both an opportunity and a challenge: making the most of them requires manufacturers to capture, store, process and share massive amounts of data across a digital ecosystem of partners and suppliers. In other words, the future of manufacturing is defined by big data, and one of the key factors determining digital transformation success will be the ability to leverage data which lives in different silos.
Gartner® predicts that half of global heavy asset manufacturing organisations will have successfully monetized their data by the end of 2024, adding:
"The rapid digitalisation within manufacturing organisations creates large amounts of data. CIOs can share and monetise this data across the ecosystem. Using this approach, CIOs can use information as an asset, and create new services or enter new business models. This can ensure continuous revenue even when the business is disrupted by external factors, such as supply chain challenges or human resource shortage."
Legacy IT holds manufacturers back
Traditional IT architectures are a major barrier standing in the way of more resilient digital supply chains. These architectures are based on a centralised model, where all traffic passes through a single data centre location. Moving data over long distances leads to higher latency, making it more difficult to use the latest digital solutions to their full potential. Centralised IT architectures also result in data silos, making data exchange between supply chain partners challenging. In turn, this prevents manufacturers from making informed decisions based on real-time insights and collaborating with suppliers to address disruption.
Centralised IT architectures also lack the scalability and flexibility needed to keep up with market trends and changing customer demand. Standing up new private data centres is time consuming and costly, as is creating new physical connections with partners and service providers. In addition, legacy enterprise networks don't scale to add capacity easily, meaning unexpected spikes in network demand could lead to network outages. This increased downtime will cause lost productivity and negatively impact customer experience.
Distributed digital infrastructure enables greater supply chain resilience
Legacy IT may have served manufacturers well enough in the past, but modern challenges require modern solutions. Today's digital leaders are replacing traditional private data centres with vendor-neutral colocation facilities distributed in many locations across the globe, reducing the distance data has to travel. This helps keep latency lower, thus unlocking the full business value of IIoT, AI/ML and other modern technologies. Deploying infrastructure in digital core locations - those with the highest concentrations of cloud and network service providers - greatly increases infrastructure agility, giving manufacturers a competitive edge in an era when adapting to change quickly has become a business imperative.
Another key aspect of a modern IT infrastructure is being able to move data where it needs to go securely, cost-effectively and in real time. This means bypassing the public internet in favour of direct, private interconnection solutions. By sharing data across their supplier and partner ecosystems—including data from IoT devices, production data, predictive data, product data and more—manufacturers can drive better visibility and transparency across their entire business. This allows them to:
Better forecast and track supply of raw materials, and react quickly to address supply disruptions
Monetise data and diversify revenue streams by introducing new as-a-service business models
Collect and analyse market, product usage and trends data in real time to drive insights into customer demand
Unlock the power of smart manufacturing technologies via extremely low latency at the edge
Enable a remote work model to take advantage of a wider pool of skilled technical workers
Replace inefficient, outdated private data centres with green-by-design colocation facilities that incorporate the latest sustainability innovations
Johnson & Johnson is one example of a digital leader that is thriving through the adoption of smart manufacturing technology. The company uses IIoT technology to connect its machines and create digital twins - digital representations of its physical assets. These digital simulations help the company monitor asset performance and gain data-driven insights that can help reduce downtime and lower operational costs.
Hybrid multi-cloud unlocks greater flexibility and resiliency
A key aspect of digital resiliency is being able to leverage cloud services for maximum performance and scalability. Cloud-based IT architectures are inherently more resilient because they allow manufacturers to scale up new capacity quickly when their needs change. However, manufacturers face unique challenges that make a fully cloud-native approach impractical. They often have to pair the latest digital capabilities with legacy custom equipment and systems that need to run in on-premises environments. For this reason, adopting a hybrid multi-cloud architecture can be particularly helpful for manufacturers.
Replacing the outdated private data centres commonly found in legacy IT architectures with vendor-neutral colocation facilities can be the first step toward leveraging the full value of hybrid multi-cloud for manufacturing. Deploying in colocation data centres in key strategic locations can help manufacturers take a cloud-adjacent approach, where they can maintain control over their on-premises data while also taking advantage of temporary cloud capacity from top public cloud providers on demand.
CELSA Group, a leading European multinational producer of long steel products, partnered with Equinix to undertake a digital transformation initiative that included a hybrid multi-cloud optimisation component. The company now uses dedicated cloud on-ramps for direct, secure access to cloud providers such as Amazon Web Services (AWS), Microsoft Azure and Google Cloud. CELSA also maximised resiliency by deploying redundant regional hubs and cloud connectivity across its European footprint. By replacing its traditional MPLS network with SD-WAN, the company improved resiliency while also reducing network infrastructure costs by up to 40%.
Go from fixed and fragile supply chain to resilient and agile with Platform Equinix
The stakes are clear: supply chains built on fixed, fragile IT infrastructure will very likely break down at the first sign of disruption, while a resilient, agile digital infrastructure helps manufacturers adapt to changing conditions quickly and easily. It's no surprise manufacturers that prioritise digital transformation are thriving in these turbulent times, while others are getting left behind. According to the Global Interconnection Index, digital leaders are moving 4.5x farther ahead while traditional businesses are still trying to get their bearings.
To deploy in digital core locations and empower a cloud-adjacent approach, manufacturers need a trusted colocation partner. Equinix IBX® data centres are available in more than 65 metros worldwide, making Platform Equinix® the ideal choice for manufacturers looking to shift from centralised IT to distributed, interconnected digital infrastructure. Being able to deploy infrastructure quickly in more places empowers manufacturers to respond with agility to supply chain disruption or changes in customer demand.
To learn more about how distributed digital infrastructure can help you overcome supply chain challenges, check out the "Achieve digital resiliency in manufacturing" infographic today.