Procurement & Supply Chain
IONETIC opens up the supply chain route to electrification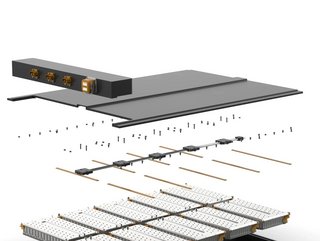 James Eaton, CEO and Co-Founder of IONETIC, is upholding the battery pack supply chain for niche vehicle manufacturers trying to electrify
Niche automotive companies are currently not well served by the current market options for battery packs. What's more, the options that do exist right now are either very expensive, the minimum order quantities are set too high or the engineering optimisation isn't good enough. This leaves specialised automotive companies with a bad product or a product that has no business case.
This year, James Eaton, became the CEO and Co-Founder of IONETIC, a battery pack technology company focusing on both design and manufacturing of battery packs, specifically for niche automotive companies.
The business has developed a bespoke battery pack design platform, which can automatically generate designs according to multiple fully adjustable parameters in a matter of days – helping automotive manufacturers strike an efficient balance between cost and customisation.
"We looked holistically at the whole problem to work out: how do we actually provide good engineering solutions that are cost effective?"
Eaton studied mechanical engineering at Imperial College London, a subject with a high dropout rate.
"I did four years there and I got my Master's," he explains. "My third and fourth year projects were both on battery packs. One was on the design and manufacture of racing specification battery packs and then my dissertation was modelling and simulation of racing specification battery packs."
He was immediately hired by Imperial as a researcher and spent more than a year working with industry partners on automotive battery pack analysis, data and design. Then, after four years of studying battery packs, Eaton set out to build his own company, with a manufacturing strategy to build battery packs in the UK for any car company or any other niche vehicle battery pack application.
"If you have a £20mn vehicle development budget and it currently costs £50mn to develop a battery pack, that means you can't electrify," explains Eaton. "There's just no route in. You also can't go to the big cell OEMs because their minimum order quantity is US$1bn. That's really where we're targeting, because there aren't really any great solutions if you're a niche vehicle manufacturer trying to electrify. There are only compromises."
A weakness in the battery pack supply chain
The companies that support certain pockets of society are the niche vehicle manufacturers – they're the people who make trucks, buses, delivery vans and those are the vehicles that are made in low quantities, yet they need to be electrified, too. All these things need to be served, whether it's the biggest car company on the market or the 100th niche vehicle manufacturer in the UK, so IONETIC will have its first production line for prototypes in 2023.
"We'll go into full scale production, scaling up over the next three-four years. By 2027, we should have the capability to manufacture five gigawatt hours of battery packs."
In the process of setting up IONETIC, Eaton realised that while there was a lot he knew about battery packs and electric vehicles, he would still have to learn how to run a business.
"There's been a lot of the business side to learn, a lot of economics especially relevant at the moment," Eaton says. "I've learned that you've just got to be adaptable and stay open to learning all the time. One of the things I like to have a philosophy on is that I'm always trying to learn what I don't know."
New businesses come up against many challenges - from establishing a headquarters to Work From Home policies. But with LinkedIn having 57 million organisations on its platform, how does a new business choose its own name? This was something Eaton struggled with, but using his engineering mind, he found a solution. "I wanted to make up a word, so in true engineer fashion I sat down with Excel and wrote down every battery word, then every prefix and suffix I could think of. I just came up with IONETIC!"
IONETIC are set to sell across the UK and Europe, but are they fconcerned about going further afield?
"We always want to serve niche vehicle players," says Eaton. "We never want to be in a position where we're denying service to people because they only want a hundred battery packs because that's sort of part of the founding mission of the company. We never want to leave those people behind."
IONETIC: manufacturing battery packs
As a part of the business learning process, Eaton has received hands-on experience in the varied challenges of the supply chain.
"The supply chain is going to be the biggest challenge," says Eaton. "Outside of that I think, it really is just about getting from zero to one. Getting through all of the design stages obviously takes some time. We're one-year-old, so we haven't gone through all that yet, but that's the biggest ongoing challenge and it will be for the foreseeable future. But one day we will be in a place where we are the go-to for battery pack design and manufacturing, at least in the UK and hopefully in the long term in Europe, as well."
Eaton has a lot of things on his 2023 to-do list. As the company grows, it must continue hiring
"We're growing the team significantly, supporting design testing and manufacturing quality. You've got to get all your steps in place for ISO 9001."
ISO 9001 is a part of the International Organisation for Standardisation quality management systems set of standards. This helps businesses make sure that they meet consumer and stakeholder needs across all statutory and regulatory requirements, dependent on their product.
In addition, Eaton will continue to strengthen IONETIC's supply chain goals.
"We've got to identify all the suppliers, we've got to have backups and strong relationships with these companies."
Clearly, while setting itself apart in its sector, IONETIC isn't too different from other manufacturers when it comes to the nitty-gritty.