Procurement & Supply Chain
Markforged & Digital Metal teamup to support supply chain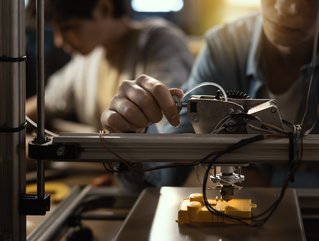 Industrial machinery manufacturers Markforged & Digital Metal have teamed up to support the supply chain with mass production of end use metal parts
Integrated metal and carbon fibre additive manufacturing platform Markforged has acquired Digital Metal, which creates binder jetting solutions, a popular new form of additive manufacturing. Together, the manufacturers plan to build on Markforged's production of metal additive parts.
Creating a resilient supply chain in the manufacturing sector with additive manufacturing
Binder jetting uses an industrial printhead to deposit a liquid binding agent onto a layer of powder particles.
Digital Metal's powder binder jetting produces vital parts, from a combination of metal materials. This production is much faster than traditional methods, which requires months to plan the design and the manufacturing process.
Markforged hopes that the manufacturing of large volumes of metal parts through powder binder jetting will help to create a resilient supply chain.
Manufacturing technology and teamwork at Markforged and Digital Metal
Michael Papish, VP Marketing at Markforged, is excited to see how this will impact the manufacturing supply chain.
"Markforged believes in a future of resilient and sustainable supply chains," said Papish. "By acquiring Digital Metal, we are extending the capabilities of our platform The Digital Forge to mass production of end use metal parts, bringing us one step closer to this future. By giving manufacturers direct control of their means of production right at the point of need, we believe they will be able to get to market faster while creating a more efficient supply chain."
The CEOs from Markforged and Digital Metal were also pleased with the decision and confident that they will be able to grow their technology as a team.
"With the Digital Metal acquisition, Markforged is advancing our vision for distributed manufacturing by enabling the reliable, high volume production of precise metal parts at the point of need. Infusing Digital Metal's solution into The Digital Forge platform allows us to address new applications in the medical, automotive, luxury goods and other industries," said Shai Terem, president and CEO of Markforged. "The Digital Metal team has created a robust and scalable solution that complements our existing technologies. I look forward to welcoming their talented people to Markforged."
"Markforged's easy-to-use platform, best-in-class software capabilities and material expertise felt like a natural fit for the future of our technology," said Christian Lönne, CEO of Digital Metal. "With Markforged's experience and go-to-market scale, we are confident that we will be able to grow our technology together and help more manufacturers produce the high-volume metal parts they need to drive highly productive and cost efficient operations."