Procurement & Supply Chain
Sarens participates in Shintech's expansion in the USA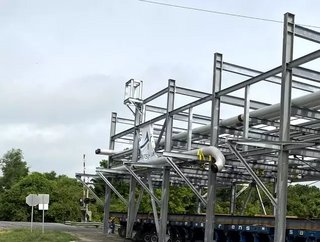 Shintech, the world's largest manufacturer of PVC, has been supported by Sarens, as Shintech expands across the USA
Material handling company Sarens has carried out a crucial job for Shintech, the largest manufacturer of polyvinyl chloride (PVC) in the world, by transporting pipe modules from its Lake Charles plant, to the new Shintech plant in Plaquemine, Louisiana.
Founded in 1955 and headquartered in Meise, Belgium, Sarens has a €5bn revenue. Meanwhile, is headquartered in Houston, Texas, and was founded in 1973 with a US$100mn revenue. 
Navigating manufacturing and transportation challenges 
Sarens encountered a range of problems during the job:
Railroads were used to transport the cargo, which the company only allowed before 8am

Sarens had to build a temporary bridge of 24.3 m length to cross the sugarcane plantations it would pass on the railroad. 2500 mats were stacked to improve road conditions and ensure a safe transportation of the modules, avoiding potholes and poor plantation conditions. 

The cargo was loaded and secured on trucks and 100 lines of SPMTs to cross to the river shore, where the modules were packed onto two 76 x 16.5m barges for their transportation across the Lake Charles. 
However, through diligent problem solving, the cargo reached its final destination. 
Investing in manufacturing
As the world's leading PVC producer and the supplier of 35% of domestic PVC demand in the United States, Shintech has the advantage of centralising the production of chlorine and ethylene, necessary ingredients for PVC manufacturing. The company is excited for 2022.
"Shintech continues to invest in and increase its manufacturing presence in the North American market", said Danny Cedotal, Vice President of Manufacturing. "We appreciate the company's confidence in our local manufacturing team. The jobs and infrastructure the company has built in Plaquemine and Addis continue to create much-needed economic development in our communities. We are grateful for the support of neighbours and our community, and we work every day to continue our commitment to live locally, hire locally and buy locally as the company's footprint grows."