Procurement & Supply Chain
The challenges manufacturers face on their net zero journey
EV sustainability
James Bligh, National Sales Manager at Novuna Vehicle Solutions, shares the net zero challenges manufacturers face, from the cost to EV infrastructure
As businesses seek cost and environmental efficiencies in order to become more resilient in the long term, they are becoming increasingly mindful that their current fleet operating model is not sustainable. Fleet-reliant businesses need to transition from ageing internal combustion engine (ICE) vehicles to electric ones, as they reach their renewal cycles in order to navigate the unprecedented cost pressures they face, including the escalation in last mile delivery costs.
With the influx of new electric van models available for different use cases and more than 33,000 electric vans on UK roads last year, the transition is underway, albeit more slowly than is required to meet the Government's emissions targets for 2030 and beyond. However, the fact remains, of over 4mn vans on UK roads (of which nearly 75% are business vehicles), only 3% are electric vehicles (EVs) – so, uptake remains far behind that seen in the new car market, where EVs have a 13.1% market share.
The upfront costs of EVs
One of the key perceived concerns for businesses making the switch from ICEs to EVs are the prohibitive associated upfront costs. However, these should be considered alongside the long-term total cost of ownership (TCO) benefits of transitioning towards a fully electric fleet in order to future proof their operations.
Whilst EVs can still seem more expensive than their ICE counterparts based on the list price, taking a more holistic approach with TCO modelling which captures all the direct and indirect costs associated with leasing and running an electric LCV fleet illustrates that EVs are cheaper than their ICE counterparts over the vehicle lifetime.
Many businesses are currently operating their own vehicle repair workshops and inevitably encountering increased vehicle downtime and maintenance over time by owning ageing and increasingly obsolete ICE fleets. Unscheduled breakdowns often necessitate outsourcing unscheduled repairs to main dealers meaning fleet operators are incurring significant unexpected costs. With far fewer moving parts, EVs are considerably cheaper to maintain and service.
TCO disparities between ICE and EV fleets are being exacerbated by higher fuel prices, impacting cost per mile calculations, making ICE fleets less desirable during the overall vehicle lifecycle. Last mile delivery costs are notably becoming more prohibitive as pollution-reducing schemes penalising ICE vehicles are enforced in cities across the UK. Clean Air Zone penalty charges are inevitably accelerating the economic as well as environmental argument for commercial vehicle electrification.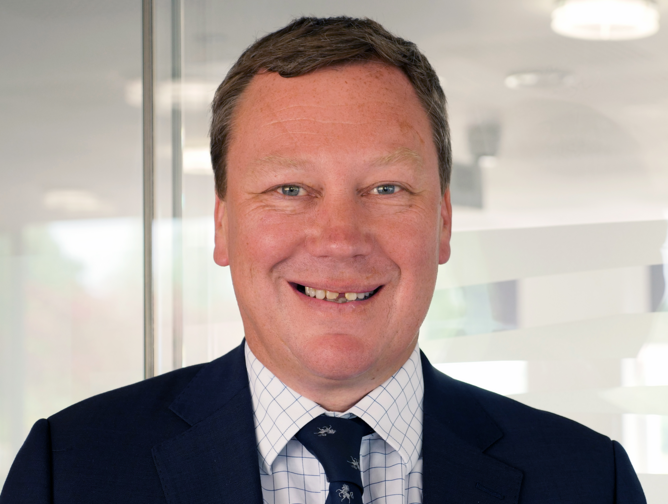 James Bligh, National Sales Manager at Novuna Vehicle Solutions
Charging infrastructure and transition concerns
With public charging infrastructure failing to keep pace with EV adoption, the catalyst for many commercial fleets to switch to zero emission mobility relies on robust workplace and depot charging infrastructure in order for them to have the confidence and conviction to invest in a greener fleet. This involves assessing fleet challenges and undertaking a comprehensive depot or workplace feasibility assessment which evaluates the localised grid capacity and consumption, ensuring the intended location is viable with the supply headroom required. The need for charging infrastructure funding, repair and maintenance is an essential part of the solution businesses require in order to keep their fleet fully operational.
In reality, more and more commercial fleets are now moving to cleaner vehicles after successfully undertaking bespoke transition plans, encouraged by the influx of new electric van models for different usages becoming available. Our end-to-end decarbonisation solution for businesses, from vehicle leasing and management to infrastructure, charge point management and energy storage, is supporting the adoption of EVs by commercial fleets.
Price inflation and economic uncertainty
Despite the urgency to keep pace with the race to net zero as scrutiny grows around the sustainability credentials of supply chains across the board, grappling with ongoing economic headwinds remains a deterrent for businesses to upgrade their fleets.
High inflation has added an extra barrier to entry for manufacturing businesses transitioning to electric vehicles. Faced with spiralling costs such as raw materials, staff costs and energy bills, budgets are being challenged and squeezed when it comes to capital outlay with dwindling cash reserves at a premium to fund new projects.
However, the fixed cost solution of the leasing model without the barrier of upfront costs enables businesses to transition to electric vehicles and negate most of the uncertainty and all of the risks associated with residual values at the end of the term, delivering effective fleet budgeting in uncertain times.
Our research findings have shown that more than 8 in 10 businesses (83%) would like to decarbonise their fleets and make the switch to EVs.
With the 2030 deadline looming ever closer, fleets are seeking to meet their business sustainability plans, increasingly mindful that they need to transition from ageing and increasingly obsolete vehicles to zero emission alternatives as they reach their renewal cycles in order to navigate the unprecedented cost pressures they face. As a trusted total assets solutions mobility partner, we're supporting fleets at every step of their journey.