Procurement & Supply Chain
The contribution of capital projects to ESG in manufacturing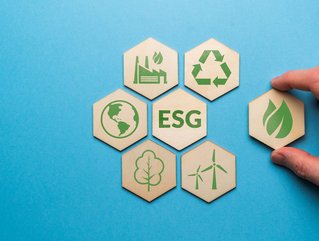 Michelle Palys, Vice President of Performance Excellence and ESG & Brian Gallagher, Vice President Corporate Development of Graycor on ESG in manufacturing
With investor interest in environmental, social and governance (ESG) steadily growing, many manufacturing companies already align their operations and corporate structure with ESG. What they may not realise is that even capital projects are now falling under the same scrutiny as operations. This is especially true in light of the fact that the Securities and Exchange Commission is seeking to require some companies to report Scope 3 emissions as part of their climate risk disclosures. (The Environmental Protection Agency defines Scope 3 emissions as "the result of activities from assets not owned or controlled by the reporting organisation, but that the organisation indirectly impacts in its value chain.") Consequently, it is time for manufacturers to begin accounting for upstream and downstream ESG efforts, including those of capital project designers, construction teams and engineers.
ESG initiatives in the construction sector
Environmental concerns have long been considered in conjunction with construction activities. Construction materials require a large amount of energy (and often water) to create, transport and maintain. The building process generates waste, and the design and construction phase of a facility directly influences its future operational costs. Therefore, almost every segment of the construction industry is making it a priority to lower the carbon footprint of building materials.
CII, the research and development center for capital project construction, reports: "After many years of pressure on the environmental aspect, organisations now overly focus on the E (environmental) at the expense of the S (social) and (G) governance aspects." But societal considerations include safety, diversity, working conditions and other factors that are critical to optimal jobsite function and project outcomes. Similarly, governance includes internal controls, compliance, strong management skills and effective risk management—all of which are important to a project's success.
To improve across every pillar of ESG, developers and manufacturing companies must combine their efforts with those of contractors and other project partners. Doing so requires a streamlined work process, along with efficient communication, tracking and benchmarking.
For progress in the environmental category, great value is contributed by contractors during early planning, preconstruction and sourcing phases. Experienced contractors can identify life-cycle costs and benefits, as well as balance competing considerations across the lifetime of a structure. They bring clarity to big-picture concerns such as sustainable site planning and inclusion of renewable energy sources, but also achieve progress through detailed engineering solutions such as enhancing a building's environmental management system.
ESG in manufacturing
Manufacturers, contractors and partners can achieve progress on the "social" aspect of a capital project's ESG by gauging themselves against metrics defined by the International Living Future Institute (ILFI)'s Just Program, which identifies indicators of social justice and equity and promotes corporate transparency by encouraging organisations to disclose their programme results as a means of demonstrating formal commitment to social wellbeing.
For employee benefits, in addition to safety, health and wellness programs, the Just Program's indicators include healthcare, retirement provision, family and medical leave, and training and education opportunities. Diversity indicators include gender and ethnic diversity along with inclusion and engagement. Equity metrics include full-time employment and payment of a living wage, pay equity and freedom of association. Because there are many factors for achieving success with DEI efforts, contractors and other partners should demonstrate that they have set up a company-wide council, with council members from across different departments. The goal should be to not only increase the participation of women and minorities, but to make changes in operations and communications to sustain diversity. This means identifying and removing biases in recruiting, hiring and promotion as well as educating people already within the organisation to make them inclusive leaders and individual contributors.
To comply with the principles of ESG, teams are also expected to enhance the quality of life of the people in surrounding communities. Just Program indicators in this arena include volunteering, promoting animal welfare, charitable giving and production of positive products. Ideally, the general contractor for a capital project will bring robust charitable giving programmes to the table, supporting nonprofits that provide basic needs to area residents, such as food, shelter, education, and healthcare, or that provide civic, environmental, and/or cultural programs.
A final Just Program metric is equitable purchasing. To meet this objective and strengthen the social fabric, many contractors have well-established supplier diversity programs, allowing for effective partnerships with minority-owned, women-owned and small businesses.
Every partner on a capital project should exhibit management styles and business practices that conform to teamwide values such as honesty, integrity, commitment, follow-through and full transparency. Continuity in client and subcontractor relationships also represents good governance practices, since risk mitigation, compliance with regulatory measures and other successful project outcomes are associated with a well-functioning, cohesive team. In addition to developing strong, long-term relationships with subcontractors and suppliers, general contractors should have comprehensive subcontractor prequalification processes in place.
Using smart technologies to reach ESG goals
Meeting the many goals of ESG requires planning from the top down. An investment in supporting technologies can help achieve success. "Smart" technologies such as artificial intelligence, virtual reality, building information modelling, the internet-of-things, and many others support collection and compilation of data, as well as reporting and team-wide communication. Embarking on an ESG programme should involve inventorying current efforts, performing a GAP analysis, developing a system of metrics and tracking, and informing and educating internal stakeholders.
Fundamentally, the commitment to ESG is a commitment to innovation, investment and coordination. When all team members have aligned on the various goals of ESG—and adopted the tools that support its success—not only will capital projects be improved, but there will be improvements far beyond the project itself.
Written by Michelle Palys, Vice President of Performance Excellence and ESG & Brian Gallagher, Vice President Corporate Development of Graycor