Backstage at ROLEX: Top 10 facts about the watchmaker's manufacturing process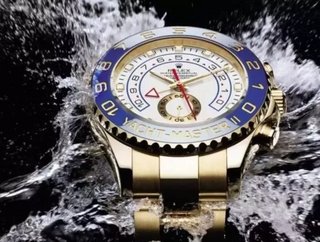 It takes a whole year to make one Rolex watch, plus 9 other manufacturing facts you probably didnt know about the luxury timepiece maker.Rolex is one of...
It takes a whole year to make one Rolex watch, plus 9 other manufacturing facts you probably didn't know about the luxury timepiece maker.
Rolex is one of the world's most recognised brands and epitomizes luxury, craftsmanship and manufacturing prowess. Manufacturing Global unveils 10 little known facts about the Rolex manufacturing process and lifts the lid on how Rolex watches are made.
1. Rolex use an expensive and difficult to machine steel for its watches because of its aesthetic quality.
Most watches are made from a stainless steel called 316L, however Rolex watches are made from different grade steel called 904L. Rolex used to use the same steel as other manufacturers, but in 2003 they moved their entire steel production to 904L steel.
904L steel is more rust and corrosion resistant, and is somewhat harder than other steels, but one of the main selling points for Rolex is the fact that 904L steel is able to take and hold polish extremely well.
2. Rolex has its own R&D labs.
Given the innovative nature of the Rolex brand, it should come as no surprise that it has its own internal R&D department, but Rolex has not one, but several different types of extremely well equipped professional science labs at its various facilities. The purpose of these labs isn't just to research new watches and things that may go into watches, but also to research more effective and efficient manufacturing techniques. For example, one lab is used for developing and researching oils and lubricants that they use in machines during the manufacturing process, while another looks at the properties of various metals and materials used in the manufacturing process. Of course Rolex also uses its science labs on the watches themselves to test them under the most extreme conditions to ensure maximum durability and strength.
3. All Rolex watches are hand-assembled.
All Rolex watches are made and set by skilled engineers. The watchmaker does use machines are part of the manufacturing process – in fact some of its machines are the most sophisticated in the world – however they are largely human operated or used for mundane tasks such as filing and cataloging.
Everything from Rolex movements to bracelets are assembled by hand. A machine however helps with doing things such as applying the right pressure when attaching pins, aligning parts, and pressing down hands. Having said that, all Rolex watch hands are still set by hand via a trained technician.
4. An in-house foundry makes all their gold
Rolex makes its own gold. While they have a small handful of suppliers that send them steel (Rolex still works the steel in-house to make all the parts), all the gold and platinum is made in-house. 24k gold comes into Rolex and it is turned into 18k yellow, white, or Rolex's Everose gold (their non-fading version of 18k rose gold).
Large kilns under hot flames are used to melt and mix the metals, which are then turned into cases and bracelets. Because Rolex controls the production and machining of their gold, they are able to strictly ensure not only quality, but also the best looking parts. To our knowledge Rolex is the only watch manufacture that makes its own gold or even has a real foundry in-house.
5. Technology is very important to the company.
While there is a huge emphasis on human-interaction and assembly, Rolex also relies heavily on robotics and sophisticated technology. For example, every Rolex facility has an army of robots helping to move parts around the manufacturing floor and carry out very precise, detailed and repetitive tasks.
6. Rolex puts a huge emphasis on quality.
It will probably come as no surprise that Rolex is keen in security due to the volume of precious metals (not to mention Rolex watches) kept on site. The company employs a series of extremely meticulous security checks and even has a safe located several floors underground. Employees at Rolex are required to scan their fingerprint for access to different areas of the building, and each watch is carefully photographed and catalogued at different stages of the manufacturing process. In fact, each Rolex watch movement has a unique serial number that is matched with a case. In the future when the watch is serviced, a watchmaker can learn everything there is to know about it.
Accessing the Rolex safe requires entering a bank vault door and passing an iris scanner. When Rolex parts move from location to location, they are transported in highly discreet unmarked (and likely heavily armored) trucks. Rolex is very serious about their safety, and for a really good reason since it is often said that Rolex watches are just as good as money.
7. Dive watches are each individually tested in pressurized tanks with water
All Rolex Oyster case watches are thoroughly tested for water resistance in an air-pressure tank. A watch is placed in a small chamber that is filled with air, and if the pressure changes at all, it means that air leaked into the case.
Dive watches receive a separate and all together more rigorous treatment. After being air pressure tested, Rolex proceeds to test the water resistance of each and every Rolex Submariner and Deep Sea watch in actual water. Submariner watches are placed in large tubes that are filled with water to ensure that they are water resistant to 300 meters. After the watches exit the tank, they are heated up and a drop of cold water is placed on the crystal to see if condensation forms. An optical sensor then scans them for trace amounts of water. Less than one in a thousand watches fail the test.
8. Rolex employs an army of gemologists
Rolex has a massive gemological department, which buys, tests, arranges, and sets diamonds and other precious stones in a range of Rolex models. One of the things they do is check incoming stones to ensure that they are real; for example the use x-rays to test diamonds and ensure they aren't fake.
Rolex reports that in the years they have been testing diamonds, only two in 20 million have been fake. That might seem like such a small amount it isn't even worth their time to perform the test. Nevertheless, to ensure absolute quality, Rolex tests each batch of diamonds. This should also have an illustrative effect on the diamonds they use, which happen to only be IF in clarity, and D-G in color (the four grades closest to white).
Each and every diamond or precious stone on a Rolex watch is hand-selected and hand-set. Rolex employs traditional jewelers to create custom settings for stones in their most exclusive watches, done using the same processes employed in creating the world's finest jewelry. It was amazing to see this level of artisanship and delicate care inside what many people believe to be a mass producer.
9. It takes a whole year to make one Rolex watch.
An advertisement for Rolex long ago claimed that it takes about a year to make a single Rolex watch. As suspicious as that sounds, it is true even today. Rolex produces almost a million watches a year, but surprisingly, no shortcuts are taken in the manufacturing process. Rolex is however interested in quality and efficiency. Basically, the entire company seems focused on producing the best watches, and continually seeing how they can make them better.
If you look at Rolex watches over time, they are more about evolution rather than revolution. This idea of always improving versus changing goes right into their manufacturing process as well. They are constantly learning how to improve quality through better processes and techniques. Nevertheless, from starting to shape the parts of the case to testing a completed watch for accuracy, the process takes around one year.
10. Rolex makes virtually everything in-house.
After having said all of the above it probably doesn't come as a big surprise that Rolex makes virtually everything in-house as a totally vertically integrated manufacturer. As of right now the only major parts that Rolex doesn't make for all of their watches are the synthetic sapphire crystals and many of the dial hands. Rolex produces their own gold, cases, bracelets, dials, bezels, and movements in-house with incredible efficiency and quality.
It isn't just that Rolex can afford the latest machinery, equipment. It also invests in the most knowledgeable and highly regarded engineers, scientists and managers. Even though Rolex closely guards its manufacturing process, in all likelihood, many manufacturing firms could walk into their factories and not produce the quality products Rolex does on a daily basis.