Innovative Metal Additive Manufacturing in New DMC Facility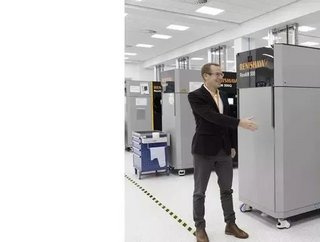 Digital Manufacturing Centre is increasing efficiencies and quality while reducing part weight, waste, and costs, with the addition of two machines...
In a day and age where sustainability and eco-friendly habits are desperately needed, manufacturers the world over have been looking for ways to reduce their carbon footprint. There is always a myriad of options out there but finding the perfect solution to individual circumstances can be a case of trial and error ─ it's tough, and companies have been struggling with it. Fortunately for Digital Manufacturing Centre (DMC), a UK-based additive manufacturing facility with new a factory opening in 2021, Renishaw has provided two solutions.
Historically, metal additive manufacturing has been particularly poisonous for the environment, and it is just one of the many human factors contributing to the growing issue of mankind's ecological footprint far exceeding the planets long-term capacity for survival. This, alongside the growing cost of manufacturing operations and initiatives to reduce waste and find more cost-efficient solutions put a lot of pressure on modern businesses. 
What Are The Goods?
This is why the two Renishaw RenAM 500Q machines that will have a home in DMC's upcoming facility. They have been chosen by the company for their cutting-edge capabilities within metal additive manufacturing and slightly more eco-friendly slant. The machines should increase productivity and quality control, and Renishaw's development collaboration within the facility will see DMC engineers "provide critical feedback, development and learning of the machines and their outputs, to ensure maximum efficiencies and increase innovation within metal AM."
In exchange, DMC is set to provide Renishaw with a suite of commercial applications for its technologies. 
"The process of machine and material selection for the Digital Manufacturing Centre is crucial to our success and therefore, a decision process we haven't taken lightly. Offering the service of being a technology partner to our clients means that we [the Digital Manufacturing Centre] have to be armed with state-of-the-art, innovative additive manufacturing methods and machinery, and learnings within that to ensure we're constantly offering the best technologies," explains Kieron Salter, Digital Manufacturing Centre CEO.
The decision to forge a close collaboration with Renishaw and purchase two RenAM 500Q machines was a natural step to offer our clients all of these things while benefitting from the support of a local manufacturing supplier. Renishaw is a leader in metal additive manufacturing, its RenAM 500Q machine offers unrivalled productivity, quality control and ability to create a light component but with high torsional strength – one of the key benefits of metal AM innovations – as well as reduced costs per part. Not only this but our close collaboration will mean the DMC's engineers will be in close contact to Renishaw's team to ensure maximum efficiencies and learnings within additive manufacturing, so we are constantly learning, evolving and innovating."
Intelligent Gas Flows
The system is fitted with an intelligent gas flow system that removes process emissions from the build volume, resulting in processing conditions that provide a stable processing environment that has measurably driven up quality standards to levels not previously achieved with metal AM technologies. This means that the final parts exhibit consistent properties — they are high in density and have high tensile strength with excellent ductility and fatigue performance. This means the DMC can offer an end product that's both strong and light at the same time. Therefore, the Renishaw RenAM 500Q could be applied to a wide range of applications, ranging from racing cars to dentistry.
"Providing our RenAM 500Q to the Digital Manufacturing Centre, and being the first metal additive manufacturing machine supplier announced, is an exciting moment for our AM team. Being an established global additive manufacturing machine supplier, we're delighted that the DMC has chosen Renishaw to collaborate with, as well as sharing critical learnings to continue innovating and developing the potential for AM," comments Andy Robinson, Renishaw's Director of Additive Manufacturing.
We are looking forward to seeing what the Digital Manufacturing Centre and its clients can create and efficiencies the RenAM 500Q system can bring, both from the DMC's physical opening next year [Q1 2021] and in the future."
SEE ALSO