The benefits of collaborative manufacturing partnerships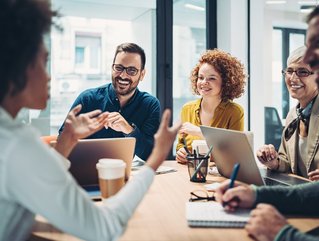 Bob Tilling, VP of Sales at IT service Kallik, explores how collaborative manufacturing partnerships bring huge benefits to regulated industries
Collaborative manufacturing partnerships bring huge benefits to regulated industries – but building successful ecosystems requires a thorough approach right down to the management of labelling and artwork.
Deloitte reports that 88% of manufacturers agree it is important to work with outside partners and vendors to reach their smart manufacturing and digital goals, and with supply chains becoming ever more complex, collaboration is at a defining moment for the manufacturing industry.
There are both benefits and challenges to developing a shared ecosystem, especially across highly regulated industries such as pharmaceutical and consumer packaged goods (CPG). This goes right down to the critical role of accurate labelling in collaborative success, as Bob Tilling, VP of Global Sales at Kallik explains.
Manufacturing supply chains are by their very nature complex networks of companies and stakeholders, which become even more complex in highly regulated sectors. Processes and supply chains are more intricate when more than one party is involved – for example COVID-19 vaccination supply chain ecosystems are among the most sophisticated due to there being over 40 Pfizer-owned sites and over 200 suppliers globally.
An ecosystems approach will form a core part of future 'smart manufacturing' and consists of different entities coming together in meaningful ways to solve challenges. In the food and beverage industry, international organisations specialising in niche products such as cheese acquire other well-known dairy brands to grow in size and complexity. These alliances are critical for the ecosystem to function – as companies with more than 15 strategic alliances register twice the revenue growth compared to their competitors. But with thousands of suppliers worldwide, managing an ecosystem requires a structured system to enable accurate updates and changes to vital processes.
Here's where labelling has a crucial role to play. Ingredient formulations and label artwork must be shared with the right people at the right time to facilitate the collaborative partnership of organisations with shared goals.
Peeling back the complex layers of regulation and compliance can be difficult
Regulation heightens complexity in manufacturing ecosystems. For example, the FDA now requires Food and Beverage manufacturers to track ingredients throughout manufacturing and distribution processes. This adds more players into the ecosystem, which increases the complexity of building regulations into every stage of the manufacturing process for a particular recipe or formulation.
But a Label and Artwork Management solution approaches the whole ecosystem holistically
Controlled real time access and centralised data are essential ingredients of any efficient and safe manufacturing environment, especially in artwork, labelling and packaging. Simply, keeping printed information organised across the ecosystem of manufacturers and partners is vital.
There are four key areas of a manufacturing ecosystem where key parties will require varying levels of access to critical label and artwork information in order to ensure products continue to be manufactured quickly, safely and compliantly:
Laboratory and key ingredient information
Sharing information such as ingredients and recipes while retaining secrecy is critical, yet there is a lack of technology tailored to operational needs such as confidentiality. A sophisticated LAM system ensures that only the necessary individuals can access ingredient information, while ensuring labels and artwork are accurate.
Translation agencies
Translation agencies ensure that the necessary product information can be shared to an international audience across hundreds of product lines, but they need access to LAM software where information and translations can be uploaded quickly and easily. Critically, LAM software only reveals the necessary details such as warning phrases to translators, without offering them access to other confidential information including recipe formulations.
Packaging designers & sub manufacturers
The packaging process uses many different materials including plastic and cardboard, making the process complex. Businesses can maintain end-to-end efficiencies across their ecosystem by keeping each sub-manufacturer involved in the end-to-end processes within the ecosystem up to date. By only sending each manufacturer the correct information, an LAM solution also eliminates the need for information exchange between different designers, packagers and even sub manufacturers.
For example, when artwork suppliers update artwork and essential information, the information will be passed downstream to provide only the intended recipients with the most up-to-date version. With EU FDA guidelines requiring electronic signatures to record artwork details in a log, this is critical.
Make visibility and transparency a business priority
An LAM solution is vital to keep a single history of the labelling and artwork manufacturing lifecycle, from translations and packaging design to label and ingredient changes. The ability to customise specific windows of information is a priority to maintain confidentiality, and barcodes featured on the packaging can provide additional traceability once they are placed in a consumer-facing position. For example, laboratory technicians will only be able to securely view recipe formulations and translation agencies will only see guidelines.
Seamless manufacturing ecosystems need an LAM solution to function
All this information is housed in one solution, overseen by the parent manufacturing organisation, but with the ability for each player in the ecosystem to update packaging, label, and artwork information separately.
It is desirable to enable businesses to meet their sustainability and smart manufacturing goals, as ecosystems continue to grow and develop. Sharing information is crucial for collaboration to thrive, and an LAM solution has an essential role in safeguarding confidential information, reducing errors and tracking version control.