Manufacturers welcome workers with disabilities
People with disabilities working in the manufacturing sector
From Toyota to Gi Group, the manufacturing sector is accelerating its diversity goals by encouraging people with disabilities onto the factory floor
In a world that seeks to be more progressive - in its technology and societal attitudes - it's a disappointing twist that hate crimes aimed at people with disabilities are on the rise. In 2022, results from Leonard Cheshire showed that disability hate crimes have increased 25% from the previous year.
But people with disabilities aren't backing down to hatred and manufacturers are standing up for diversity in their workforce.
Here, we take a look at what manufacturing businesses are doing to ensure that people with disabilities feel welcome at work.
Manufacturers want a diverse workforce, including people with disabilities
Youngstown State University's Excellence Training Center and the Columbiana County Educational Service Center have received a US$500,000 grant to 'increase participation in industry-recognised credentials and apprenticeships for students with disabilities'.
"I think traditionally, people have made assumptions about people with disabilities that maybe professions in STEM, or utilising mathematics or manufacturing, would not necessarily be a good fit for people with disabilities and that's just not true," said Shirley Bowald, Employment and Community Inclusion Manager at the Columbiana County Board of Developmental Disabilities.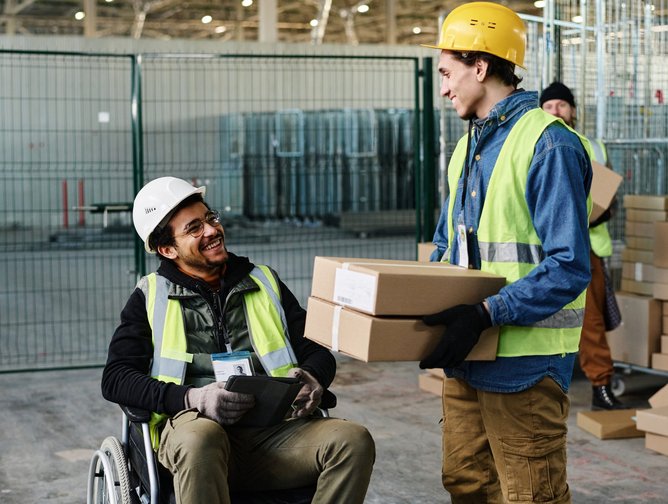 Manufacturing sector teamwork
Meanwhile, HR and recruitment specialist Gi Group has suggested that the use of automation in the manufacturing sector will create job opportunities for those with disabilities.
"By embracing the power of automation, we're helping to open doors for candidates with disabilities to excel in manufacturing," said Val Anderson, Operations Manager. "We believe new technology can serve as a bridge, allowing candidates with disabilities to access meaningful employment opportunities in an industry undergoing transformative change."
Toyota Motor Europe wants to 'empower people with disabilities through innovations'. Its Toyota Startup Awards competition targets inclusive mobility start-ups with the goal to support those with mobility limitations to move more freely.
"This programme was part of the transition for Toyota to become a mobility company and provide solutions," said Zacharias Giannelos, Mobility Project Manager at Toyota Motor Europe. "We realised that working with start-ups is key in terms of solutions for persons with disabilities. It was a learning process for us to understand their ideas from those who had the knowledge of what mobility for all means."
Manufacturing leaders leading diversity
The biggest car manufacturer on earth credits diversity as the source of its success.
"Toyota's goal is to ensure that diversity, inclusion and racial and social justice apply equally to all," said Tetsuo Ogawa, President and CEO, Toyota Motor North America.
Coen Huesmann is the Vice President of Consulting Services Manufacturing Centre of Excellence at CGI, says that experience has taught him that there's real strength in diversity.
"Being inclusive allows you to build bridges with different stakeholders. I think that's what leaders are for: to bridge those gaps," he said.
You can read more ideas on how to build a diverse manufacturing workforce right here - 'Top 10 tips for a diverse manufacturing workforce'.
*************************************************
Check out our free upcoming virtual event, Manufacturing LIVE, 6th December 2023.
For more insights into Manufacturing - check out the latest edition of Manufacturing Magazine and be sure to follow us on LinkedIn & Twitter.
Other magazines that may be of interest - Healthcare Digital.
*********************************************
BizClik is a global provider of B2B digital media platforms that cover 'Executive Communities' for CEO's, CFO's, CMO's, Sustainability Leaders, Procurement & Supply Chain Leaders, Technology & AI Leaders, Cyber Leaders, FinTech & InsurTech Leaders as well as covering industries such as Manufacturing, Mining, Energy, EV, Construction, Healthcare + Food & Drink.
BizClik, based in London, Dubai & New York offers services such as Content Creation, Advertising & Sponsorship Solutions, Webinars & Events.