Apple's Tim Cook is a trailblazer for American manufacturing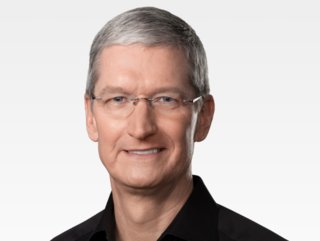 Apple's Tim Cook is the world's second highest paid CEO. "The US's manufacturing strategy should be to skate where the puck is going, not where it is"
Tim Cook was born in Alabama, in 1960s' America. He studied Industrial Engineering at Auburn University and later earned an MBA from Duke University, where he was a Fuqua Scholar.
Before taking the stage at Apple, Cook worked as the Chief Operating Officer of the Reseller Division at Intelligent Electronics.
Cook then spent 12 years at IBM, including a role as Director of North American Fulfilment, where he championed manufacturing and distribution functions across North and Latin America.
Arriving at Apple
In 1998, Cook joined Apple as Senior Vice President for worldwide operations and, in 2007, was promoted to lead operations. When Apple co-founder Steve Jobs stood down from his role due to pancreatic cancer, Cook was offered an incredible opportunity to step up. While many of his peers were considering retirement, Cook became CEO of Apple on 24th August 2011, at the age of 59.
Under Cook's leadership, AirPods, the Apple Watch and Apple Music have become a part of everyday life for millions of people and Apple's market cap is close to US$3trn.
Inspiring people to insist on their equality
2014 was a watershed moment for Cook, who came out as gay. As any CEO would, Cook wrote about his journey in a powerful op-ed in Bloomberg Businessweek, where he explained that, although he had never denied his sexual orientation, he had refused to publicly acknowledge it. Cook explained that ,while many of his colleagues knew about his sexuality and supported him, he was still aware of the challenges minority groups faced.
"Being gay has made me more empathetic, which has led to a richer life," Cook wrote. "It's been tough and uncomfortable at times, but it has given me the confidence to be myself, to follow my own path, and to rise above adversity and bigotry. It's also given me the skin of a rhinoceros – which comes in handy when you're the CEO of Apple."
Despite being notoriously private, Cook recognised that he was able to live freely due the sacrifice of others. He added that he hoped his story could help those in the LGBT+ community.
"If hearing that the CEO of Apple is gay can help someone struggling or inspire people to insist on their equality, then it's worth the trade-off with my own privacy," Cook wrote.

American manufacturing
The global manufacturing sector has been rocked by the past two years, and many CEOs are determined not to be caught out by supply chain disruption again.
Due to growing tensions between China and the USA, some businesses are moving their manufacturing hubs out of China – a sector that accounted for 27% of the country's GDP in 2021.
Apple is moving its production to China's neighbour, Vietnam, and rival, India, in order to prepare for any future supply chain disruptions. Currently, Apple manufactures AirPods Pro, iPads and other small devices in Vietnam.
Cook praised the emerging market in May, when the Prime Minister of Vietnam, Pham Minh Chinh, met with Cook at Apple Park to discuss trade.
But Cook is also bringing American manufacturing back home. Apple has invested US$45mn into a factory in Kentucky that makes scratch-resistant glass for the iPhone.
With a desire to forge new relationships with American manufacturers, Cook developed the company's Advanced Manufacturing Fund. The US$1bn fund is designed to support over two million manufacturing jobs in the USA.