China Launches Prototype Train for International Travel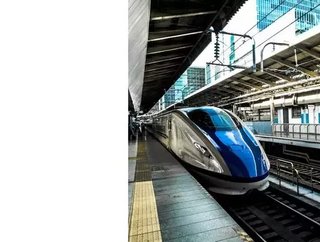 Chinese manufacturers are attempting to revolutionise the international railway networks, with effective and efficient new transportation...
Chinese manufacturer, CRRC Changchun Railway Vehicles, has recently unveiled the prototype model of a new high-speed locomotive for a new, ambitious business venture: international travel ─ by train. 
The train, which, according to the manufacturers, moves at a whopping 400km/h, can run on any gauge of track. So we might find that, if launched, the new train might trend as the "new way forward", and the entire international rail system could be revolutionised and sped up exponentially. 
According to a report from Global Construction Review, the engine has "gauge-changing bogies" that could eliminate the present need for trains to stop at a break of gauge or wait while new bogies are fitted. This development has been a costly one, and shows China's genuine hope to revolutionise the locomotive industry ─ CRRC Changchun Railway Vehicles is a division of the state-owned CRRC Corporation, which is the world's largest manufacturer of rolling stock and the recipient of a US$5.2bn research grant from the Chinese government for this very project. 
CRRC has claimed that the new high-speed train could operate in temperatures between -50 and 50 degrees centigrade, and can use several different power sources to ensure that it meets the respective regulatory requirements of any country that it travels through.  
"The possibility of the train was first suggested by Jia Limin, a professor at Beijing Jiaotong University and head of China's high-speed rail innovation programme in June 2016. Jia told the China Daily newspaper at the time that the train would make its international debut on the 770km Moscow-Kazan high-speed line in Russia."
Fortunately for the rest of the world, now that CRRC has launched its prototype, they're open to orders from other nations. So if you happen to be the leader of a nation, and you fancy speeding up your national railways, now's the time. 
"The company, based in Jilin province in the extreme northeast of China, makes around 190 electric locomotives a year, as well as 4,000 urban mass transit vehicles and 600 mainline passenger vehicles. It has a turnover of about US$12 billion and has exported to 20 countries.
According to , China State Railway Group will double the length of the nation's high-speed rail network to 70,000km by 2035.
As part of the outlined plans, all cities of more than 500,000 people will be linked through the project. China already has the world's largest network of high-speed rail."
SEE ALSO