Herbert Deiss – one of the world's best CEOs at Volkswagen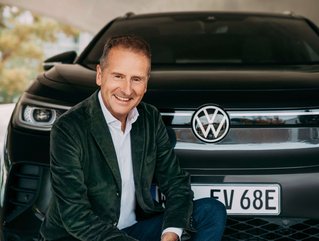 Trailblazer: Herbert Deiss, Volkswagen AG CEO, has resigned. During his role, he built up Volkswagen to become the world's biggest car manufacturer
In October 1958, Herbert Diess was born in Munich, Germany. At the city's University of Applied Sciences, Diess studied vehicle technology in 1977 and later took on mechanical engineering at Munich Technical University, where he graduated in 1983.
Dr. Herbert Diess went on to work as a scientific assistant at the Institute for Tool Machines and Plant Management of the university which he had just graduated from. In 1987, he secured a doctorate in the field of assembly automation. He then worked at the Assembly Automation Department of the Institute for Tool Machines and Plant Management.
Diess moved to Spain in 1990 and was appointed Technical Director, Planning and Maintenance, of the Robert Bosch plant in Treto, where he later became General Manager.
Working in the UK with BMW
In 1996, Dr. Herbert Diess joined BMW AG in his beloved Munich as Director, Long-Term and Structural Planning and later he worked in the Engineering and Technology Division.
At BMW's Birmingham plant in the UK, Diess took on the role of Director. He worked around the country, moving later to Oxford and was also appointed Director of BMW Motorcycles.
Volkswagen AG
By 2015, Diess felt like a change and moved to Volkswagen AG. In his first role, he was appointed to the Supervisory Board of Volkswagen AG as Member of the Board of Management and Chairman of the Board of Management of the Volkswagen Passenger Cars brand.
Two years after Diess was appointed, the Volkswagen Group overtook Toyota as the largest car manufacturer in the world. In 2017, the Japanese lean manufacturer produced 10.18m vehicles, while Diess and his global team produced 10.31m. The following year, Diess was made Chairman of the Board of Management of Volkswagen.
Electric vehicle technology at the Volkswagen Group
Despite reigning supreme in car production, Diess is aware that the automobile industry must make radical changes for electric vehicles in order to reach Germany's sustainability goals.
"The customer needs the correct infrastructure to be put in place to live with the cars," Diess said at the Financial Times's Future of the Car summit.
Yet work to achieve this has been impacted by COVID-19 and now Russia's invasion of Ukraine. While Diess has said he supports maximum sanctions against Russia, he has also warned that "Another supply chain disruption could cause scarcity of energy and inflation."
Diess submitted his resignation in late July and will be succeeded by Oliver Blume, the current CEO at Porsche.