How 3D printing challenges manufacturing technologies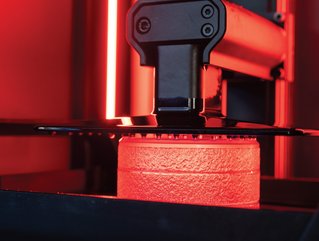 ED printing
Daniel Princ, Head of Production, P3 EMEA & APAC at Stratasys, explores the many advancements in 3D printing & how it is transforming production technology
One of the biggest buzzwords in the 3D printing/additive manufacturing (AM) industry is 'production'. The technologies that make up the AM ecosystem have for over 30 years established themselves as the 'go to' solution for prototyping across nearly all manufacturing sectors. They have even gotten a foothold for end-use applications like spare parts or manufacturing tools. The industry's dream, however, has always been to see AM as a true production technology, able to compete with injection moulding and machining for mass manufacturing applications, says Daniel Princ, Head of Production, P3 EMEA & APAC at Stratasys.
"Reaching production capability isn't easy. A combination of material qualities, repeatability, process stability, process speed, part quality, and cost per part must be superior to the entrenched traditional processes. When competing with decades- or even centuries-old technologies, those bars are set very high indeed! However, with the latest advances, manufacturers should now be considering AM at every stage of their process, from design to volume production."
Here, he tells us more.
Optimising additive manufacturing for production scale
With Stratasys' Programmable PhotoPolymerization P3 platform, manufacturers can solve hundreds of production challenges with a single highly flexible system. Initially conceived as a materials development reactor, the P3 platform has proved itself a production-capable 3D printing technology that opens up a new world of opportunities.
"P3 is an evolution of the well-established digital light processing (DLP) technology application for AM," says Princ. "Part files are sliced and these slices are projected, one at a time, up onto a resin covered build tray. By manipulating four highly-controllable physical parameters (light, environmental stability, pneumatic separation and motion) with a powerful software engine, P3 is able to maximise on the inherent benefits of DLP and unlock greater material choice, higher throughput and increased repeatability."
Because the P3 platform projects a whole 'slice' of a part as a single image, it cures the entire area in one go rather than tracing it out point by point.
"This makes the printing process significantly faster, while still allowing parts up to 192 x 108 x 370 mm or multiple nested parts to the same volume," he explains.
Another historic limitation of AM that technological innovation helps to address is the finish of the final part.
"Traditionally injection moulding could not be beaten when it came to surface finish. But through tight control and the inherent stability of the process, parts produced using P3 technology rival injection moulding for surface finish and aesthetic appeal. And, of course, they can be produced in geometries impossible to recreate with moulding."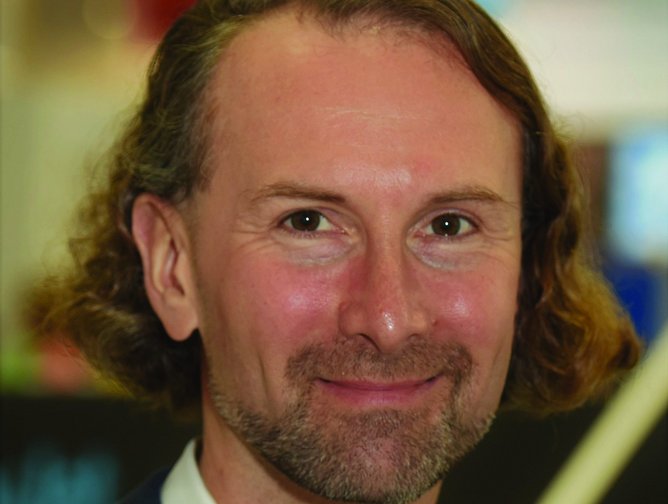 Daniel Princ, Head of Production, P3 EMEA & APAC at Stratasys
Materials matter in additive manufacturing
A decade ago, available photopolymer materials immediately removed AM from consideration as a production technology.
"Characteristics such as strength, toughness, temperature resistance and elasticity were insufficient for many potential uses," says Princ. "In contrast, today, with advancements in digitisation, we can now measure and control the polymerization process to a much greater degree. As a result, a large and growing number of specialty materials companies have been able to harness the power of the P3 platform to push materials technology to new levels. BASF, Covestro, Henkel and others have created a photopolymer materials selection that would have seemed unthinkable even a few years ago.
"We now see:
Applications requiring high temperature resistance — with a heat deflection temperature of up to 80 °C
Biocompatible materials with ISO 10993-5 and ISO 10993-10 certification
Materials with properties analogous to polypropylene, ABS and commercial grade TPUs
"These material properties are available via traditional manufacturing methods, but with additive manufacturing, they are accessible with new levels of production flexibility and design freedom."
In addition, Stratasys' recent creation of its GrabCAD® Additive Manufacturing Platform, an open and enterprise-ready software platform, enables manufacturers to manage production-scale AM operations.
"This provides manufacturers with a software designed for the unique needs of at-scale AM across the entire digital thread – from design through production – while also integrating with Industry 4.0 infrastructure and enterprise applications."
There are so many things manufacturers can do with P3 technology, the question really becomes what should they do?
Princ shares four great opportunities:
Electrical connectors, adaptors and wiring brackets
"Small enough to be nested efficiently within the P3 build volume and built-in significant production scale. Can make use of the high-temperature, impact resistant or ABS- and PP-like materials."
Industrial machine components —Housings, buttons, clips, seals & gaskets
"Takes advantage of the production throughput for volume manufacturing and the excellent surface finish. Can make use of ABS- and TPU-like resins, clear flexible resins or durable low-cost resins."
Medical device components
"Capitalise on the medical grade and biocompatible ABS- and PP-like materials on the P3 for maximum flexibility for flexible production of biocompatible housings, fluid delivery systems and more."
Moulds for low-pressure, low-temperature moulding
"Using the quick-printing and -processing resins the exceptional surface quality can be used to generate mould for footwear components, PU moulds or sample mouldings."
Beyond these examples a world of opportunity awaits and with materials development continuing at pace the P3 platform will only become more versatile, and solve even more manufacturing challenges, in future.
"Once the part, material and process are running in harmony, AM really can challenge other technologies in true production," says Princ.
*********************************************
For more insights into Healthcare - check out the latest edition of Healthcare Digital and be sure to follow us on LinkedIn & Twitter.
Other magazines that may be of interest - Manufacturing Magazine.
*********************************************
BizClik is a global provider of B2B digital media platforms that cover 'Executive Communities' for CEO's, CFO's, CMO's, Sustainability Leaders, Procurement & Supply Chain Leaders, Technology & AI Leaders, Cyber Leaders, FinTech & InsurTech Leaders as well as covering industries such as Manufacturing, Mining, Energy, EV, Construction, Healthcare + Food & Drink.
BizClik, based in London, Dubai & New York offers services such as Content Creation, Advertising & Sponsorship Solutions, Webinars & Events.