Intelex's technological solutions protect Forterra workforce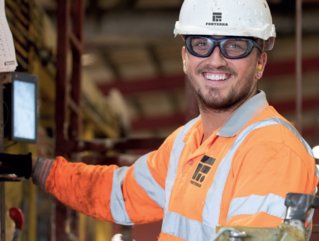 Manufacturing
Paul Humphreys, from manufacturer Forterra, weighs in on how Intelex has created technological solutions for protecting the Forterra workforce
In the environment of increasing importance of appropriate Environment Social Governance (ESG) and Health & Safety reporting, Forterra, a leading UK building products manufacturer, was keen to enhance its ability to manage and measure its workplace safety practices. Committed to working more safely and sustainably across their whole business, Forterra is focused on delivering growth through research and innovation, improved customer service, and greater efficiency. As part of this, the company needed a long-term vision and strategy to future-proof its investment in EHS management software. With these goals in mind, Forterra turned to Intelex, a global leader in EHSQ management software, for a comprehensive data capture solution. Key focus areas included pull documentation, use of an audit application and to be able to provide the relevant customer data when required.
Technological solutions for supporting the workforce
Forterra is headquartered in Northampton and operates 20 sites across England. Forterra's 1,800 employees produce over half a billion bricks each year, which is enough to build 70,000 houses. Of those 1,800 employees, 20 are dedicated to Environmental Health & Safety (EHS) and 27 to Quality. The business has grown through mergers and acquisitions, and bringing Intelex into the company has helped create more alignment between the multiple sites that now form Forterra. They now utilise the Intelex platform instead of trying to operate multiple management systems simultaneously. This allowed Forterra to reduce redundant systems and provide a single source of truth, making the life of their staff easier through the management of only one tool.
Forterra had an EHS software system for 15 years prior to implementing Intelex. However, the software was no longer fit for purpose as it did not grow with the company. The previous system had no mobile capability and could only be accessed via a desktop PC. It was this lack of online and mobile access that was the biggest driver for replacing and updating the old software system. The project took time to implement to meet the needs of Forterra, and the Intelex team was instrumental in setting realistic expectations about deployment. A phased approach was adopted to introduce Intelex's Incident Management Software, Audit Management Software, Action Plan Management Software and Safety Observations Management Software.
One of the key focus areas for Forterra was to be able to track workplace incidents as part of its 'Roadmap to Zero Harm'. Since partnering with Intelex, Forterra has been able to use its Incident Management Software to track workplace incidents, which has been invaluable in ensuring that it can modernise its EHSQ processes. Intelex's technological solutions have allowed Forterra to better protect its workforce by facilitating access and engagement for employees and improving quality of reporting.
The distribution fleet drivers as well as tablet and mobile users working in their facilities were provided with access to the system from mobile devices. This has given Forterra's workforce greater accessibility to the system, allowing them to submit better quality reports and share pictures to illustrate the issues that are being found during a working day.
Improving the ESG process
Next, Forterra implemented the Audits Management Software to facilitate the work of their three internal auditors. Utilising this solution, Forterra has been able to maintain its ISO certifications: 9001, 14001, 45001, 50001, and 6001.
Safety Observations Management Software came next, and the simple-to-use application was an easy implementation to improve the capture of behaviour-based safety observations.
Finally came the introduction of Action Plan Management Software, since the data acquired through audits and incidents drove the need to create the action plans used to change and improve behaviours and processes.
Looking to the future, Forterra is constantly searching for ways to use more of the powerful Intelex system. They have spent a lot of time entering and analysing data using the Corporate Reporting software which they use to inform their processes around ESG. Corporate Reporting drives all their sustainability data, which is reported to their shareholders. They are keen to get as much as possible out of this application's functionality and will continue to actively work with Intelex to enhance their ability to use this and other software.
"As Forterra continues to invest and grow, we will continue to look to our Intelex software system to support both our compliance requirements and provision of information and data to inform us of future work and strategies for improvement," says Paul Humphreys, Head of Health and Safety at Forterra.