Jonnie Walker Blue Label whisky to pilot 'smart labels'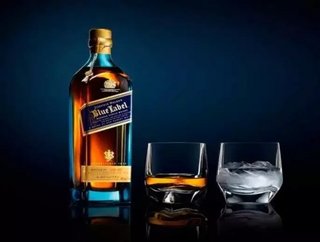 Diageo will reveal its first ever "smart bottled" Johnnie Walker Blue Label that can send offers to customers smartphones straight from the...
Diageo will reveal its first ever "smart bottled" Johnnie Walker Blue Label that can send offers to customer's smartphones straight from the shopping aisles.
Sensor technology, using Near Field Communication, will allow Diageo to send personalised offers to consumers who tap the bottles with their smartphone.
The firm will send cocktail recipes, offers and promotional material to these prospective customers as they browse the alcohol shelves.
Further, drinkers can be certain that their smart bottled whisky will have never been tampered with, as its printed sensor tags have seal detection.  
It is hoped the sensor technology will give the manufacturer insight into the whiskey's lifecycle outside of the factory floor, from the shelves to customer's homes, preventing fraud.
The smart bottle, created by tech company Thinfilm, is a product of Diageo's Technology Ventures investment pool that opened last year.
Diageo opened the incubator to tap into the 'digital behaviour' of young adults to curb irresponsible drinking, with the help of tech start-ups, it said.
The drinks manufacturer, which owns Bushmills, Smirnoff, Baileys, Captain Morgan, and Guinness brands is handing over $100,000 (£62,000) in funding as well as insight to the business for successful startups.
Thinfilm developed the yet-to-be patented OpenSense technology late last year, yesterday's announcement marks the first company, Diageo, to test it out on a prototype. However there are no plans yet to roll the technology out to Diageo's supply chain, Thinfilm said.
The bottle will be on show at Mobile World Congress in Barcelona.