Manufacturing Profile: Foxconn - Apple's premier production partner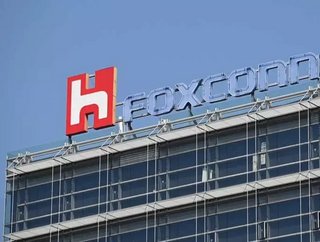 Foxconn has built on its successful partnership with Apple to post record-breaking revenues of $175bn in 2018 when it was ranked 24th among the Fortune...
Foxconn has built on its successful partnership with Apple to post record-breaking revenues of $175bn in 2018 when it was ranked 24th among the Fortune Global 100.
History
Foxconn Technology Group - as Hon Hai is known - was founded in Taiwan in 1974 and established a presence in the US in 1985. From its headquarters in Tucheng, New Taipei, the Group's chairman Terry Gou has overseen a growth strategy driven by 'time to market', 'time to volume' and 'time to money'.
Today, as the world's largest provider of electronics manufacturing services (EMS), Foxconn is focused on its holistic digital solutions for the 3C (computing, communication and consumer) industries based on the integrated concept of 'IIDM-SM' (Integration, Innovation, Design, Manufacturing, Sales and Marketing).
Innovation
From the Blackberry and iPhone to the PlayStation 4 and Xbox One, the company has been involved with some of the most successful and disruptive product launches yet seen in the electronics sector. Foxconn's goal is to leverage its expertise in cloud computing, mobile devices, IoT, big data, AI, smart networks, robotics and automation. It aims to integrate its unique manufacturing prowess with emerging technologies for the products of the future.
Apple
Foxconn's partnership with Apple provided a major turning point in the company's fortunes. More than just a subcontracted manufacturer, Foxconn originally landed an order to produce Apple's iMacs in 2000 which presented the opportunity to enhance its technological prowess. This was put to the test with the launch of the era-defining first iPhone in 2007. Its subsequent manufacture seamlessly combined aluminium parts with frictional heat, using a pioneering technique known as anodisation. The forthcoming iteration of Apple's best-seller is sure to provide another boost to Foxconn's fortunes.
SEE ALSO:
Foxconn confirms production on Wisconsin factory to start by 2020
Foxconn, Apple's contract manufacturer, to manufacture own products
Apple spent US$60bn with 9000 manufacturers in 2018
Read the latest issue of Manufacturing Global here
The Future
While forging close ties with Apple's Chinese rivals (such as Huawei) Foxconn is also strengthening its partnership with Apple via the acquisition of Toshiba's PC business through its Japanese subsidiary Sharp. It's other brands include Nokia, Belkin and Linksys. 
The future looks bright as the company celebrates ranking 105th among Forbes Global 2000, charting 8th among Forbes Top Multinational Performers, and placing 215th on the list of Forbes World's Best Employers.
Did you know?
The Taiwanese tech giant has broken ground on the construction of a $10bn megafactory. The Wisconsin Valley Science & Technology Park will produce liquid crystal displays. The project could employ up to 13,000 people and is expected to have at least a $7bn annual economic impact on the US state and generate between $116-$157mn in tax revenues annually, once fully operational. Further 'innovation hubs' are in the planning stage at locations across America including Milwaukee and Green Bay.