The dangers in neglecting manufacturing innovation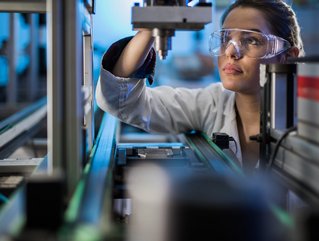 Robin Taylor of ForrestBrown warns of the perils in neglecting innovation in the manufacturing sector and the importance of digital transformation
Hi Robin! Please introduce yourself and your role.
"I am a technical specialist at ForrestBrown, a leading research and development (R&D) tax consultancy. A mechanical engineer by training, I bring two decades of experience in design and manufacturing to my role, with household names like Bentley and Dyson.
"At ForrestBrown, I work alongside our team of chartered tax advisers to help innovative businesses in the manufacturing sector identify and articulate their R&D, securing vital funding to accelerate their growth plans."
Tell us about your education and career path...
"After studying automotive engineering at the University of Leeds, I began my career with a tier one supplier to the automotive industry, developing body sealing systems for companies including Aston Martin, Honda and Toyota.
"I then moved to Bentley where I broadened my expertise in closure systems, including bonnets, doors and tailgates for vehicles such as the Bentayga and Continental GT. After a decade with the luxury car manufacturer, I made the switch to Dyson to work on their electric vehicle project. While this ultimately didn't deliver a commercially available car, it did lead to innovations which have since been applied in other products.
"All of these experiences have proved invaluable since joining ForrestBrown two years ago. Having led design and manufacturing teams, I understand the R&D process and speak the language of the technical teams at the forefront of innovation in the sector."
What interests you most about the manufacturing sector?
"The manufacturing sector is constantly providing opportunities for improvements and innovation through technological advances. I am particularly interested in the additive manufacturing sector. Additive Manufacturing provides many opportunities and supports the innovation and manufacturing of other products too."
Tell us about the importance of digital transformation in manufacturing?
"From the digitisation of previously manual machining processes to integrating new technologies with legacy back-end systems, digital transformation is driving innovation which is enabling manufacturers to remain competitive in a global market. Supply chain challenges and other global uncertainties made manufacturers think differently and adapt to bring rapid changes in manufacturing processes. Ultimately, it all fuels growth and further innovation in the sector which can only be a good thing for the UK as a whole."
Can you tell us how political chaos is hindering the manufacturing sector?
"Manufacturing has the potential to be the engine of UK economic recovery, particularly beyond London and the South East. Investment in innovation is required to ensure UK companies keep pace in a global market, and whatever the makeup of the government, it is important that it gets fully behind the sector.
"One way of demonstrating this would be through reform of capital allowances. R&D tax relief is focused on revenue expenditure while the attractiveness of the current capital allowances regime for R&D has been eroded by the introduction of the Annual Investment Allowance (AIA) and the super-deduction.
"A more generous rate for R&D capital allowances (RDAs) is required to better incentivise investment in capital assets for R&D purposes. The current system also penalises companies in a post-R&D loss-making position. This is because, unlike for other types of qualifying R&D expenditure, RDAs do not generate a cash credit.
"A more wide-reaching change would be to consider removing the requirement for expenditure to be revenue in nature from the R&D tax incentives legislation. This could have the additional benefit of simplifying circumstances where R&D expenditure has been capitalised for accounting purposes as an intangible asset, but a separate assessment is required to determine the correct tax treatment."
What are the perils of neglecting innovation when it comes to manufacturing?
"Manufacturing is a globally competitive industry and investment in innovation allows businesses – and by extension nations – to gain both an advantage over, and protection from, other markets overseas. With continuing competition from lower labour cost markets it is vital for UK manufacturers to invest in innovation to unlock efficiencies, especially in non-specialist sectors.
"A good example of this is a client who manufactures plastic components for the floral industry. They were coming under increasing pressure from low-cost international competition until they invested in re-engineering a significant portion of their production process with automation and synchronisation that will save them both time and money, allowing them to compete at the right price point to retain and grow their market share.
"Even in sectors where the UK leads due the specialist knowledge, advanced manufacturing technologies are now allowing the unskilled to produce similar quality products through robotics and automation, and new techniques such as additive manufacturing. Therefore, it is important that all manufacturers are open to the potential benefits of investment in innovation."
How is subsidised R&D creating uncertainty across the manufacturing technology sector?
"Manufacturing is a dynamic, globalised sector which is constantly evolving. Given the pace of technical change, investment in R&D is essential for UK companies to stay ahead of the competition. R&D tax relief has helped support valuable innovation in manufacturing for more than 20 years.
"However, uncertainty around HMRC's definition of what constitutes subsidised R&D has put a question mark against access to funding for many of the most innovative companies in the sector. HMRC has taken the view that R&D activities carried out to deliver goods and services to customers could be subsidised by those customers when they buy these goods and services. Such an interpretation can significantly reduce the tax benefit available to the company undertaking R&D.
"Penalising customer-based R&D in this way creates uncertainty for companies across the manufacturing sector, putting investment and jobs in jeopardy, with knock-on effects for the UK's productivity and global competitiveness. That's why ForrestBrown has teamed up with trade associations in the sector to resolve this issue with HMRC by reaching a mutually agreeable interpretation which can be presented in clear guidance for taxpayers."
What do the next 12 months hold for the manufacturing sector?
"As the manufacturing world is such a dynamic and fast-moving one, 12 months can be a relatively short time to see greater changes in the sector. I'd expect that we will continue to see more investment in smart technologies for manufacturing, increasing quality and improving adaptability whilst also driving down costs.
"It would be great if there was more focus on cleaner manufacturing, producing the same parts for less emissions and following the trends in sustainable manufacturing. Whilst this could prove a harder task for the manufacturing sector as a whole, it could mean a longer lasting future for sustainable manufacturing."