The road to a sustainable net zero manufacturing sector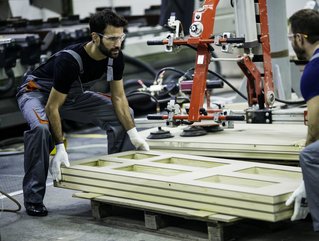 Zurich UK's new sustainability report shows manufacturing & construction must address the knowledge gap in their respective sectors to reach net zero
The construction industry faces one of the hardest decarbonisation journeys of all industries, according to a new report from Zurich UK, but manufacturing is not far behind.
Insurer Zurich UK has worked with the University of the West of England in The Journey to Net Zero report, which labels construction, manufacturing and transport as the sectors which will struggle to reduce their emissions the most.
Yet many across each sector are rising to the challenge.
Manufacturing is one of the most pollutive sectors - which needs to change
The report suggests increasing the use of sustainable materials, such as wood, in manufacturing, to reduce embodied emissions, in addition to reusing materials in the circular economy.
Educating professionals is another solution, but the report shows that many of those working in manufacturing lack the required understanding around sustainable manufacturing to make a difference - meanwhile, decarbonisation in transport gets a lot of airtime.
The report recommends the governments address the knowledge gap at once.
Addressing the knowledge gap in sustainable manufacturing
"If we are to reach net-zero by 2050, it is crucial that we decarbonise the construction industry. It is clear from the report that increasing knowledge around carbon emissions and looking at the whole supply chain of the industry is crucial, but we also need the Government to empower business to make the necessary changes," said Frank Streidl, Head of Energy, Marine and Construction at Zurich UK. "The UK's commitment to building more houses and levelling up infrastructure means demand for construction projects will continue to grow, but this cannot be at the expense of our Net Zero goals."
For lead report author Dr Laura de Vito, from the University of the West of England Faculty of Environment and Technology, collaboration is key.
"The industrial sectors are highly interconnected and therefore it is important to adopt a joined-up and collaborative approach to Net Zero," said Vito. "Solutions are available - we now must focus our efforts in implementing them, especially in light of the recent IPCC report which demands urgent and decisive change. The UK government will need to play a crucial role in driving this change at the required scale and pace, and in unlocking collaboration opportunities across industry sectors and at all levels of society."