This week at Manufacturing Digital, we celebrated women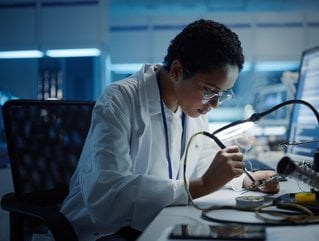 Women in manufacturing
On International Women's Day, we heard from women across the industry. "The manufacturing sector suffers from gender stereotyping" - Georgina Goff, Flex
The business case for diversity is stronger than it has ever been. Not to mention the moral and fairness reasons for diversity in the workplace. Despite this, women make up just 16.5% of all engineers in the UK. While this number continues to rise, there is clearly more the sector can do.
"It's not enough to attract women into STEM roles," says Tinashe Mutore, Development Engineer and D&I Chair at semiconductor manufacturing company Edwards Vacuum. "How a company harnesses and maximises the potential of that diversity is just as important. It's not enough to invite someone to the party – or even ask them to dance. As a woman in STEM, I want to be planning the party."
Jerod Johnson is a Senior Technology Evangelist at CData Software. He and his team are responsible for creating and curating content that shows how easy it is to get real-time connectivity to all data, with CData's self-service data products and connectivity solutions.
Through articles, videos, webinars, and in-person events, Johnson gets the chance to tell the stories of how CData enables advanced analytics, boosts cloud adoption, streamlines operations, and creates a more connected business. But he has apprehensions about the modern manufacturing sector, primarily regarding the supply chain.
"My biggest concern with the manufacturing industry right now is the ongoing supply chain disruptions. Localised shortages of materials often lead to lower supply, which increases demand and therefore price for the consumer. Just personally, I know it has been difficult for consumers to get their hands on higher-end computers and even gaming consoles because the manufacturers didn't have the materials on hand to build the products," he says.
"Personally, I'm navigating the supply chain disruption by postponing what I would call luxuries, like the aforementioned computer, a car, or even a big vacation. The supply chain disruption is making manufactured goods more scarce and more expensive, along with most other goods (like groceries and clothing). We're lucky to be able to still purchase the things we need, but it often means going without the things that we want."
While better represented here in manufacturing than in many other STEM industries, women still make up only 37% of manufacturing workers globally. As we know, a multitude of factors are responsible for this; girls being discouraged from STEM at a young age; the view of the sector as "for men"; discrimination against the women who do make it in the sector.
In order for manufacturing to be an attractive career path for women, we need to change the sector's image and highlight the female role models blazing a trail in the industry. Electronic solutions provider GTK's HR Business Partner, Leanne Matthew (29), shares her career journey and offers advice for young women looking to progress in the sector.
"The manufacturing sector still suffers from gender stereotyping and preconceptions.
"The production floor was traditionally viewed as an outdated environment where work could involve dirty, dangerous, or monotonous assembly line tasks that may be better suited to men. However, this bears little resemblance to reality. In today's smart factory, you're likely to be part of a multidisciplinary team that collaborates to solve problems in an advanced high-tech and clean environment, albeit one that requires adequate representation.
"These older ways of thinking provide a stereotypical view of a woman's role in society before new ideas and expectations became essential. For example, a clear inhibitor to career progression was the view that, as the primary caregiver, women had to strike a balance between work and home life.
"Such a sentiment is backed by numerous studies which present the socially constructed difference between the sexes and how they approach careers, where men were free to focus on their careers while women ought to prioritise their family. To overcome this, the challenges for equality and equity within a workplace are ongoing, regardless of the industry.
"This, together with 'maternal wall' biases has led to an erosion of confidence in women who might otherwise aspire to hold a leadership position. It remains a factor that gives rise to the imbalance in gender seen today.
"Without the assurance of being treated fairly and valued by their employers, the industry will continue to face a major skills gap. This is becoming a big problem, and according to a recent study there could be 2.1mn unfilled jobs in the US by 2030. Echoes in Europe of a skills shortage are also common.
"Given that women are significantly under-represented in manufacturing at a mere 30%, and with a continued focus on dispelling preconceptions and stereotyping, there is both scope and opportunity for women to move to manufacturing."