Workforce development with AI-integrated AR in manufacturing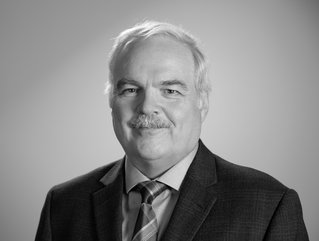 Paul Travers, Founder & CEO of computer hardware manufacturer Vuzix
Paul Travers, Founder & CEO of computer hardware manufacturer Vuzix, discusses AR technology, the role of AI & the USA's manufacturing resurgence
Paul Travers is the Founder and CEO of Vuzix, a computer hardware manufacturer which stands at the forefront of Augmented Reality (AR) technology. The company designs and manufactures products from optical components to smart glasses and advanced AR solutions, used across manufacturing, logistics, field service and healthcare.
Travers' career has spanned over three decades and has been deeply rooted in the consumer and enterprise electronics markets, in sectors from defense to gaming. Given market maturity and industry demand, his focus lies in the field of augmented and assistive reality.
"My professional journey began with Forte Technologies, a venture that took the first steps into mixed reality by producing the first virtual reality head-mounted display system for the gaming industry. The potential I saw in augmented reality during this time has driven my work ever since," Travers says.
Here, he tells Manufacturing Digital about the intersection of Augmented Reality and AI as well as the USA's manufacturing resurgence.
Hi Paul, please tell us about the workforce development in the U.S. manufacturing sector and the intersection of AR and AI.
"The integration of AR and AI is a paradigm shift for workforce development in the U.S. manufacturing sector. This convergence offers unique solutions for learning and development that are both efficient and fundamentally transformative.
"AR provides an interactive platform for training and development. This technology enables the creation of simulated environments that allow workers to visualise complex manufacturing processes and tasks. For instance, a new assembler can put on an AR headset and see a step-by-step visual overlay guide on how to assemble a part. This level of interactive instruction significantly speeds up the learning process by allowing workers to learn by doing, rather than just reading or listening. AR provides hands-on experience in a controlled, risk-free setting, which contributes to the acceleration of competency development.
"AI enhances the value of AR by introducing a degree of personalisation and adaptability to the training process. AI algorithms can analyse a trainee's progress in real-time, identify areas of weakness and adjust the AR training content accordingly. This means that each worker receives a personalised training experience tailored to their own pace and learning style. AI can also provide real-time performance analytics, which enables supervisors and trainers to provide immediate feedback and reinforcement, ultimately making training and onboarding more efficient.
"Additionally, the intersection of AI and AR can play a crucial role in predictive maintenance training. For example, AR can be used to provide workers with a real-time overlay of machine diagnostics, while AI can analyse the data and predict when and where faults or failures might occur. This allows workers to learn how to maintain and repair machinery proactively, which reduces downtime and increases productivity.
"Furthermore, the AI/AR duo can be employed for safety training. AR smart glasses have been shown to naturally improve workplace safety, giving wearers both hands back to get the job done and keeping them focused on what's in front of them instead of looking at a hand-held device. With the additional component of AI, potential safety hazards can be simulated in a controlled environment, and the AI can adapt the AR simulation based on the worker's reactions, making the training process more dynamic and effective."
Tell us about the USA's manufacturing resurgence.
"The recent data from the Bureau of Labor Statistics, which reveals the creation of 800,000 manufacturing jobs across the United States in the past 2.5 years, offers insight into the current economic landscape. This manufacturing resurgence isn't just a testament to the robustness of the American industry but also highlights the transformative role of advanced technologies, particularly in the realm of Augmented Reality (AR) smart glasses.
"Analysing the growth trajectory, AR smart glasses stand out as a nexus point between technological innovation and traditional manufacturing. They're emblematic of the ongoing Industry 4.0 revolution that utilises digital technologies to enhance manufacturing processes. The implications are vast - from the operational perspective, AR smart glasses can increase efficiency, improve quality control, streamline inventory management and facilitate real-time data analytics. This integration of digital tools like smart glasses into manufacturing can provide businesses with a competitive edge, potentially driving further expansion in the sector.
"From a workforce perspective, the rise of AR smart glasses necessitates the development of high-tech manufacturing roles. This shift can trigger ripple effects across the educational and vocational training sectors, encouraging the cultivation of advanced skill sets and fostering a workforce equipped for the future of manufacturing."
How are AI-integrated AR solutions leveraging their potential for scalable training initiatives?
"AI-integrated AR solutions are revolutionising the realm of scalable training initiatives, and here's how they're doing it.
"First, our AR solutions provide real-time guidance for employees as they navigate intricate manufacturing procedures. This creates an immersive learning environment that dramatically trumps traditional training methods. With the added power of AI, these solutions have the ability to learn from every interaction, allowing them to offer guidance tailored specifically to each individual's experience level and role. In essence, training becomes a personalised journey that dynamically adapts to the learner's progress.
"In the realm of predictive maintenance, the potential enhancements offered by AI-integrated AR are game-changing. With AR overlays on machinery, employees can visualise operational data in a meaningful and intuitive way. The intelligence of AI is then applied to detect any anomalies in this data, enabling it to offer predictive insights. Employees are alerted to potential issues before they become significant problems, fostering a proactive maintenance culture that ultimately minimises downtime.
"Finally, the promise of machine learning integration holds the potential for an unprecedented level of continuous improvement in manufacturing operations. AI doesn't just passively assist in tasks; it actively analyses manufacturing processes, seeking out inefficiencies and areas for optimisation. This leads to actionable insights that drive process improvements, setting up a cycle of constant refinement."
Do you have any partnerships you can tell us about?
"Our deepest partnerships span major players in manufacturing, distribution and supply chain management. Many organisations face crushing rates of attrition among service, repair and order fulfilment personnel. The process is compounded by onboarding cycles and the high degree of technical experience needed before an employee is considered fully proficient. We believe that humans and machines can work collaboratively and our partnership network is mobilised in support of driving a transformation of the workforce to enable this shift, engendering new levels of accuracy, speed and safety."
What do the next 12 months hold for you and the company?
"Vuzix has found its stride among manufacturing and service applications and the next 12 months will continue to see this momentum. We expect several pilots to ramp into full deployment across a number of clients. Given the increasing demand and adoption, Vuzix recently expanded its manufacturing centre. Everything is still designed and manufactured in the USA and this new facility now enables Vuzix to produce an even wider variety of waveguides – the advanced optical components crucial to several of our AR smart glasses – at greater volumes.
"As a major player in the wearable landscape shift, Vuzix will continue leading the way in enterprise AR adoption. The coming year will be a momentous opportunity for Vuzix to help clients capitalise on groundbreaking technologies like AI, and deepen the efficiencies that only hands-free AR wearables can deliver."
*************************************************
For more insights into Manufacturing - check out the latest edition of Manufacturing Magazine and be sure to follow us on LinkedIn & Twitter.
Other magazines that may be of interest - Healthcare Digital.
*********************************************
BizClik is a global provider of B2B digital media platforms that cover 'Executive Communities' for CEO's, CFO's, CMO's, Sustainability Leaders, Procurement & Supply Chain Leaders, Technology & AI Leaders, Cyber Leaders, FinTech & InsurTech Leaders as well as covering industries such as Manufacturing, Mining, Energy, EV, Construction, Healthcare + Food & Drink.
BizClik, based in London, Dubai & New York offers services such as Content Creation, Advertising & Sponsorship Solutions, Webinars & Events.