5 minutes with Jerry Huang, Co-founder & CEO of Profet AI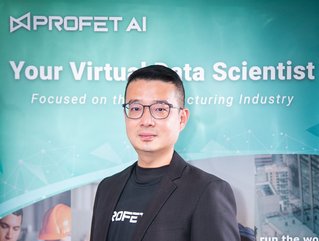 Jerry Huang, Co-founder & CEO of Profet AI
Jerry Huang discusses why Taiwan is so well suited to manufacturing & how Profet AI helps manufacturers build prediction models
Hi Jerry, please introduce yourself.
"I'm Jerry Huang, Co-founder & CEO of Profet AI. Previously, I worked in global software companies such as IBM, SAP, and PTC and other companies in the manufacturing industry for 20 years before starting my own company, Profet AI."
What led you to this industry?
"Taiwan's manufacturing industry is vital to the global supply chain and is a leader in areas like EMS, PCB, IC design and manufacturing, and optical lens modules. Taiwan has an unmatchable global implementation environment for AI in the manufacturing industry.
"However, in 2019, as manufacturers began really looking at AI, we discovered that many of the software solutions provided by global companies didn't cater to the specific needs of Taiwanese manufacturing customers, forcing them to spend extra on customisation services. To address this, we aim to create products that meet the manufacturing industry's needs.
"We are really blessed to be based in Taiwan, with all the manufacturing resources and best practices here. We also have extensive industrial experience and domain know-how, as well as a highly-qualified workforce. This means we have the advantage of being able to closely understand the pain points of our customers and customise the most suitable solutions for them to solve problems, which is something we are 100% committed to.
"We know that many companies understand the importance of digital transformation but struggle to implement it effectively. This is often because senior executives from different departments have varying views on which problems AI should solve, plus there's a shortage of data science and AI talent.
"That's where our AutoML virtual data scientist platform comes in. It's a no-code AI platform that's easy to learn and use, and key employees can quickly master it within two hours. Compared to traditional AI projects, Profet AI can help customers complete POC within a week, and more than 80% of non-IT industry experts can use it with its 'plug-and-play' feature. It's this 80% that would have previously struggled with implementing AI."
What is Profet AI?
"Last year, Profet AI completed its Series A fundraising and has raised over US$6.4mn in total. Profet AI is a manufacturing auto machine learning software company that provides an end-to-end no-code AutoML platform with an on-demand AI application knowledge base. This enables industry sectors, domain users, or IT professionals to quickly build high-quality predictive models and rapidly deploy AI applications to solve daily production and digitisation challenges.
"As things stand, we can count more than 100 medium- and large-sized manufacturing companies across 12 major industries as our customers, of which more than 70% are industry leaders and listed companies, such as AUO, Qisda, Everest Textile, WUS Printed Circuit, Eternal Materials, and Cheng Shin Rubber."
Tell us about your industrial AI software.
"Currently, our product portfolio includes:
AutoML virtual data scientist platform: as mentioned above, Profet AI AutoML product is a no-code AI platform that is easy to learn, easy to use, and can be quickly mastered by key employees within two hours. Compared to the months-long process of implementing a typical AI project, Profet AI can be completed within a week, allowing 80% of non-IT industry experts (production line employees, R&D, Facilities, HR, marketers, IT) to use AI, which help further democratise AI implementations.
Ready-to-Go App on-demand AI application knowledge base: with 12 major industry categories and over 100 application databases, this inspires customers' AI usage ideas.
Profet AI Inside: a cross-industry collaboration ecosystem that uses Profet AI's core capabilities to add value to customer products. Currently, there are multiple partners, including Nexcom IPC+AI, Harbortech IOT+AI, and Asia Giant, the chemical equipment manufacturer, collaborating to make their equipment diagnosis intelligent. We are open to collaboration opportunities to create win-win situations with our partners from other industries."
How does Profet AI help manufacturers build prediction models?
"We focus on applications in the manufacturing industry and have accumulated 50 commonly-used algorithms in the manufacturing industry over the past few years.
"Our no-code software platform, powered by our AutoML engine, empowers everyone within the enterprise to rapidly design and develop Enterprise AI applications for their everyday processes. Operators, domain experts, and data scientists can also come together to collaborate on Enterprise digitalisation at every level.
"We provide a large library of tried-and-tested 'Plug & Play' AI applications that are industry and application-specific. Built upon our Enterprise AI platform, these applications are ready to be deployed and hyper-scaled at the get-go, in any public cloud or on-premise environment."
You've worked for many companies, such as IBM and SAP – what did you learn while working there?
"Global perspective: IBM and SAP are global companies with a wide range of businesses and customer bases. We learned how to collaborate with people of different cultural backgrounds and how to do business globally, which helped us handle customers and partners from different regions and cultures in our entrepreneurship."
What does the next year hold for you and Profet AI?
"Increasing supply chain resilience as a countermeasure to a difficult global geopolitical situation that is hampering business; predicting demand from emerging areas to pursue business growth (such as auto car, green energy, food, and agriculture); and addressing issues of net-zero carbon emissions and labour shortages (e.g. with the retirement of the baby boomer generation)."