Procurement & Supply Chain
5 minutes with Heidi Banks, Senior Director at Jabil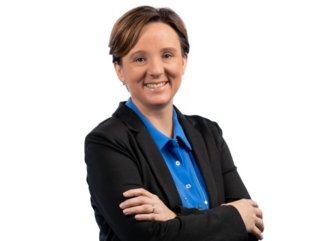 Heidi Banks shares how technology plays a part in her role as Senior Director at Jabil & her experience in supply chain and procurement
"I'm a senior director at Jabil and have been with the company for 21 years. It's been a great career path here within Jabil. I manage our source-to-pay services, but I'm also responsible for our internal, indirect technology stack and running that for Jabil as an operations team.
"I also have ownership of our global shared services that run and maintain all of our indirect technology within Jabil, as well as a sourcing organisation that focuses specifically on tail spend.
"In the past, I've also been a purchasing manager and have helped set up a central procurement organisation as a support element for our current chief supply chain officer, Frank McKay. So I have many years of experience here at Jabil throughout procurement and supply chain."
Could you tell us about your education and your career path?
"I went to school at Western Michigan University and graduated in 2001 with a Bachelors in Integrated Supply Chain Management, which had a focus not only on business and supply chain, but also had a Minor in Engineering. I picked my subject from a career path standpoint and I picked Jabil because of the manufacturing footprint and the opportunity to use my engineering knowledge - as well as my desire to be in procurement planning and supply chain.
"Back then, colleges were just starting to roll out these subjects. I saw it as a great opportunity to be in a new career path area and having that great exposure to my roots, which is maths and engineering.
"Later, I did get my Master's at the University of Tampa in Technology. So I've got a supply chain and engineering background with a Technology Masters!"
What was it that led you to this industry?
"I was just a young person trying to figure out what I wanted to do in life and had a roommate who was in supply chain at Western and believe it or not, I started off as a Paper Engineering Major at Western and then switched to supply chain when I realised I did not like chemistry.
"I loved the fact that it was a mix of understanding business and procurement, as well as being able to speak to engineers. Because if you can't handle that piece, you can't really be effective from a sourcing standpoint.
"That was my passion and what led me to Jabil and the fact that Jabil really covers lots of different markets. We're not just in the technology space, we're also in healthcare life sciences, the consumer market and Jabil just gave a great opportunity to see across and not be narrowly focused in one area within the supply chain."
How is the Jabil supply chain team leveraging their Coupa expertise for customers with complex integrations with enterprise systems such as SAP, Workday and Okta?
"This is where our source to pay services really kick in and where we started off on our overall journey.
"Coupa is our indirect technology partner from a P2P standpoint. We utilise Coupa for analytics, their AIC module analytics in their operational element P2P. We also use them for tactical sourcing. We have them for virtual card transactions for one time or unknown vendor.
"We ended up selecting Coupa for a multitude of different reasons, but mainly their forward looking roadmap and their partnership to underpinning areas that we had a significant focus on. We deployed around 126 locations in 30 countries. We did about 80% of that in 24 months. That is a testament to the solution and how easy it is to use and deploy in some of the world's most challenging jurisdictions.
"We started off in China and then we came to the US, which is basically opposite of what most companies do. Most companies start here and go there. We started in Asia and came here - our manufacturing footprint is heavily focused in China. If we were going to deliver on any type of return on investment for the Coupa application, we had to start there. We wanted to accelerate the ROI by starting where our spend was and then moving from east to west."
Over 2022, what has been your biggest challenge if you can give one?
"I certainly don't speak for Jabil's greatest challenge when I talk about this, but from a challenge perspective within my remit, it's really been making sure that we hire the right talent. That has the right mindset to come in and not only deliver internal excellence within Jabil, but externally for our services.
"It's bringing that pipeline in and making sure that we have the right people that are elevating Jabil, but are also elevating our customers and our services that we deliver."
What has been your biggest lesson at the company since you've been working there?
"I think the biggest lesson that I've learned over this entire journey, including my other years prior to managing the Coupa application is, to make sure that you communicate and get the right buy-in before you take on a large transformational project. If procurement goes out and buys technology, but doesn't have finance adoption or support from a change management perspective, the technology again, it can be deployed, but it won't be adopted if you don't have that buy-in upfront."
What do the next 12 months hold for you?
"The next 12 months are going to be busy. What we're focusing on again, is building our internal team and our external team at the same time. We have a lot of customer' engagement that we're working on, talking to existing Coupa customers, talking to our suppliers and our customers that maybe aren't using a procure-to-pay platform to see how we can help them come through a similar journey, especially our strategic suppliers and our customers.
"We want them to see the same benefits that we saw. If they're more effective and more efficient, we can be better cost leaders together. We can help each other, we can partner and grow together. We're also having a lot of those conversations as well. We want our success to also be seen in other organisations, but the next 12 months are focused on building our services organisation and building our internal team to make sure that we have a successful external organisation.
"So building that pipeline of opportunities and building that pipeline of talent, to make sure that we can be very effective with our services. In the future, when people think about doing a source-to-pay project or implementing a technology stack like Coupa, our name starts to come to mind right off the bat."