IIoT & Digital Twin trends in smart manufacturing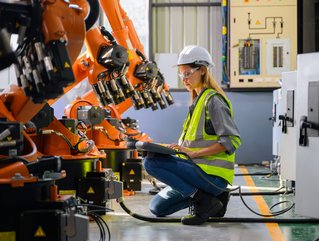 Efficiency and Sustainability in Smart Manufacturing
Smart manufacturing unlocks efficiency & upholds sustainability with technologies such as IIoT & Digital Twins. Here we look at Reportlinker's new report
A new report from IT service Reportlinker, has forecast future trends and challenges for smart manufacturing.
Reportlinker's research in Global Smart Manufacturing Market 2023-2027 suggests that the smart manufacturing market will grow at a CAGR of 13.95% 2022-2027, as businesses seek to implement the technologies it offers, from IIoT to cloud computing to digital twin technology. When used correctly, smart manufacturing allows manufacturers to customise their products and adapt quickly, which is especially in demand for those who want to safeguard their supply chain. As a result, smart manufacturing can contribute to reducing waste and helps manufacturers to reach their sustainability goals.
Here, we check out some of the latest smart manufacturing trends.
IIoT in smart manufacturing
First came the consumer-facing technology IoT, which is used in items like wearable devices.
Then IIoT arrived, a development which involves the use of sensors and devices that work in manufacturing equipment and collect real-time data. IIoT sends this data back to the manufacturers, who can make a decision of what to do with the data - especially when it highlights a problem.
As explored in Supply Chain Digital, IIoT technology is revolutionising manufacturing, as well as other industries, from agriculture to advertising. When used in the supply chain, IIoT can automate ordering items just before something goes out of stock, which frees up employees and creates greater efficiency.
It's not surprising that Reportlinker's study identifies the emergence of IIoT as 'one of the prime reasons driving the smart manufacturing market growth',. Craig Duckworth uses IIoT in his work as President and Co-Founder of Velta Technology.
Digital twins support smart manufacturing
A digital twin is a virtual model which can accurately reflect a real-life object. Digital twins are used in smart manufacturing to provide real-time monitoring, optimisation, and simulation of manufacturing processes.
Manufacturers use them to produce data about different aspects of an item's performance, which can be used to save time, money and emissions.
For example, at Microsoft, the Azure Digital Twins is an IoT platform where users can build a digital representation of things in reality, which helps customers gain insights to their operations.
Check out Manufacturing Digital's Top 10 manufacturers using digital twins here to learn more.
*************************************************
For more insights into Manufacturing - check out the latest edition of Manufacturing Magazine and be sure to follow us on LinkedIn & Twitter.
Other magazines that may be of interest - Healthcare Digital.
*********************************************
BizClik is a global provider of B2B digital media platforms that cover 'Executive Communities' for CEO's, CFO's, CMO's, Sustainability Leaders, Procurement & Supply Chain Leaders, Technology & AI Leaders, Cyber Leaders, FinTech & InsurTech Leaders as well as covering industries such as Manufacturing, Mining, Energy, EV, Construction, Healthcare + Food & Drink.
BizClik, based in London, Dubai & New York offers services such as Content Creation, Advertising & Sponsorship Solutions, Webinars & Events.