Microsoft's use of IIoT technology in its manufacturing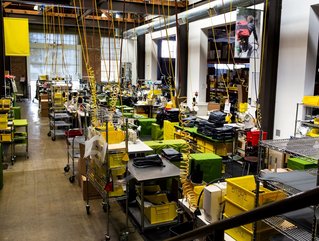 Manufacturing at Microsoft
Indranil Sircar, Chief Technology Officer for manufacturing and mobility at Microsoft, discusses the company's core platform capabilities
The industrial internet of things (IIoT) is an environment of sensors and applications which analyses data from across industrial operations and is used to make sure production runs effectively. The term was first developed in 1999 and is now used across the manufacturing sector.
As Chief Technology Officer (CTO) for manufacturing and mobility at Microsoft, Indranil Sircar's work involves the use of IIoT. He is focused on incorporating the industry and manufacturing vision in business outcomes for customers utilising Microsoft's core platform capabilities. From a business context, he's working with the partner ecosystem and Microsoft's customers to help them realise the value of its core technology.
"I've been with Microsoft for a little over 10 years, and my time here has always focused on the manufacturing industry," says Sircar.
Prior to Microsoft, he was at HP, primarily focused on manufacturing and supply chain as well. Now, from an industrial IoT perspective, Microsoft's vision is to empower customers to build more agile factories and leverage data to incorporate more automation.
"This is the key focus of our work, but we continue to look at what is next on the horizon, like creating digital twins for factories, facilitating simulations, and becoming more predictive," explains Sircar. "By using these digital tools, we shift focus to transforming the workforce, allowing manufacturing and supply chain workers to use the data generated to enhance outcomes and performance. IIoT is the foundation on which we connect to the factory."
This allows companies to gather the right data and then translate it into more predictions, more insights, more actions and drive automation. This is what Sircar believes will ultimately transform the factory.
"As CTO for manufacturing and mobility, I am focused on shaping Microsoft's industry solutions strategy, by driving the full value of product innovation and advanced capabilities including IIoT to accelerate digital transformation and value to customers and partners."
Indranil Sircar
IIoT at Microsoft
Due to the supply chain challenges over the past two years, Microsoft's use of IIoT has changed.
"Recently, we've seen that the value chain has become critical to the success of any industry, including automotive, aerospace, defence and retail," says Sircar. "Manufacturing organisations need to constantly be aware of potential disruptors and plan for a shift in production. For example, if there are chip shortages, factory closures due to COVID-19 outbreaks or other complications, manufacturers must decipher what is most important to produce and when."
At Microsoft, the company is constantly building out core capabilities that will enable its customers to achieve their end-to-end results in an integrated fashion. Recently, Microsoft announced the Microsoft Supply Chain Center, which will allow for visibility into inventory, material movement, inbound and outbound supply chain and any critical manufacturing functions where raw materials, components and parts are received.
Additionally, customers will be able to better combat disruptions by making informed decisions to plan and prioritise products to manufacture, while remaining transparent with customers.
"It is a little-known fact that we are a manufacturer ourselves," says Sircar. "Not only does Microsoft understand supply chains, but we have modernised our own. For example, within our Xbox and Surface supply chain, we manufacture 45,000 SKU's, ship close to 100m units to 1.3m locations in 120 countries."
As Microsoft's data was siloed, sitting in disparate systems and Excel spreadsheets, the team brought all data into a single data lake and created a digital twin of the entire global operation, which provided Microsoft with visibility and signals across factories, parts, logistics providers, destinations, inventory, orders and more — all within minutes.
"A digital twin allows us to do modelling and simulate possible disruption," says Sircar. "We are ensuring everyone is acting on one version of data truth. This allows us to push information to the right person at the right time for streamlined decision-making through our control tower. We are able to track our carbon footprint across materials, contract manufacturers, logistics providers, usage and more."
The benefits are outstanding. Automation has increased by 70% and planning time has gone from five days to taking less than a single day.
"We have scaled the business with 100% more SKUs. We have achieved 100% real-time tracking through manufacturing and logistics. We have increased customer loyalty with 60% growth in orders and the list goes on..."
Factory of the Future at Microsoft
In the recent IoT Signals for Manufacturing report, the company found that 72% of customers are able to scale their connected factory from proof of concepts into various stages of implementation. Customers are starting to see what IIoT will deliver.
"The report also highlights that customers recognise scalability challenges, such as security (43%), new application development (49%) and skill shortages (45%). We will see customers evolve and address many of these core areas of interest for industrial-grade implementation in their own environment."
Additionally, customers are leveraging next-generation industrial automation, driven by the adoption of digital technology. Customers are beginning to create more connected products to deliver better services, prediction, and overall equipment effectiveness (OEE). For example, one manufacturing customer added value-based features to help customers extend product lifetimes. Using a connectivity layer on the bearings, the company created a dashboard to monitor the lubrication of machines with little human interaction. It identified four distinct features that create customer value: active information about the current grease level, active information about alarms, remote adjustment of lubrication and a dashboard with additional insights.
"In the long term, we will see how customers start to build on the foundation that they are establishing with IIoT and create the industrial metaverse, which gives companies the ability to simulate, predict and automate virtually any operation," says Sircar. "This is done using real-time data to create digital representations of systems, automating key business processes, and using machine learning to move from reactive to proactive."
Lastly, as the next generation of IIoT and digital twins, Sircar believes that the industrial metaverse has the potential to solve some of the world's most difficult challenges across supply chain resiliency, business efficiency, and global sustainability.
"All of this is happening on the Microsoft Cloud with leading edge companies taking advantage of digital twins, mixed reality, AI, IoT, and the power of the intelligent cloud and the intelligent edge," he says. "We will start seeing more industrial metaverse investments and implementations coming to life in 2023 and beyond."