Top 10 Manufacturing Whitepapers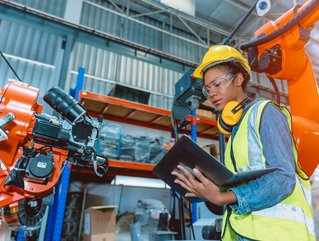 Manufacturing
Here are our Top 10 Manufacturing Whitepapers from Deloitte, ABB, Honeywell, SAP, Fujitsu, Rockwell, SAS, PTC, UIpath & Dassault Systèmes
10. Dassault Systèmes
'Digital Twin: Manufacturing Excellence through Virtual Factory Replication'
A whitepaper by Dr. Michael Grieves and sponsored by Dassault Systèmes introduces the idea of a "Digital Twin" as a virtual representation of something that has been manufactured. In this whitepaper, Grieves will examine the engineering design of a Digital Twin, compared to what was produced. Read our 'Top 10 manufacturers using digital twins' here.
9. UI path
'Transforming at scale with automation to enable success with a digital workforce'
With the digital workforce rapidly evolving, this whitepaper asks, what are you waiting for? This whitepaper will offer insights into robotic process automation, the top functions being automated by industry leaders, the benefits as well as potential internal obstacles and how organisations are advancing automation.
8. PTC
'Unlock the Value of the Physical Digital Convergence'
With physical digital convergence at the core of so many new technologies, this whitepaper from PTC looks at how Physical and Digital Convergence can be used to transform methods of work across various industries and work settings. This whitepaper answers important questions and showcases examples of how Physical Digital Convergence is creating business value today.
7. SAS
'Optimising energy use in manufacturing with data and AI'
Manufacturers across the world are keen to optimise energy use to make cost savings and increase sustainability-efforts within the organisation. Discover how AI and data analytics can help to do this in this SAS whitepaper. The company is supporting manufacturers to 'deliver insights that empower production operators', which could be in the form of accelerating time to value as well as offering energy cost savings.
6. Rockwell Automation
'License-based Protection Versus a Software Solution'
Industrial control systems, from server rooms to data centres, are connected to other systems within a manufacturing plant, and must be connected to the outside for monitoring and data analysis. This can expose the plant to malicious behaviour. In this whitepaper, Rockwell Automation explores higher levels of security and how this can keep manufacturing properties safe.
5. Fujitsu
'Manufacturing, Industry 4.0 and the hyperconnected business of the future - White paper'
This whitepaper from Fujitsu explores Industry 4.0 and the business of the future in the manufacturing sector, looking at digital technologies and the opportunities they create to transform the sector. Fujitsu looks at how this can deliver a competitive advantage to operations, from within supply chains and business models.
4. SAP
'The Intelligent Enterprise for Industrial Manufacturers'
The world is facing social, economic and environmental challenges. SAP is determined to create a sustainable future for all, with everyone playing a part. SAP's whitepaper unearths how manufacturers can 'help to create superior customer experiences through tailor-made solutions delivered at scale and as a service'. The whitepaper reviews:
Customer-driven change
Changing business landscape
Ongoing disruption
Increased environmental and social pressure.
3. Honeywell
'Breakthrough Robotics Empowering Distribution Centers'
To learn more about advances in technology and the impact on cost-effective automation, this white paper is for you. Here, Honeywell reviews the rise of robots in distribution centres, the importance of autonomous navigation and systems integration, and how robotics can help manufacturers automate 'dull, dirty and dangerous tasks while allocating scarce human resources where they're needed most'.
2. ABB
'Transform chemical operations through technology'
This whitepaper comes in two parts, with the second exploring digital opportunities in the modern chemical industry. Case studies and independent sources are presented as is the role of downstream operators, the importance of digital twins, modular automation and open system architectures. The white paper explores how technological advances are supporting chemical manufacturers to utilise data and deliver greater business value, as well as impact of digitalisation and supply chain management.
1. Deloitte
'Deloitte White Paper on Swiss Manufacturing Industry'
The manufacturing industry in Switzerland is explored in detail in this whitepaper - from the strengths and success factors of the current challenges to how Swiss manufacturing companies can advance their competitive position globally.
This report includes interviews with CEOs, CFOs and other industry experts and covers:
Strengths of the industry location Switzerland and the manufacturing industry
The strength of the Swiss franc
The skills shortage and resource cost increases
New growth markets
*************************************************
For more insights into Manufacturing - check out the latest edition of Manufacturing Magazine and be sure to follow us on LinkedIn & Twitter.
Other magazines that may be of interest - Healthcare Digital.
*********************************************
BizClik is a global provider of B2B digital media platforms that cover 'Executive Communities' for CEO's, CFO's, CMO's, Sustainability Leaders, Procurement & Supply Chain Leaders, Technology & AI Leaders, Cyber Leaders, FinTech & InsurTech Leaders as well as covering industries such as Manufacturing, Mining, Energy, EV, Construction, Healthcare + Food & Drink.
BizClik, based in London, Dubai & New York offers services such as Content Creation, Advertising & Sponsorship Solutions, Webinars & Events.