How AVEVA tackles the digital skills gap in manufacturing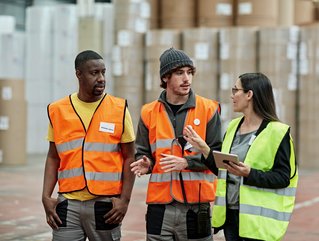 Manufacturing diversity
Rob McGreevy, Chief Product Officer, talks us through AVEVA's inclusive talent journey, empowering diversity in STEM & closing the skills gap
According to an employment trends survey from CBI and Pertemps, three-quarters of businesses say access to skills is damaging labour market competitiveness. 60% of respondents said that they are investing in technology and automation, in order to advance their productivity. One company that is already working hard on strengthening its employees' skills is AVEVA.
A global leader in industrial software, AVEVA gathers its customers' data and creates a digital twin for them to improve operational processes. Rob McGreevy is the Chief Product Officer at AVEVA. He leads corporate strategy, product management and business unit teams, to drive innovative software solutions. Here, he shares advice on building employees skills and starting a career in STEM and AI.
Manufacturing's digital skills gap & attracting more women into STEM career paths
Attracting and retaining a diverse pool of talent is a universal challenge for global businesses. McGreevy believes that creating a culture of inclusion is essential to allow everyone to feel that they can be themselves and contribute their best work.
"Our partnership with the WISE Campaign and the Society of Women Engineers (SWE) has delivered access to resources, such as industry best practices for talent acquisition and development, statistics, knowledge sharing events, professional development activities for female employees, annual conferences and speaking opportunities."
Partnering with these valuable organisations helps AVEVA to apply critical learnings to inclusive culture at AVEVA.
"Internally, we have an employee group that focuses on supporting our women employees – through career coffee chats, external speakers, allyship, mentoring and much more," said McGreevy. "This helps build a sense of purpose and provides a positive environment that is key to retaining staff."
Gender representation was one of AVEVA's enterprise wide ESG pledges, launched in 2021. AVEVA is increasing women's representation in leadership and decision-making, with clear targets to grow the percentage of women hired to 50% by 2030 and reaching 40% management roles and 30% leadership roles held by women in the same period.
"By achieving these goals, we intend to make the STEM industry a more attractive career option for women. Half of the eight members of our Executive Leadership Committee are women. We strongly believe in advancing greater gender representation at AVEVA, and businesses in our industry have responsibility to enable that change."
For McGreevy, it is important that AVEVA's employees are supported throughout their careers.
"We take the wellbeing of our employees very seriously; everything from benefits that support different stages of their lives, their mental and physical wellbeing and financial. I am the executive sponsor for the overall Wellbeing initiative and feel very passionate about how we need to provide tools and benefits that support all our employees."
Developing a career in AI 'to help people and our planet'
According to McGreevy, AI is a great career fit if you enjoy maths, programming and solving problems.
"It's challenging, often difficult, but very rewarding. If you enjoy working with lots and lots of data, then AI may be a good fit for you."
However, McGreevy says that it's important to understand that AI is not one thing, but an entire science made up of many technologies.
"Like computer science 30 years ago, areas of specialisation are continuing to be created, and AI has become very broad. There are many, many types of AI."
McGreevy feels that it is also important to be sure to focus on real-world usage, not just algorithms.
"AI has the biggest impact when it helps people and our planet. It solves real problems and is increasingly making the world a better place for all walks of life. Even if you don't explicitly begin a career in AI, odds are that AI will help improve your job and ability to accomplish things. AI is quickly permeating most aspects of the business world."
*************************************************
Check out our free upcoming virtual event, Manufacturing LIVE, 6th December 2023.
For more insights into Manufacturing - check out the latest edition of Manufacturing Magazine and be sure to follow us on LinkedIn & Twitter.
Other magazines that may be of interest - Healthcare Digital.
*********************************************
BizClik is a global provider of B2B digital media platforms that cover 'Executive Communities' for CEO's, CFO's, CMO's, Sustainability Leaders, Procurement & Supply Chain Leaders, Technology & AI Leaders, Cyber Leaders, FinTech & InsurTech Leaders as well as covering industries such as Manufacturing, Mining, Energy, EV, Construction, Healthcare + Food & Drink.
BizClik, based in London, Dubai & New York offers services such as Content Creation, Advertising & Sponsorship Solutions, Webinars & Events.