Top 10 most diverse manufacturing companies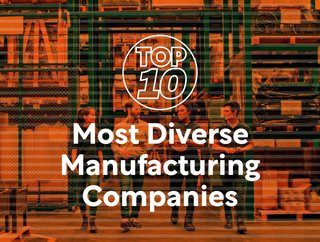 Diverse manufacturing companies
P&G, Toyota, Siemens, J&J, 3M, Caterpillar Inc., Ford, GM, PPG & Tetra Pak are our Top 10 most diverse manufacturing companies
Diversity is a huge topic in the corporate world, but it has not always been easy to welcome in practice. Integrating employees who have different abilities can sometimes be met with frustration, by those who see being different as being 'abnormal'. Workers with certain characteristics can find themselves as the punchline of watercooler-jokes. Some professionals choose to hide who they are to avoid this happening to them - or find a new job.
Research from the London School of Economics shows that companies with LGBTQ-inclusive policies experience higher job satisfaction and greater productivity. Yet there are only four Fortune 500 Companies with openly LGBTQ+ CEOs, as explored in our Top 10 LGBT manufacturing leaders.
Meanwhile, Rich Donovan, the CEO of The Return on Disability Group, has spent over 15 years unlocking the economic value of the disability market. "Anyone frightened of hiring a person with a disability needs to do their homework. That may have been OK 20 years ago, but it's a very, very weak excuse now." There are 1.3bn people who identify as having a disability, it's a frontier market with enormous value - as stakeholders have found out.
Here are our Top 10 diverse manufacturers…
10. Tetra Pak
Switz packaging company, Tetra Pak, has highlighted the need to improve gender diversity in its Food and Beverage manufacturing. Headquartered in Switzerland, the company has a revenue of €11.5b and wants more women to join the manufacturing industry, in order to bring transformational change.
"Manufacturing industries have not always been the most attractive career choice for women, owing to the stereotypes and legacies of this heavily male-dominated sector", states Laurence Mott, Executive VP, Development and Engineering at Tetra Pak. "But now there is a brilliant opportunity for more diversity and for female innovators to help protect our global food supply chains for generations to come."
9. PPG
Chemical manufacturer PPG is headquartered in Pittsburgh and was founded in 1883. PPG has been publicly recognised for its DE & I efforts by the Human Rights Campaign Foundation, Forbes' America's Best Large Employers and Best Places to Work for Women and Best Employers for Women lists.
"Unveiling our DE&I commitments and sharing our progress demonstrates our focus on supporting historically underrepresented populations with our employees, customers, communities, shareholders and other stakeholders," said Michael H. McGarry, PPG Chairman and Chief Executive Officer. "While we have made consistent progress over the years, we know we have much more work to do."
8. General Motors
General Motors is a leading multinational automaker which manufactures and sells automobiles and trucks worldwide.
Mary Barra, Chairman and CEO of General Motors, is aware that technology transformations can leave people behind and ensuring diversity in the workplace is the key to preventing this.
"I am encouraged by how many other companies share our goal of creating a better future," said Barra. "At GM, the transition will be equitable and inclusive, with our longstanding leadership fostering diversity."
7. Ford Motor Company
Ford Motor Company is headquartered in Dearborn, Michigan, USA. It has been building cars since 1903 and now manufactures passenger cars, including electric vehicles. Kimberly Casiano was the first Hispanic woman to serve on a Fortune 100 top five corporate board and is now a Board Member at Ford Motor Company.
"Over the past 18 years that I have sat in Fortune 500 boardrooms, I have seen a multitude of polite nods whenever diversity and inclusion is discussed," she said. "Unfortunately, I believe that until diversity or inequality has touched someone personally, people do not become true believers."
Diversity has a long way to go, but Ford is ready to walk the walk.
6. Caterpillar Inc.
Founded in 1925 and headquartered in Deerfield, Illinois, Caterpillar Inc. manufactures machinery for industries, particularly construction and mining. Caterpillar Chairman and CEO Jim Umpleby believes that diversity broadens the opportunity for stronger team performance and strengthens the company, enabling greater value for customers.
"We're pleased to highlight our ESG progress and the execution of our strategy as we continue to invest for future profitable growth," said Umpleby. "We are committed to fostering a workplace that respects and celebrates our employees' diverse backgrounds, experiences and perspectives."
5. 3M
3M seeks to amplify diversity in the workplace and is committed to encouraging STEM education, with the 3M Manufacturing and Academic Partnerships (MAP) program aimed at getting people interested in science-based careers.
"We're laying the groundwork for continuing to engage our communities in STEM, from teacher training and supporting access to science in schools, to providing grants and working with skilled trade associations who can continue to develop those workers," said Michael Vale, Group President of 3M's Safety and Industrial Business Group.
4. Siemens
Tech titan Siemens is focused on infrastructure, transport and the healthcare sector and believe that one of the best ways to build efficient factories, stronger supply chains and create cleaner methods of transportation and advanced healthcare - is with a diverse workforce. The SieMent EmpowHer connects female mentors from across the world with 600 young women in Africa, who are participating in the African Girls Can Code Initiative (AGCCI), supported by Siemens AG and UN Women Germany.
3. Toyota
Car manufacturer Toyota has been integrating firm ESG standards across its global business, with a focus on accelerating sustainable development, in line with its commitment to the UN's Sustainable Development Goals. DiversityInc named Toyota North America* one of its 2023 Top 50 Companies for Diversity®, ranking 4th among more than 150 companies participating in the survey.
"Everyone—at every level—has an important role to play in creating an inclusive and diverse culture for the common good," said Tellis Bethel, Chief Diversity Officer and Group Vice President of Social Innovation, Toyota Motor North America. "Diversity and inclusion unlock innovation, as well as opportunity for an equitable future. Together, we can create limitless possibilities for all."
2. Johnson & Johnson
Johnson & Johnson (J&J) is one of the biggest healthcare companies in the world and is leading the life science industry, helping to navigate the challenges of COVID-19 and rapidly scale its operations to manufacture an effective vaccine against the virus.
The company has advanced diversity with its STEM programmes aimed at women.
"We'll continue to push, continue these dialogues in a robust manner; we need to continue to challenge industry partners to do more," said Xiao-Yu Song, MD, PhD, global head of research and development for Johnson & Johnson Vision. "[Diversity] is about building a diverse workforce for now - and for the future. We know it brings a lot of benefit to the business, but at the end of the day, it is about how we serve our patients, who are very diverse."
1. Procter & Gamble (P&G)
In 1837, Procter & Gamble started work as a soap company, now it is a consumer manufacturing favourite of various household goods across the world. In order to meet the diverse needs of its global consumers, the company has adapted. The company hosted the 'We See Equal' Summit, built on the theme of 'Unique and United', which let the company have 'open and honest conversations about how we can continue to advance equality and inclusion'.
"We know that everyone brings unique backgrounds, perspectives, and experiences to the table that can unlock growth in businesses and society. We will continue to step up as a company, through our brands, and with our partners, to create value for our employees and communities," said S. Vecera, President Asia Pacific, Middle East and Africa, Procter & Gamble.
*************************************************
Check out our free upcoming virtual event, Manufacturing LIVE, 6-7th December 2023.
For more insights into Manufacturing - check out the latest edition of Manufacturing Magazine and be sure to follow us on LinkedIn & Twitter.
Other magazines that may be of interest - Healthcare Digital.
*********************************************
BizClik is a global provider of B2B digital media platforms that cover 'Executive Communities' for CEO's, CFO's, CMO's, Sustainability Leaders, Procurement & Supply Chain Leaders, Technology & AI Leaders, Cyber Leaders, FinTech & InsurTech Leaders as well as covering industries such as Manufacturing, Mining, Energy, EV, Construction, Healthcare + Food & Drink.
BizClik, based in London, Dubai & New York offers services such as Content Creation, Advertising & Sponsorship Solutions, Webinars & Events.