5 minutes with Frederic Antoine, of Airbus Helicopters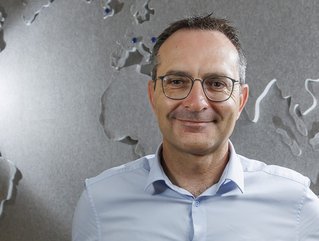 Frederic Antoine, Technical Support Network manager & Business Solutions Architect at Airbus Helicopters, on being resilient in aviation manufacturing
Hi Frederic, please introduce yourself and your role.
"My name is Frederic Antoine and my role is Technical Support Network manager and Business Solutions Architect at Airbus Helicopters, a company where I have acquired decades of experience in improving technical support for our customers. In my current role, I lead the digital transformation of Technical Support activities facing the customer."
Tell us about your education and career path…
"I am a mechanical engineer. I first joined Airbus (then known as Eurocopter) in August 1999 as a stress calculation engineer on dynamic components in the Design Office where I stayed for five years. I then moved to the customer technical support department as a dynamic components expert to be closer to the customer, doing my best to support their fleet operations. Later on, I led the team of dynamic components experts from 2008 until 2014.
"In 2014, I rebuilt the team of product support managers in the technical support department, with a French and German team. Product support managers are aircraft specialists, having the ability to answer the customers' technical requests/queries while calling upon expert knowledge when necessary. In parallel, from 2012 I took the role of project manager for the development of a new web application permitting the management of customer technical requests/queries and the capitalization on return of experience of in-service aircraft.
"In 2017, I became Technical Support Network manager. My role was to align various processes in all our customer centres around the world with two objectives:
Increase our customers' satisfaction with technical support, mainly by improving our response times
Acquire customer feedback to better understand the behaviour of our aircraft in operation
"I still manage the digitalisation of a big part of technical support processes, which led to the development of several applications supporting our customers and our technical support teams in their daily activities."
What led you to the aviation manufacturing industry and a career in Technical Support?
"When I was about 10 year old, I had the chance to visit Airbus Helicopters, then known as Aerospatiale's helicopter division, during an open house event. From that day, I knew I wanted to work for this company.
"When I arrived at Airbus, I quickly wanted to be closer to the customer and do my best to support their fleet operations. I decided to stay in this department for many reasons: I still get to address technical topics, which is my background; I get to discuss technical issues with customers, and I lead the technical support for digital transformation."
Tell us more about Airbus Helicopters?
"Airbus Helicopters is the leading manufacturer of helicopters. A division of Airbus, we employ 20,000 people worldwide and our service includes nearly 12,000 helicopters, operated by more than 3,000 customers across 150 countries."
Tell us about your use of AI, ML/deep learning and natural language understanding to help the company streamline and automate technical support.
"We have digitalised the process for managing customer technical queries and as a result have collected a huge amount of structured and unstructured data. The technical information exchanged with our customers via applications is unstructured data -- meaning not stored in dedicated fields.
"Airbus Helicopters technical support faces many challenges:
An increasing number of queries to manage as the fleet size increases
Customer expectations for faster turnaround times
"To answer these challenges, we needed a unique solution that would allow us to perform rapid searches through many data sources, analyse unstructured data and provide complete search results for a topic on one page for easy, fast analysis.
"We know Sinequa's solutions well, since we have been working with them for many years, but it's in their most recent Sinequa version with natural language processing (NLP) and machine learning possibilities that we have found the exact answer to our needs.
"With Sinequa we have launched our new search application to accelerate the search for existing solutions to customer requests with immediate success. The search results of our global databases are displayed very quickly, and the results are displayed in a well-structured 360° view that permits the user to identify very rapidly the right elements needed to answer the customer query.
"We are now entering a second phase of the project to bring more business intelligence to the search. During the treatment of a customer query we collect a lot of information regarding the behaviour of our aircraft during customer operations and maintenance that, if analysed, can help us to better identify and prioritise product improvement areas."
What do you hope to see from your partnership with Sinequa?
"We need to enter a new era in the way we deliver technical support to our customers – by not losing time on low added-value tasks and having more time for the analysis of more complex technical topics – and in the way we ensure the right learnings for enhancing the flight safety of our customers' operations. With the Sinequa solution, using NLP and machine learning, we believe that reaching this objective is not a dream, but a reality."
During your time here, what has been your biggest lesson?
"When you transform an activity there is always some resistance to the change. You need to be resilient and consider change management as part of the business transformation."