Fabian Nappenbach of HTC on virtual reality headsets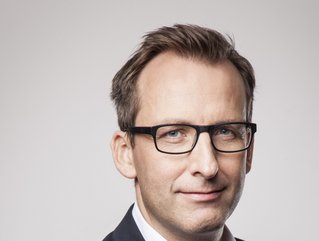 Fabian Nappenbach, HTC's Director Product Marketing, talks unleashing the power of human imagination with technology & HTC's Focus 3 Eye and Facial Tracker
Hi Fabian! Please introduce yourself and your role.
"I'm Fabian Nappenbach, Director Product Marketing EMEA at HTC. Before joining HTC in 2010, I worked for Telefónica (o2) and led the phone product marketing team. At HTC, I am responsible for managing VR and phone product marketing for Europe, which consists of roadmap planning, key customer sell-in and media engagements. I'm based in Munich, Germany."
What led you to this industry?
"Curiosity and passion about new technology. I worked in the smartphone industry for a long time, but since day one at HTC we considered that it was more about convergence. How do we help people to get the most out of life and work, supported by technology? And that's really what shaped our innovation into VR – it's a technology which facilitates a lot of convergence across a wide range of use cases – it's been transformative for a lot of people and industries. In 2015, I experienced my virtual reality "inception" with the prototypes of the original HTC VIVE and have been an advocate for this technology ever since."
What is HTC?
"HTC is focused on unleashing the power of human imagination through technology. We have a very strong legacy in mobile technologies and have built a VR ecosystem bringing new ways to transport people and organisations into a digital world with lower barriers of entry. HTC VIVE is our premier VR ecosystem that creates true-to-life VR experiences for businesses and consumers. Built on premium VR hardware, software, and content, our ecosystem creates a lot of solutions for our customers, from consumers, to prosumers and enterprise."
Tell us about your virtual reality headset, the Vive Focus 3, and its new facial and eye tracker.
"VIVE Focus 3 is a standalone all-in-one headset for professional-grade VR. It has a rich ecosystem of both hardware and software around it, which makes it effective for a wide range of use cases. It's a highly portable all-in-one headset which is designed for high resolution (5k across both eyes) and comfort – people wearing glasses can easily use the headset, for example. And you can even wirelessly stream high quality content from your desktop or laptop to the headset.
"Non-verbal communication is important in everyday life and being able to connect with others. We recently expanded the VIVE Focus 3 ecosystem with Eye Tracker and Facial Tracker to deliver more natural experiences. Enhanced facial and eye tracking offers more realistic and human-like immersive VR experiences for enterprises to enhance collaboration, measure user response, and even gain more accessible interaction methods like gaze control, so that they can uncover actionable insights and achieve better real-life outcomes.
"Our new Eye Tracker and Facial Tracker don't require any special work to install, they seamlessly slot into the headset – you can buy one or both, depending on your needs. We also have an extensive SDK which allows people to implement the Trackers to their own software and have built them to work easily with the likes of Unity, Unreal Game Engine, and Native."
Where are they used?
"Enhanced eye and facial tracking boosts engagement with peers for enhanced virtual collaboration and human interaction in VIVE Focus 3, which is ideal for virtual design collaboration, training, VIVE Sync remote meetings, and more.
"The possibilities in design and manufacturing are nearly limitless – if you can imagine it, you can create a 3D model and then apply a physics engine for teams to collaborate on design concepts virtually, or analyse reactions to it. You can add in intricate details – one car manufacturing partner of ours uses VR as a sales tool because customers can see individual stitches in the seat leather, while another uses it directly in the production line.
"Eye Tracking in particular is a great tool for designers, because when they're showing work to stakeholders they can then analyse exactly where the subject's attention is drawn. It's especially good for picking up those subconscious glances, and the nature of VR means that rapid iteration and testing is possible.
"Workflows are sped up because immersive 3D models can be tested near-enough instantly by someone on the other side of the planet, without losing any insight data, or losing any time and resource on producing physical mockups. With VR you can collaborate with people across the world, in real-time. It's easy to load 3D models into VR meeting tools like VIVE Sync, and gain feedback that way.
"It's especially useful in manufacturing as you can experiment with different work flows and layouts, redesign training experiences, and more – all in VR with rapid iteration and no disruption to the live work environment."
There is a lot of concern around face and eye trackers regarding privacy - what are your thoughts on this?
"We design around privacy and security, if we don't need the data then we simply don't collect it. We apply this to all our products. By default, our VIVE Focus 3 Eye and Facial Tracker do not send any data back to HTC, except if the user consents to sending a diagnostic report in the event of a technical error.
"The VIVE Eye Tracker is designed with encryption as well, so any visual information passing through it is secure and impossible to reverse engineer."
What has been your greatest challenge in moving forward with this?
"Privacy and security were among our primary concerns. We work in sensitive industries across the world so we understand how important that is. Tracking accuracy is always a challenge – how to measure both rapid and subtle movements accurately. It was also important to us that we could expand the VIVE Focus 3 ecosystem seamlessly – businesses don't want to hear there's an entirely new headset they have to buy to get new features, so we've worked hard to build the hardware and software ecosystem around the headsets. You can add on the new trackers without any special hardware or software needed, they fit in effortlessly."
Tell us more about the manufacturing process of this.
"Form factor is very important when adding new features to a VR headset, as is low latency and high precision for tracking purposes. From the very beginning, our VIVE Focus 3 headsets were designed to accommodate low-profile, user-friendly add-ons to bring new capabilities for professional-grade VR. We put a huge focus on ensuring the new VIVE Focus 3 Eye and Facial Tracker modules seamlessly integrate with the existing design.
"VIVE Focus 3 Facial Tracker set up is made simple, as the module connects to VIVE Focus 3 headsets through the built-in USB Type-C port with no need for add-ons or adaptors. But the design challenge for that is huge – you're trying to build around the chassis of the headset. Ultimately we delivered the new trackers in a really smooth way - the lightweight VIVE Focus 3 Eye Tracker module easily attaches magnetically to the headset without impacting the balanced ergonomics, and the adjustable IPD works perfectly with the VIVE Focus 3 headset to help users find their viewing sweet spot."
Tell us about your work with Dassault Systemes and Intel.
"We worked with Dassault Systemes to bring its sophisticated 3DEXPERIENCE Platform into VR with HTC VIVE hardware. The design philosophy of Dassault Systemes has always been working in 3D, enabling people to experience design in a more immersive and natural way. We share the same vision for immersive experiences with real-life outcomes, and together we took this to the next level.
"Bringing 3D design visualisation into VR enhances the design process of very complex products by allowing designers, engineers and product managers to collaborate and design directly in VR from conceptualisation stage. Now, teams are able to visualise, collaborate and iterate on virtual scale designs in real time, without the time and expense of creating physical mockups.
"Beyond design and visualisation, there are also considerable safety considerations for manufacturers building devices and equipment. Electrical safety, for example, is a huge risk area and effective training is essential to reducing accidents amongst employees. This was the case for Intel, who launched a virtual Electrical Safety Recertification course in VR together with HTC VIVE.
"The results were exceptional. Intel approved a global-scale deployment with plans to roll out to several additional sites around the world and saw an estimated 300% ROI over five years, showing the impact that VR has in corporate training scenarios."
What does 2023 hold for you and HTC?
"2023 is set to be another exciting year for HTC and the entire virtual reality industry, as VR hardware, software and the infrastructure to deliver content to end users continually improves. We're constantly innovating and are committed to evolving our ecosystem to deliver enjoyable, impactful virtual experiences to our customers."