Time to upskill talent in the manufacturing industry?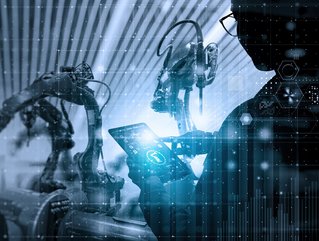 A fifth (20%) of US manufacturers said low utilisation of robotic equipment was a key issue for them
Speaking with Umair Ejaz, Senior Manager, Visual Components Manufacturing Digital looks at the current landscape when it comes to talent in the industry
Advanced and continuously evolving technologies are significantly disrupting the manufacturing industry. As such executive leaders are in desperate need of employees to keep up with the pace of digital transformation. With 85% of businesses in manufacturing feeling the strains of the talent gap, the demand for those skilled in technology is high.

Below Umair Ejaz, Senior Manager, Visual Components speaks to Manufacturing Digital on the impact talent gaps have on the adoption of Industry 5.0.
Is the manufacturing industry ill-equipped for the gains to be had from Industry 5.0?
No one should doubt the size of the skills shortages that loom over the industry. Even when considering Industry 4.0 initiatives, Deloitte estimates US manufacturing sector alone will face 2.1 million unfilled jobs by 2030.
But Industry 5.0 ambitions go beyond Industry 4.0, which was about the benefits of the IoT and smarter automation. Industry 5.0, which is backed by the EU, is more concerned with sustainability, resilience and human productivity. Resilience in all its forms has become a priority in the face of higher levels of volatility in global politics, supply chains, disease and weather patterns.
Being human-centred, Industry 5.0 is directly related to the question of skills. Instead of regarding staff purely as costs, employers should maximise the return they make from each employee. This is where robotics, cobots (collaborative robots), virtual and augmented reality and exoskeletons all have a role, along with data analytics and artificial intelligence.
The combination of robotics with edge computing infrastructure and SaaS innovation opens up many Industry 5.0 initiatives. Manufacturers can create digital twins that mimic every detail of complex processes to run many different production scenarios in virtual form or to plan for supply chain disruptions and other possibilities. The technology of 3D simulation brings manufacturers a virtual sandbox where production or process ideas can be trialled without complications or major resource requirements and upheavals. When it comes to designing new facilities, simulation software reconfigures layouts to optimise the use of floor space.
How is the skills shortage inhibiting the benefits of Industry 5.0?
Many organisations will be unable to take advantage of these Industry 5.0 benefits because their workforces lack the necessary skills. Research among 360 senior people in manufacturing across the US, UK, Germany and France found more than half (55%) of the companies polled were not training their workforces in the use of new technologies and almost a third conceded the majority of their employees are not skilled in using automation and robotics in a manufacturing environment. A fifth (20%) of US manufacturers said low utilisation of robotic equipment was a key issue for them.
This is a barrier to progress especially in relation to implementations, where mistakes lead to reduced resilience and increased cost. In the research, almost a quarter of respondents pointed to a lack of flexibility as a key difficulty in processes using robots. A number of manufacturing businesses were also found to have spent more than US$548,752 because of an error in the manufacturing process.
Should organisations embrace simulation technology?
Organisations need to embrace simulation and more advanced approaches to training. Rather than requiring workers to test and train robotic applications on the physical factory floor, it is offline programming software (OLP) that presents an accurate model of the robot and work cell and replicates its movements and workflows via simulation. The result is a better-designed, fully optimised set of deployments that has greater flexibility to switch and adapt to new demands, opportunities or constraints.
Cobots, for example, make a tangible difference on the factory floor, but humans must both program and maintain them to ensure they continue to perform tasks to a high standard. Manual programming can take weeks before the robot is up and running. Offline robotic programming enables manufacturers to refine robotic movements and workflows for automation, reducing the time it takes to manually program cobots.
Plug-and-play components within the software help train employees on how to program and manage cobot deployments, effectively upskilling them in new technologies. Rather than replace professionals, these platforms complement human expertise and help plug the talent gap, which is a key component of Industry 5.0. With established accuracy and consistency stored in the software, manufacturers can avoid the risk of knowledge or skills being confined to just a few experienced professionals, who take it all with them when they leave or retire.
If manufacturers are to reap the full benefits of robot implementation and automation of processes they will need to have access to technology that upskills their workforces and fully equips them for the new era of increased productivity, efficiency and resilience. It is the combination of humans and advanced technology that will pave the way forward most successfully and profitably.
******
For more insights into the world of manufacturing read the latest edition of Manufacturing Digital and be sure to follow us on LinkedIn & Twitter.
Other magazines that may be of interest: Procurement Magazine and Supply Chain Digital.

******
BizClik is a global provider of B2B digital media platforms, for leaders across: Sustainability; Procurement & Supply Chain; Technology & AI; Cyber; FinTech & InsurTech; Manufacturing; Mining; Energy; EV, Construction; Healthcare; and Food. Based in London, Dubai, and New York, Bizclik offers services including content creation, advertising & sponsorship solutions, webinars & events.