Top 10 manufacturing_global
Top 10: Manufacturing companies to work for 2015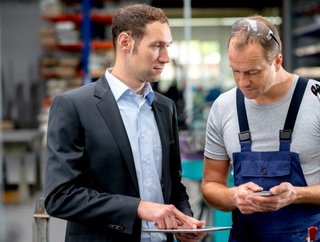 1. GE, 4.2/5 average employee rating General Electric (GE) is a multinational conglomerate, headquartere...
1. GE, 4.2/5 average employee rating
General Electric (GE) is a multinational conglomerate, headquartered in Connecticut, USA. It has a diverse portfolio of products and services that span many markets worldwide and employs in the region of 307,000 employees.
The company scores highly for career progression, training and compensation, but also ticks all the boxes when it comes to environmental awareness, work / life balance and company culture.
Employee reviews of the company are littered with praise, citing technical excellence, teamwork, an emphasis on development and growth and a good support system as benefits of working for the company. GE has also been commended for its safe working environment and open lines of communications with upper management.
2. Jaguar Land Rover, 4.0/5 average employee rating
Jaguar Land Rover is a prestigious luxury British automaker headquartered in Coventry, UK. Individually, Jaguar and Land Rover are iconic brands – each with distinctive hallmarks, but together they form one business with a unique organisational approach. This approach is referred to at the company as the Jaguar Land Rover Way. "It sums up how we do business, wherever we do business. And it is something we all live and breathe every day," says the company website.
The company scores highly across the board in areas including company culture, environmental awareness, compensation and career progression. JLR has been applauded for offering employees flexibility and the opportunity to work on different projects across the entire business – it also scored highly for overall enjoyment and job satisfaction. 
3. Renishaw, 3.9/5 average employee rating
Renishaw is a British engineering company listed on the London Stock Exchange. The Renishaw culture is one that promotes innovation, progress and a desire to deliver exceptional customer support worldwide and the company is constantly striving to recruit and develop talented individuals.
Part of Renishaw's ongoing success is due to its commitment to investing in the training and development of people. Employees have the opportunity to discuss their training needs, concerns and career ambitions and being an international company, career development may include the opportunity to work overseas.
4. Thales, 3.8/5 average employee rating
Thales Group is a French multinational company that designs and builds electrical systems and provides services for the aerospace, defence, transportation and security markets. The company scores particularly highly from an employment perspective in career progression, compensation and benefits and training. There are a number of graduate training schemes focusing on different areas of expertise throughout the business. 
5. Rolls Royce, 4.0/5 average employee rating
Rolls Royce is a British multinational public holding company that, through its subsidiaries, designs, manufactures and distributes power systems. Rolls-Royce Holdings is headquartered in City of Westminster, London.
Again, Rolls Royce scored highly across the board, but excels in the areas of good colleagues, work / life balance and overall enjoyment. The company has also been praised for its flexible and varied graduate schemes, which allows students to partake in three-month placements inside different divisions of the business.
6. Siemens, 3.9/5 average employee rating
As the leading global engineering company, Siemens is behind a diverse range of technologies and services used in our everyday lives. The company designs and manufactures products and systems ranging from traffic lights and wind turbines, to rail systems and motor drives. 
Siemens has been credited for providing excellent career progression opportunities and flexible working conditions. Its commitment to environmental awareness has also been cited as a huge positive by many of its current employees.
7. WSP Group, 3.7/5 average employee rating
WSP Global Inc. is a Canadian-based business providing management and consultancy services to the built and natural environment. It is listed on the Toronto Stock Exchange. With an overall score of 3.7 out of 5, the company has been credited for its commitment to employee development and continual training.
8. BAE Systems, 3.7/5 average employee rating
Being a global company and a well known brand, BAE Systems has been hailed with offering its employees exciting career opportunities across the globe, with scope to earn extremely competitive salaries. Its training, career progression opportunities and the fact that employees can take on a reasonable amount of responsibility early on in the career are all factors that have been cited as positives by employees.
9. Hilti GB Ltd., 4.0/5 average employee rating
Hilti provides leading-edge technology to the global construction industry. Hilti products, systems and services offer the construction professional innovative solutions with outstanding added value. The Hilti Group headquarters are in Schaan, Liechtenstein and has been credited for offering world-class training schemes to employees as well as being an environmental and sustainability advocate.
10. Philips UK, 4.3/5 average employee rating
Philips, headquartered in the Netherlands is a diversified technology company, focused on improving people's lives through meaningful innovation in the areas of healthcare, consumer lifestyle and lighting. Credited with excelling in the fields of environmental awareness, job satisfaction and continued career progression, Philips has been cited as a great company to work for.