Manufacturing industry workforce skills revolution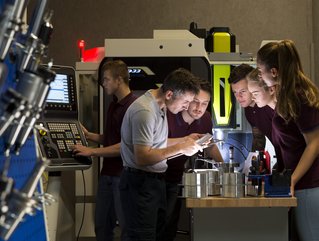 Majority of manufacturing employees want to upskill in 2022 as UK government hopes reskilling workers will create business growth
In the manufacturing sector, businesses are joining the 'skills revolution' after new research revealed that 80% of manufacturing employees have a desire to upskill in 2022.
The UK government has opened the 'Skills for Life' campaign, for employers to increase their growth by reskilling their workforce.
Manufacturing industry workers want to increase their job satisfaction and continue learning
The campaign encourages employers to upskill their workforce, in preparation for post-pandemic economic recovery.
In a Censuswide survey of 4,000 people, the results showed:
69% of people wanted to increase their job satisfaction in 2022
67% said the key to achieving their work goals was through gaining new skills
28% of workers said that 'opportunities to learn' were top goals
Manufacturing workers are most keen to explore:
IT (20%)
Finance (16%)
Business (16%)
Sustainability (11%)
Developing transferable technology skills
Manufacturing employers are supporting The Skills for Life campaign.
"Recent demands on those in the food and drink sector have been immense – having robust skills programmes in place has enabled our colleagues to adapt and thrive over the last two years, despite all the challenges of the pandemic," said David Flochel, Managing Director of Heineken UK. "Skills opportunities can make a real difference for everyone, regardless of the stage of their career. We help our colleagues perform in their own roles, or get ready for their next challenge through a blend of internally and externally recognised initiatives. The Skills for Life campaign provides a route for anyone to develop skills which can improve their life, through enhancing their career options. The sense of empowerment and possibility that this kind of campaign can deliver should not be underestimated. A focus on skills which are transferable across roles, employers and industries are a top priority for the development of everyone in Heineken."
"Ford Motor Co in the UK has a proud and established history of developing apprentices. Our Advanced (L4) and Higher (L6) apprenticeships continue to prove invaluable to develop workplace-ready talent in emerging technology disciplines," said Tim Slatter, Chair of Ford Motor Company Ltd. "In addition to recruiting new apprentices, Ford is leaning into senior (L6-7) apprenticeships supporting a major programme of new-technology up-skilling of existing employees, as the automotive industry moves further into electrified and connected technologies."