Top 10 ways manufacturers can reach Net Zero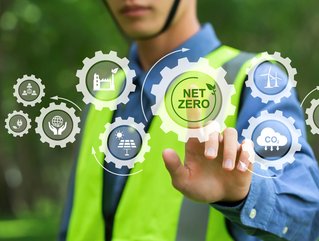 Manufacturing
Energy efficiency, circular economy practices, supply chain sustainability & carbon capture are our Top 10 ways manufacturers can reach Net Zero
Net Zero refers to a state where the volume of greenhouse gases emitted by humans are balanced by removing the equivalent amount from the atmosphere.
The global manufacturing sector is responsible for up to 54% of these emissions and in order to survive, must embrace Net Zero.
"The road to Net Zero is particularly challenging to the manufacturing sector as consumer pressures and corporate goals come face-to-face with competing priorities of production targets, capex restraints, and resource limitations," said Jason Bell, the Director of Net Zero Sites within ENGIE Impact Sustainability Solutions.
Here are our Top 10 ideas for how the manufacturing sector can thrive with Net Zero.
10. Collaboration and innovation
By fostering collaboration with peers and research institutions within the manufacturing industry, as well as government agencies, manufacturers can share best practices, develop innovative solutions and drive the transition.
9. Employee engagement and training
While many employees will be excited about changes that their company is making to reach Net Zero, others may be reluctant to see any adjustments to the way they work.
Manufacturing organisations can build a culture of environmental awareness and responsibility through involving employees in sustainability initiatives, providing training on energy-saving practices and offering employees a chance to ask questions.
8. Sustainable materials
Pursuing Net Zero emissions encourages innovation and the development of new technologies, products, services and materials.
Product designers should assess the life cycle impact of the materials that they use and look for alternatives that will minimise emissions.
7. Electrification
Manufacturers should replace internal combustion engines with electric-powered equipment and vehicles to reduce direct emissions and improve air quality.
"Direct electrification is the most energy and cost efficient way to achieve deep decarbonisation in heavy industry processes," said Joonas Rauramo, CEO of Coolbrook. "Renewable electricity production, despite its challenges, can be scaled up to meet the needs of industrial actors. Electrification also builds on the existing infrastructure which society and industrial actors have more than 100 years of operational experience with."
6. Carbon capture and storage (CCS)
Manufacturers should explore and invest in carbon capture and storage technologies to capture and store their CO2 emissions, which will prevent them from entering the atmosphere.
Food manufacturer Danone & chemical manufacturing company LanzaTech made a technological breakthrough by creating bottles made from captured carbon.
"We stand at a critical moment in history and are ready to meet the challenges head on," said Dr. Jennifer Holmgren, CEO of LanzaTech. "We have made a breakthrough in the production of sustainable PET that has vast potential to reduce the overall environmental impact of the process. This is a technological breakthrough which could have significant impact, with applications in multiple sectors, including packaging and textiles!"
5. Supply chain sustainability
Businesses are increasingly facing pressure from customers, suppliers and investors to address their environmental impact. Manufacturers should look at their whole supply chain, from beginning to end, to ensure sustainable practices are being followed throughout the supply chain. This includes choosing environmentally conscious suppliers, optimising logistics for reduced emissions and encouraging transparency.
4. Circular economy practices
The circular economy is an economic model which minimises waste, maximises resource efficiency and promotes sustainable production, a world away from the 'take, make and dispose' model seen throughout the end of the 20th century. A circular economy aims to keep items in use for as long as possible.
Manufacturers should embrace circular economy principles by designing products for durability, repairability and recyclability. Businesses should implement recycling programmes and promote the use of recycled materials in manufacturing processes.
3. Process optimisation
By optimising manufacturing processes to minimise waste, increase resource efficiency and reduce emissions, manufacturers can save time and money. The principles behind lean manufacturing can guide businesses through this and are already used by manufacturers such as Nike, Toyota, Ford, TMP Solutions, Nissan, Domino Printing, Unipres Ltd, John Deere, Caterpillar Inc. and Parker Hannifin.
2. Renewable energy sources
The transition to renewable energy sources such as solar, wind or geothermal power to replace fossil fuel-based energy is essential for manufacturers. By reducing their carbon emissions, manufacturers will have a competitive edge in a market where customers, investors and stakeholders are increasingly expecting sustainable business practices from those they work with or buy from. Utilising renewable energy will allow manufacturers to benefit from increased market share, access to new markets and potential cost savings from energy-efficient practices and renewable energy sources.
"The more that renewable energy is deployed and the more we deploy connectivity-driven solutions that improve energy efficiency, the closer we will come to achieving that goal," said Jens Erler, IoT Client Principal at Ericsson. "Limiting the risk of triggering climatic tipping points within the ecosystem is a primary goal to achieve a sustainable future and a liveable planet for all."
1. Energy efficiency
On top of all of these ideas, energy-efficient technologies, equipment and processes will minimise energy consumption and reduce greenhouse gas emissions.
Electronics manufacturing giant Schneider Electric was awarded at the Greek Energy Mastering Awards 2022 with the title of Energy Efficient Solution of the Year.
"Our planet is burning, literally. We have to face the reality in front of us and keep accelerating our sustainability efforts," said Gwenaelle Avice-Huet, Schneider Electricity's Chief Strategy and Sustainability Officer. "As an Impact company, we are convinced that we can help each other with technology, collaboration and trust."
Manufacturers have a social responsibility to minimise their environmental impact and contribute to the well-being of communities. Achieving Net Zero emissions proves a commitment to environmental stewardship, sustainability and the health and safety of employees, customers and the wider world.